From wineries and hot springs to world-class mountain biking and fishing, an autumn trip just north of the border is sure to be delicious.
By Vince Hempsall
There aren't too many places in North America where you can enjoy a bike ride in the morning, visit a winery in the afternoon, fish for trout in the evening and cap the day off with a visit to a natural hot spring, all within a 10-mile radius. Located in southern British Columbia, an easy three-hour drive from Spokane, Washington, the Arrow Lakes region is the perfect autumn road trip because of its incredible bounty, both in food and activities, with everything in easy driving distance.
From its northern end near the village of Nakusp, which boasts two nearby hot spring resorts, to the southern end near the Canadian/American border just south of the city of Castlegar, the 100-mile-long Arrow Lakes region is connected by a quiet highway that winds its way through beautiful valleys in the Selkirk mountain range. The road follows alongside the large waterways of Slocan Lake and the Arrow Lakes system, which are connected by the Columbia and Kootenay Rivers and pass through five provincial parks and other swaths of stunning wilderness. In between are quaint communities featuring inns, hotels, B&Bs, campsites and cabins, with access to backcountry lodges. Below are some itineraries that highlight the autumn bounty of the Arrow Lakes region.
Locally grown Fall fare
The fertile lands of the Slocan Valley and Arrow Lakes attracted pioneers to the area a century ago and small-scale farming traditions continue here. There are now about 40 farms and food producers located in the Slocan Valley alone and their offerings are available at road-side stands and farmer's markets throughout the autumn months.
To wash down your fresh food findings, there are makers of every kind of craft beverage in the Arrow Lakes region. Start your tour in Castlegar with a visit to Tailout Brewing, which offers a variety of beers made on site as well as a spacious setting and custom art reflecting the staff's love of fishing. The next stop is Tonik Distillery in the southern Slocan Valley, famous for its flavored vodkas and "Old Tom" gin. At the northern end of the valley is the appropriately-named Valley of the Springs Winery. Lounge in their tasting room or by the outdoor fireplace, take in views of the surrounding mountains and enjoy a bottle of red, white or rose, all made on site. If your taste buds prefer something a little more tart, visit the nearby Burton City Cider. Located on a 30-acre farm with sheep, chickens, a llama, and an orchard, the family-run business offers pizza nights and lunches, with a variety of made-on-site ciders on tap.
Once you've gotten your food fix, it's time for some active fun. The Arrow Lakes region specializes in all forms of outdoor enjoyment from the human-powered, like hiking and biking, to motorized experiences such as ATVing and boating.
Fish your way through the region
Hire a Castlegar guide to show you the secret fishing holes on the Columbia River or Lower Arrow Lake where you'll find some of the largest kokanee salmon in the world, as well as rainbow trout and walleye. Or cast your line into any other river or lake in the Slocan Valley, including Summit Lake and the stocked Box Lake, both perfect for family outings. The northern end of Arrow Lakes is popular for its quiet spots to fish from a boat launched at the Nakusp Marina.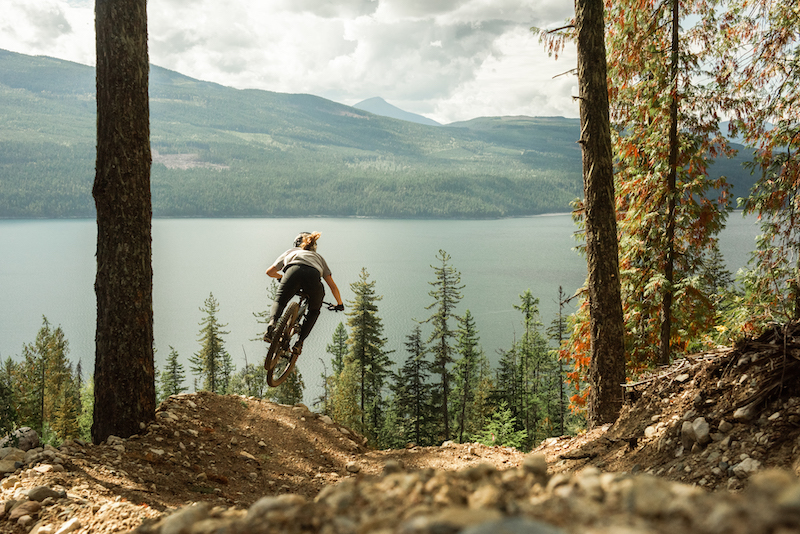 Bike the many trail networks
If dry land is more your preference, there are innumerable hiking and biking trails in the area. For example, between the two resorts of Halcyon Hot Springs and Nakusp Hot Springs, you'll find the Mt. Abriel Recreation Area, a lakeside campsite at the foot of a mountain biking zone that now includes more than 60 trails ranging from beginner to expert. Further south in the valley are many converted railway beds which are perfect for bikers and walkers looking for mellower terrain with monumental views. Closer to Castlegar, another former rail bed, the C&W Trail, runs alongside Lower Arrow Lake and through tunnels before veering south and west for 95 miles. Castlegar's Merry Creek and Rialto mountain bike trail networks are also popular with riders of all levels and age groups.
Hikes for any type of adventurer
Hiking is a popular autumn pastime in this region because the larch trees turn yellow and the alpine slopes become canvases of every shade of green and gold. There are many places throughout the Slocan Valley where you can hike high into the mountains, but for trails closer to the road, there are seven excellent ones near Nakusp Hot Springs ranging in length from 0.5 to 5 miles. Another family-friendly outing is the Yellow Pine Nature Trail in Syringa Provincial Park near Castlegar that offers views of Arrow Lake from a terraced hillside. In fact, the region's five provincial parks boast everything from beautiful waterfalls, rock climbing cliffs, lakeside camping spots, as well as plenty of wildlife, from bighorn sheep and elk to bufflehead ducks and ospreys.
Find more travel stories about Canada in the OTO archives.