In his essay "Nature," Ralph Waldo Emerson writes "Nature never wears a mean appearance."  Nowhere is this truer than in Yellowstone National Park, which is why it attracts more than 3 million visitors annually. Those who visit in the fall will find September crowds roughly half those of July, with October crowds one-eighth of July's peak. The diminished crowds, the mild days and cool nights, the changing colors, and the more active wildlife all make fall a great time to visit.
According to Wendy Swenson of the West Yellowstone Chamber of Commerce, "Fall is one of the best times of the year to take advantage of Yellowstone." She says smaller crowds are a plus, but the wildlife watching is spectacular, and hearing the bull elk bugle is unforgettable. The bears are also preparing for hibernation, which means they spend up to 20 hours a day foraging for food.
When locals seek the park's most popular wildlife – grizzly and black bears and wolves – they head to the Lamar Valley. This stretch between Mammoth Hot Springs and the Northeast Entrance is often called the American Serengeti thanks to its abundance of wildlife. Richard Jehle, a park ranger, suggests the Mammoth area for watching the elk rut. He says that while there may be some occasional head butting, the males generally secure their harem through the display of their freshly polished antlers.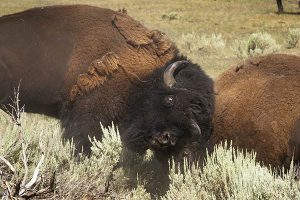 For some who make their livelihood in the park, it's the scenery that comes first. Brian Farrell, owner of Trail Guides Yellowstone, says "visitors should come for the scenery and the wildlife is extra, due to its unpredictability." When it comes to wildlife viewing, Farrell says it is better to do so from the safety and comfort of one's car or RV while driving the various loops. That way, he says, just watch for the hard-core spotters and clusters of spotting scopes, then pull over. As is true year round, wildlife tend to be more active in the morning and evening. Park rules require visitors to stay at least 100 yards from wolves and bears and 25 yards from all other wildlife. This year bison have put several people in hospitals after they came too close.
The milder fall temperatures also make the park's over 2 million acres and 900-plus miles of trails all the more attractive for hiking. Some front-country hikes are short and easy (a mile round trip to Harlequin Lake for instance) while others present a greater challenge (Mt. Washburn, an area frequented by grizzlies, is a six-mile loop with 1,400-feet of vertical). Then there is the backcountry. Farrell says "if you get into the backcountry, you'll feel like you have it to yourself. It may be the only other person you see is a park ranger." Permits costing $3 per person per night are required for all backcountry trips. Evidenced by the recent death of a hiker, bear spray, and knowing how to use it, are essential in the backcountry.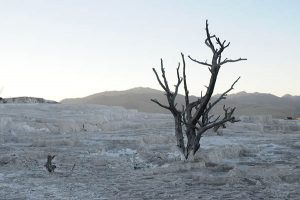 For many, come fall around Yellowstone, it's all about the fishing. Jehle says that fall brings runs of brown trout to many of the rivers and streams. Fly fishers on the Gibbon, Gardiner, Firehole, Madison and other rivers in the park are in for a scenic treat with the changing colors in the aspens, cottonwoods and underbrush, even if they don't land any fish.
It's not just the park that that makes a visit to Yellowstone worthwhile. Additional attractions include the Grand Teton National Park (covered by the entrance fee to Yellowstone) and the Earthquake Lake Visitor Center chronicling the quake of 1959. The Yellowstone Historic Center features transportation history, while at the Grizzly and Wolf Discovery Center visitors are guaranteed to see grizzly bears, wolves and raptors year-round.
Where to Stay
If you don't already have reservations, lodging in the park will be a challenge, but there are plenty of lodging options in the towns at the various park entrances. Campsites are generally available through mid-October when the park begins winding down for the winter. Only the Mammoth Campground is open year-round. Plan your trip and lodging options at Visityellowstonepark.com. //
Fall Events around the Park
Old Faithful Cycle Tour (September 19). 60-mile round trip, with a one-way option. Features two feed stations, three sag wagons, on-course bike mechanics and a group meal. Limited to 350 riders. Registration opens September 15.
Yellowstone Rendezvous Trail Run (September 26). 2K kids run, 5K walk/run, 10K or half-marathon (with relay option) through the Gallatin National Forest with views of Yellowstone.
Yellowstone Park Fee Free Day (September 26)
Beer Fest in West (October 17-18). Home brew competition plus regional and national brewers providing samples at the West Yellowstone Holiday Inn.