Meandering from lake to mountains, through scenic wildlands and charming small towns, the world-famous Trail of the Coeur d'Alenes will take you on an epic fall adventure not soon forgotten. With 73 miles of paved serenity and sights, North Idaho's Trail of the Coeur d'Alenes offers an incredible opportunity to unwind and enjoy fall colors, mountain scenery, and plenty of peace and quiet from your bicycle.
Start your trip on the east side, west side, or even in the middle of the trail from one of numerous trailheads, each with easy access from paved roads. Download this easy-to-use interactive map to decide where your adventure will take you.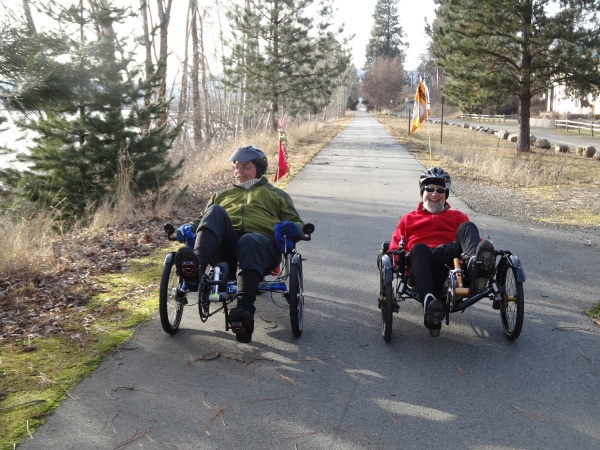 Enjoy Fall Colors & Wildlife
When you ride the Trail of the Coeur d'Alenes in autumn, you may see more birds and wildlife than people. And if you time it right, the fall foliage can be spectacular. Take in the fall colors that include aspen, birch, fruit trees, western larch, and many other shrubs at your own two-wheeled pace. The crisp fresh air, crunch of the leaves, and stunning colors have an incredible way of rejuvenating the mind and spirit. Hear the call of the birds or fish jumping in one of the many lakes and streams as you pedal along the trail. Many species of wildlife are more active come autumn, so keep an eye out for migrating waterfowl, birds, moose, deer, elk, coyotes, black bear and other animals.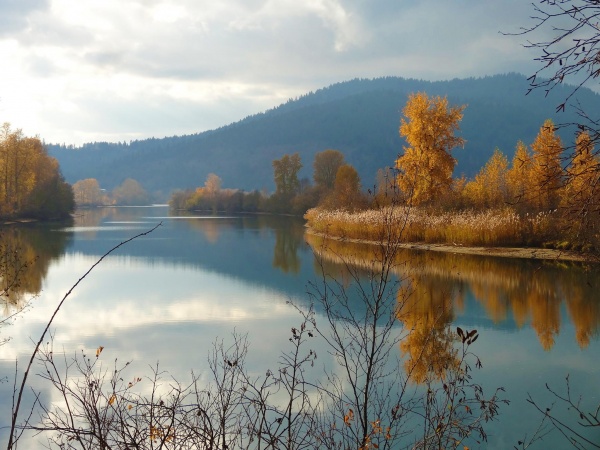 Fishing along the Trail
Be sure to include fall fishing in your plans. Riding along the Coeur d'Alene River, through the chain lakes and past many tributaries, you will not have a hard time finding a great pool, lake, or stream to drop a line. One great little secret in plain sight on the Trail of the Coeur d'Alenes is at approximately mile marker 58, just west of Osburn—the Gene Day Park pond. It's a great little fishing hole for all ages that is stocked annually and has easy trail access. Fishing in this area is open year-round, but make sure you know the regulations before you go.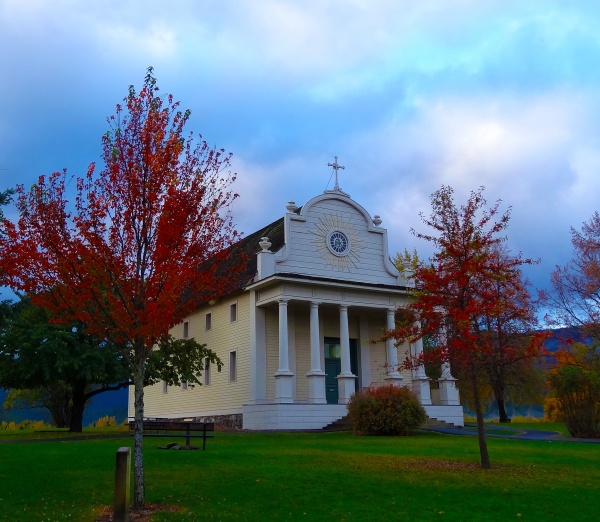 Explore the Towns & Sites along the Trail
Trail towns Harrison, Kellogg and Wallace offer a wealth of options to dine, relax, and unwind. Hotels from the most modern to historic boutique lodging, some of North Idaho's most highly-rated restaurants, microbreweries, festivals and more all await the autumn traveler.
Local Community Events
While mother nature creates one of the best events you could ever attend while pedaling through the North Idaho mountains, plan to take in some local fun in the historic communities along the trail while you're visiting.
October 3-6: Wallace Fall for History Festival. Wallace matches the fall colors with a celebration of its colorful history during the town's multi-day Fall for History Festival. This historic town, entirely listed on the National Register of Historic Places, offers four days of guided tours of its historic homes, buildings, and cemetery, as well as civil war and mountain men encampments, live theater, history workshops and more.
October 5: Harrison Oktoberfest. Harrison's Lake Coeur d'Alene access and incredible views are not the only thing you will find in this historic, trail-side town. Don't miss the Oktoberfest in City Park from 1-7 p.m. Experience this lake town's vibrant community, rain or shine. Sample the local flavor from microbrewers, food vendors, and artisans. Live music will be on hand as well as activities for all ages.
October 13: "Reed All About It" Sax Quartet in Kellogg. Take a moment indoors and experience "Reed All About It," presented by the Shoshone County Community Concert Association in Kellogg. This sax quartet will have tunes ranging from Mozart to Lennon-McCartney with Ellington, Cohen and more in between. Add to your outdoor inspiration with some toe-tapping live music.
November 30: Silver Valley Lighting Festival in Kellogg. Kick off the holiday season by spending the day in Kellogg, Idaho, for the Silver Valley Lighting Festival and Shop Small Saturday celebration that supports local businesses and artisans. Find parades, shopping, and hot cocoa in a resort town that feels like home.
December 6-7 & 13-14: Retro Christmas Celebration in Wallace. The colorful town of Wallace celebrates Christmas in retro style that won't disappoint. Experience holiday celebrations reminiscent of Norman Rockwell and A Christmas Story. Lights, hayrides, parades, caroling, and pageantry await in this picturesque, historic mountain town.
December 14: Winterfest in Harrison. Harken back to simpler times for the holidays with Grange Hall socials and bake sales, a chili feed in the park, hayrides and bonfires, shopping, and of course a tree lighting ceremony.
(Sponsored Content)