OTM Tested, Holiday Approved
 Patagonia Activist Shoes
Looking for a lightweight, super comfortable, water-resistant sneaker-style shoe that you won't want (or need) to take off your feet as you move between home, office, crag or camp? I fell for the Patagonia Activist shoes at first sight. They remind me of a more modern, functional version of a favorite pair of Vans I had back in college. Although walking around in them is where the real magic happens. They are light, breathable, and feel like a vacation for my feet whenever I put them on. They are tough enough for light outdoor use with durable ripstop nylon uppers, and while they're not recommended for extended trail use, they are an ideal camp or travel shoe. In the impact conscious Patagonia tradition, they also include recycled rubber soles.
Patagonia.com. Local Patagonia shoe retailers: Mountain Gear/REI (suggested retail: $85).
Oboz Sawtooth Mid Hiking Boots
I broke my pair of Bozeman-based Oboz Sawtooth Mid hiking boots in around the house and neighborhood this fall before putting them to the test on what had to have been one of the wettest Spokane River Cleanup events ever. It was raining so hard when I left the house that morning that I actually broke out the gators and my good pair of rain pants with only one duct tape patch. After several hours of bushwhacking along the river on a treasure hunt for trash in the pouring rain, my feet were still completely dry. Scrambling up the steep river banks after rogue plastic bags and beer cans, the Sawtooth Mids provided all the ankle support and traction I could have wanted. A few more hikes and miles of everyday wearing later, I'm finding the balance of stiffness, support, and comfort a welcome addition to my rather minimalist leaning outdoor footwear arsenal. I expect they will excel on rugged, rocky trails with an overnight pack and look forward to seeing how they hold up after a season of wear out in the elements of the Selkirk, Bitterroot, and Cabinet Mountains this summer! Obozfootwear.com. Local Oboz retailers: Mountain Gear/REI (suggested retail: $140).
Selk'bag Sleepwear System: Patagon
I have seen ads for the Chilean designed and tested Selk'bag wearable sleeping bags in several publications and liked the idea of more freedom of movement than you get with a traditional mummy bag. But I had to wonder how one would perform overnight in chilly weather and in the around-the-campfire social scene. Would I wake up with my teeth chattering, struggling to find the zipper for a midnight trip to the nearest tree? Would I draw unwanted attention to myself at a North Idaho trailhead for looking too much like Gandalf? But when I pulled my Patagon Selk'bag out of the box and slipped inside, all those worries melted away.
The Patagon is the newest, most technical and warmest model from Selk'bag. New insulation and improved shell material helped get the temp rating down to 35°F, which opens up more possibilities for cold climate camping. Several vents help with heat control, and you can free your hands from enclosed mitts for holding a beverage or lighting a stove. The detachable booties also give you the option to wear your bag around camp with warmer boots on. A long and wide zipper opening across the chest makes getting in and out of the bag a breeze. I stayed plenty warm in my Patagon in mild fall temps. I'm really looking forward to putting it to the test this winter in ski huts and on winter van camping trips (with an extra blanket just in case) where looking like a wizard might also help me leverage an extra après-ski beer out of my intimidated ski mates. Selkbagusa.com. Local Selk'bag retailer: Mountain Gear (suggested retail: $259).
Sherpa Adventure Gear: Langtang Jacket
The Langtang Jacket is a warm, exceptionally comfortable fleece option for shoulder season temps and cold weather layering in style. It fits like a glove and wards off cold, wet-weather chills like no other fleece jacket I've ever worn. It's so incredibly soft and warm looking, in fact, that people will invariably ask to pet you, and you might even catch yourself caressing your own velvety arms or rubbing your cheek against your dangerously soft shoulders. No joke, whenever I put on my Langtang around the house, I get the urge to curl up somewhere and take a nap. Wash your Langtang Jacket separately for the first couple of times to keep any loose fuzz fibers from coating your other garments (we learned that lesson the hard way), and keep it out of the dryer if possible. Sherpaadventuregear.com.
Local Sherpa Adventure Gear retailer: REI (suggested retail: $90).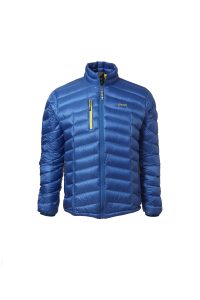 Sherpa Adventure Gear: Cho Oyu Down Sweater
A great, stylish choice for cold, breezy days, the Cho Oyu Down Sweater will keep you warm with 800 fill European Goose Down. Deep pockets keep your bare hands happy, and the elastic cuffs and hem adjuster help repel wind and trap heat. The Ripstop Nylon construction is tough enough to make this jacket equally suited for around town outings and as a compressible, packable, light-weight layer for winter adventures. The only drawback: this jacket is so damn nice looking, that I fear it may permanently damage my dirtbag reputation. Also, an added caution: stay away from rose bushes while sporting your Cho Oyu; the shell is super strong and has survived most of the abuse I've put it through unscathed; however, it's not completely thorn proof. Sherpaadventuregear.com. Local Sherpa Adventure Gear retailer: REI (suggested retail: $249).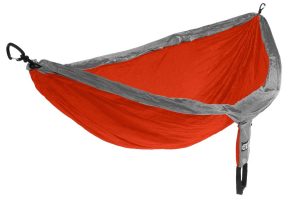 Eagles Nest Outfitters (ENO): DoubleNest Hammock with Insect Shield
I've had several hammocks over the years that were never very comfortable once I brought them home from the tropical beach where I bought them. The ENO DoubleNest with Insect Shield takes hammock lounging to a new level of comfort for one or two bodies. Ours was hanging in the backyard for much of the fall and has facilitated many relaxing, swinging afternoon breaks in the sun. The smooth nylon fabric is incredibly cozy with excellent back support. It's super easy to set up and is light enough (21 oz.) to pack along on day hikes and backpack trips for sleeping instead of a tent or just to get yourself off the ground for hanging out at camp. The insect repellant construction and added Permethrin treated Insect Shield will definitely come in handy when the mosquito hatch hits next spring and at buggy mountain lakes in the summer. Check out their website for hammock camping and other accessories. Enonation.com. Local ENO retailer: REI (suggested retail: $84.95).
ENO LaunchPad (Double)
We didn't get our ENO LaunchPad Double in time to take it to the beach this past summer, but based on how useful it is as a day-hike picnic blanket, I know it will be joining us on many swimming and beach outings on the Spokane River and at Sanders Beach in CDA next summer. The LaunchPad is the perfect, packable outdoor blanket for music festivals or day hikes – unlike a traditional blanket, it won't pick up forest floor hitchhikers or wet your bum from soggy grass thanks to a water-resistant ripstop nylon bottom. And the soft fleece top makes for enjoyable, ground sprawling sessions for one or two wherever you decide to throw it down. Enonation.com.
Local ENO retailer: REI (suggested retail: $84.95).//