As an avid Nordic skier, I'm always on the lookout for fun events to scratch my competitive itch. So when I saw an advertisement for the "Spokane Nordic Challenge Loppet," I was naturally intrigued.
Now, what exactly is a "loppet"? I polled my coworkers, and their guesses ranged from logical to absurd: A large rabbit, a Scandinavian folk dance, beef stew from France, a Muppet that cuts things, a retro hair style, an exercise machine and "the sound a marmot makes when it's surprised." My friend, an amateur snowboarder, hazarded the closest guess: "Isn't it a cross-country ski race with sweet obstacles and sweet tricks that you have to 'loppet' over?"
Well, as it turns out, my snowboarding friend wasn't too far off. A "loppet" is a cross-country ski race, but the only "sweet tricks" would involve extracting my mid-race chocolate bar from my pocket without removing my gloves. "Loppet" roughly translates to "ski marathon," or any cross-country skiing event that's over 20 miles long. The Spokane Nordic Challenge Loppet, held on Mount Spokane on the first Sunday in March, offers a variety of distances from 20 to 50K (12-31 miles) to entice every level of Nordic athlete.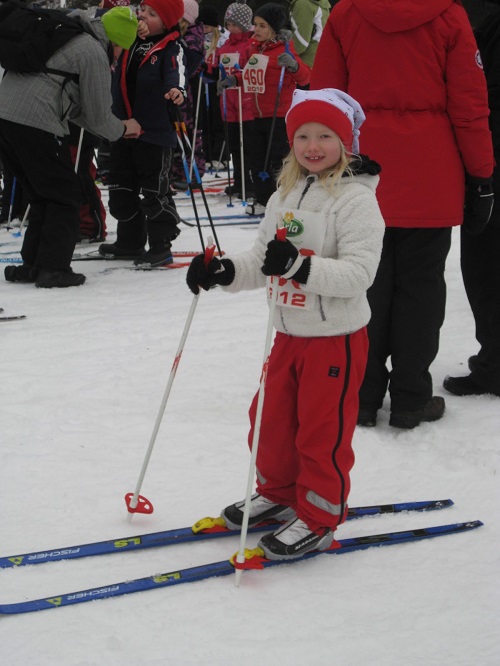 I woke up on race morning with some measure of trepidation. I hadn't really trained for a ski marathon. Did I just bite off more than I could chew? As I looked around the starting line, I saw quite the spectrum of fitness levels and skiing ability. There were elite racers, amateur fitness buffs, and novice skiers who had just completed a season of adult lessons. There were grandpas, soccer moms and even a few intrepid grade-schoolers ready to challenge their parents in a 20K smackdown. The race director reminded us that while we DID have racing bibs, that this was NOT a competitive race. Stop for a snack, he told us, or come back to the lodge for lunch. He advised the participants to enjoy the scenery, take pictures and relish the snowy trails before the spring thaw turned everything into mush.
The Spokane Loppet was created to be, in the truest sense of the word, a challenge. It's a personal test of a skier's endurance, an end-of season celebration of their fitness gains. There are no age-group prizes, no overall awards and no time limit. In fact, the grand prize is earned for the best "Selkirk selfie" taken on the race course. "The beauty of an event like this is that it can be whatever you want it to be," explains Race Director Brad Thiessen. "Elites can race it if they want, but for most people it's either a personal challenge or a chance to take a long ski with friends."
At age seven, Josie McLaughlin was one of the youngest finishers of the 2014 Loppet. With frequent rest breaks, plenty of snacks, and a thermos of hot chocolate, McLaughlin and her mother finished the course in just a hair over four hours. I asked McLaughlin if she had any advice for a Loppet rookie: "I would tell them to not ski too fast at the start, just go medium," she advises. "And when you finish, finish strong!"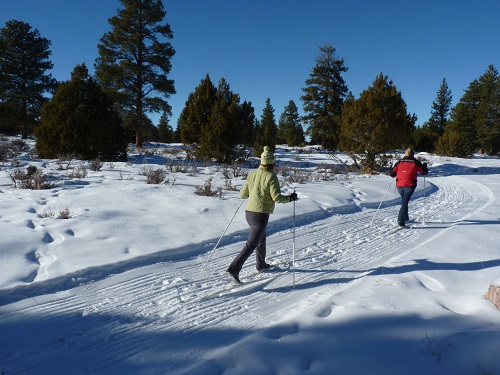 The Loppet course was designed to showcase Mount Spokane's expansive trail system, which offers everything from long gentle grades to exhilarating downhills and meandering paths through alpine forest. The aptly-named "Outer Limits" trail takes skiers over the Washington/Idaho border on an epic, swooping traverse down a mountain meadow, with breathtaking panoramas of the surrounding Selkirks. Skiers can warm up around a fire or replenish their water bottles at several aid stations, where ski patrol volunteers and the local junior racing team offer words of encouragement. "As they say, faith can move mountains," advises race founder John Hatcher. "Or in this case, it can move you across the mountain."
While the idea of a ski marathon might sound intimidating, race organizers maintain that any recreational skier can complete the shortest distance with proper pacing, comfortable equipment and enough snack breaks. "Twenty kilometers may seem like a daunting challenge, but last year we had 29 kids under the age of 18 ski 20, 30 and even 50K, so it's definitely doable," explains Thiessen. "It's as much a mental reframing as a matter of fitness. You have to settle yourself in for a long ski and just soak in the views."
That being said, practice never hurts. This season, the Spokane Nordic Ski Association is offering a "Perimeter Challenge," a self-directed program to ski the perimeter of every major trail expansion over the life of the ski park.
As for my own Loppet challenge, I left the race course with tired legs, a big smile and a new tasseled hat from the raffle prize drawing. And I definitely had supreme bragging rights at the water cooler back at work on Monday; after all, my colleagues still think a "loppet" is an elite lumberjack competition. I haven't corrected them yet.
The 2015 Spokane Nordic Challenge Loppet is scheduled for March 1, 2015. Find more information at www.spokanenordic.org/challenge.
Article by Jamie Redman