"It's basically a hike with a purpose." That's how disc golfer Steven Lambert describes the sport, and he couldn't have chosen a better metaphor to convince me to give disc golf a try. (As opposed to using, say, a "ball golf" metaphor. More on that later).
Our small group meets at High Bridge Park, a forested little city park along the bank of Latah Creek, which features a public disc golf course. There's no snow yet, but I can imagine how pretty a couple of inches would be here. Lambert guides us through the course, patiently showing us the basic throws, and even more patiently waiting as we throw way over par in pursuit of that gratifying chain jingle as our discs drop into the basket.
"Winter might be my favorite time to play," says Lambert, "because it's so calm and peaceful and quiet." And like runners who drill screws into their winter trail shoes and cyclists who swap out their full-suspension mountain bikes for fat bikes, dedicated disc golfers adapt to cold weather with appropriate gear, clothes and technique.
Disc golf has exploded in the past 10 years in the Inland Northwest. "Stimpi" Steve Simmons, owner of Stimpi Ridge Disc Golf Course and Pro Shop, welcomes the boom. "It's a sport that can be played any time, any season. You can't say that about many other sports," he says. Simmons golfs nearly every day of the year, and he has played in blizzards, rain, snow, wind, and blazing sun – everything but lightning, which he'd just as soon avoid.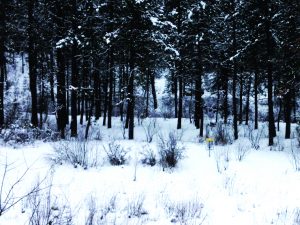 Winter disc golf should be focused on fun and exercise, not skills improvement. "Trying to work on your game is useless," Simmons states. "The footing, grip, and flight of the discs are different. You can't unload on a shot or you'll be in danger of flying head over heels in the air." He also suggests avoiding big run-ups and skidding follow-throughs. "Slow down and concentrate on your standing technique or a one-step approach," he advises. "Those shots are just as important, and we tend not to practice them in good conditions." Simmons recommends avoiding disc golf courses on steep hillsides or cliff areas during slick winter conditions too.
Regional disc golf clubs remain active throughout the winter, and most clubs facilitate an Ice Bowl, which is a charity tournament that raises money for local food shelters. Pro disc golfers Tara and Christopher Ré have special memories of golfing in Spokane's Ice Bowl, which is where they first met in 2003. Christopher is an arborist, and he golfs more during the winter when his work hours allow more play time. He's in the middle of describing the slippery winter footing when Tara interrupts: "But you play barefoot, babe!" He smiles and shrugs, "That's just for summer play."
The Rés explain that it's harder to handle discs in winter months because the discs are usually wet and cold, and so are the players' hands. The colder, denser air means the discs don't fly as far. And of course, discs can disappear without a trace in fallen leaves or snow drifts. Disc golfers often attach a two-foot length of colored curling ribbon to their discs, which makes them easier to spot but more difficult to fly.
Common sense cold-weather adjustments apply to winter disc golfing: "Warm socks, waterproof boots, gators to keep the snow out, and cleats if it's icy," says Stimpi Steve. He advises dressing in layers, with thicker layers at the core to keep the torso warm and the arms free to move. "I also wear gloves with hand warmers inside, and remove the right one only when I throw."
Back at High Bridge Park, our lesson draws to a close as another group of golfers inevitably catches up to us. I apologize for our slow pace, and they assure me that they're here as much for the good company and fresh air as they are for the play. "That's a pretty typical exchange," says Lambert as we walk back to our cars. "Disc golfers are almost always friendly and laid-back." He implies that those who play traditional golf (or "ball golf," as disc golfers often phrase it) aren't always so relaxed about their game.
Disc golf in the winter months may require a few tweaks to your summer play, "but the fun value doesn't decrease," promises Stimpi Steve. "You're still outdoors, wandering around your favorite park, chasing plastic. It's what we like to do." //