The broken river permit system is in need of a long-overdue fix, but there's no mechanic on the way.
Many Baby Boomers can recall cartoon villain Snidely Whiplash snarling the words, "Curses, foiled again!" whenever he was thwarted by Dudley Do-Right of the Mounties. The tales of Whiplash and Do-Right were part of The Adventures of Rocky & Bullwinkle that ran from 1959–1964. Many river runners might once again evoke those words knowing they were "foiled again" in the quest for the rapidly vanishing wilderness species of river permits.
Opening up email this past Valentine's Day, just two percent or less of you were successful in securing dates to float Hells Canyon, the Main and Middle forks of the Salmon, or the Selway Rivers.
Like a steady upriver wind that endlessly delays your arrival at that perfect riverside beach campsite and cooler-chilled cocktails, the river permitting process has increasingly become an exercise in futility given the remote odds of enjoying that wilderness experience.
Permit Odds by the Numbers
You are not just imagining things, either. In 2010, there was a 1 in 6 shot of running Hells Canyon, 1 in 17 making the Main Salmon, 1 in 25 of winning the Middle Fork launch lottery, and 1 in 47 for the Selway. These four Inland Northwest rivers make up what's known as the 4-Rivers lottery.
In 2021, those numbers, respectively, went to 1 in 25, 1 in 89, 1 in 102 and 1 in 384. According to Kevin Coburn, stewardship director for American Whitewater, in 2022, in excess of 60,000 permit applications were submitted through recreation.gov into the 4-Rivers lottery with just 1,054 successful.
Through a survey sent to 30,000 AWA members with some 1,300 respondents, 81% said their chances of securing a permit for rivers in the lower 48 states were unacceptable. Going back a decade, applications have skyrocketed on average over 300% since 2012. And there is no relief in sight.
The idea of increasing the number of permits would be a non-starter on many levels, the least of which being the reason most boaters want to go there in the first place and its effect on the environment, experience, and infrastructure. In fact, many argue the high number of rafters on these rivers is already an issue. "On the Salmon, numbers are too high," seasonal ranger Sheri Hughes who works out of Boundary Creek on the Middle Fork reported to the Colorado Sun. "The river looks really overused at the end of the season. It's beat to death." More use means limiting camps, smaller group sizes, and fewer river days.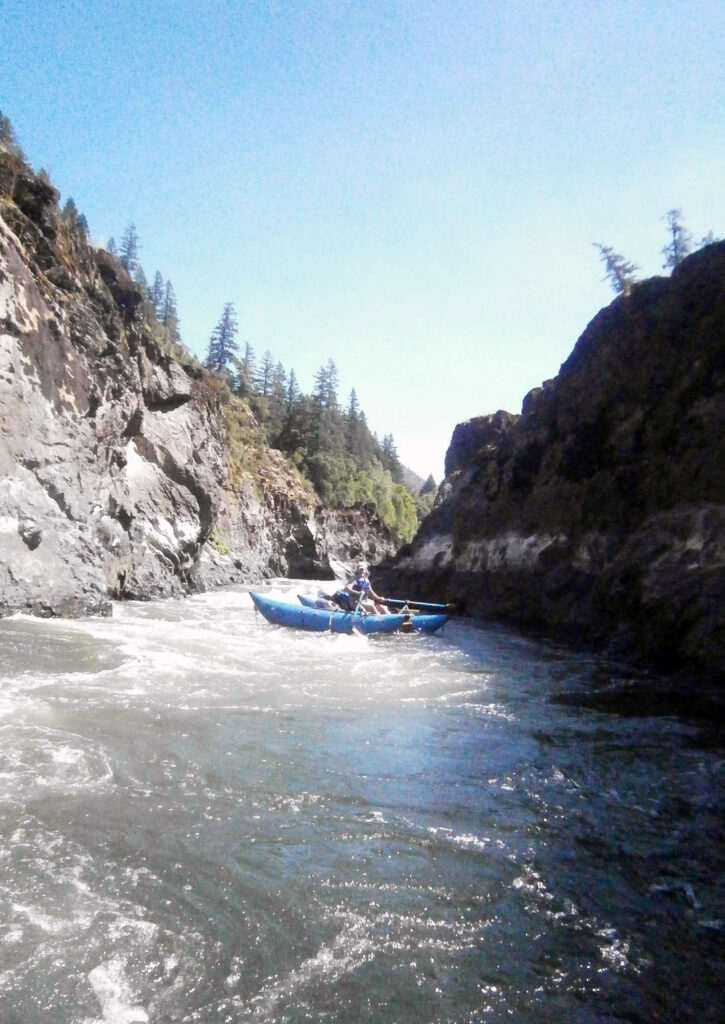 Fixing the System
One variation of a fix could come in the way the Rogue River allocates launches. They do it by group size with a cap of 120 persons per day between May 15 and Oct. 15. That total is split 50-50 between commercially-guided and private trips and in 2021 awarded 86 percent of applicants a launch.
Personally speaking, and having run each of the "4-Rivers," a 2018 trip on the Rogue was as remarkable a wilderness experience as any others—outside of what seemed like skimpy camping on day-one. Most river runners agree there has to be a way of protecting the balance of access and a wilderness experience.
There are ways to tweak the process, the most common it seems is through a "weighted lottery." This is where unsuccessful applicants earn more chances the longer it has been since they were—or never have been—on a particular river. While the U.S. Forest Service (USFS) has in the past surveyed the boating community about weighted lotteries, nothing has been done to initiate such a change in the decade since. Unfortunately, repeated requests from many boaters for comment from the USFS, which (through Recreation.gov) administers the permitting process, have gone unanswered.
The Outfitter/Guide Perspective
A person with a vested interest in access to these revered rivers is Peter Grubb, founder of Coeur d'Alene, Idaho-based ROW Adventures that runs commercial river rafting trips on many of these permitted Northwest rivers. He dove into things from a different perspective with me.
"As you can imagine, as an outfitter, this is a sensitive subject, because we are often singled out as part of the problem," Grubb wrote in an email. "I often hear that 'outfitters control too much use' or 'outfitters are the problem.'"
To exemplify his perspective, on the Middle Fork of the Salmon there are seven launches per day of up to 24 people, four going to private parties and three to outfitters.
Grubb explained one of the problems that tends to skew the stats—and dilute the odds—is that often in a group of 10-15 people hoping for a permit, all 10-15 people apply. Hypothetically, that's potentially 5,000 people competing for 500 launches. "If just 500 people applied, representing one person per trip, then the statistics and success rates would look very different," adds Grubb.
With 43 years on the river, one thing Grubb knows is timing applications can enhance success. On the Middle Fork, most outfitters sell out their seats between about July 5 and August 5 when the water is not too high, but not too low.
"Everyone wants to go then, including the non-outfitted public," Grubb explains. "But if people apply for permits after August 15, the chances are much improved. We always see fewer people on the water, both outfitted and non-outfitted, after August 10 or so."
While an overhaul of the system isn't likely anytime soon, there are baby-step efforts by the Bureau of Land Management happening on Desolation-Gray Canyon of the Green River in Utah that could offer an easy process tweak for other rivers—in this case people who cancel a permit after a certain date are penalized. Outdoor industry lobbyists in Washington, D.C., would also like to see rules changed to make more unused permits available to both commercial and private entities.
Dudley Do-Right, where are you when we really need you? //
Paul Delaney began his whitewater adventures over 40 years ago and now has 45 rivers and creeks on his resume. He wrote about rafting the Owyhee River in the June 2020 issue of Out There and originally addressed permitting in the May-June 2022 edition. Contact Paul at spokanerafterguy@comcast.net.