Camping provides an immersive, hands-on educational experience for children. To optimize fun while ensuring comfort and leisure, try these tips on your next family camping adventure.
Not All Campgrounds Are Created Equal
Choose a campground with amenities that best suit your family. There is a spectrum of camping, with four general styles. If you're new to camping, decide which style best fits your family's current situation and level of expertise and how rugged you're willing to be for each trip.
Primitive: Sites located on public lands, typically along national forest roads, known as dispersed campsites. No potable water, no sewage system or vault toilet, no trash removal service, and no fee to camp. You must camp no less than 200 feet away from a fresh water source, and follow Leave No Trace principles. You will need to bring your own water purification system (or bring all your own water) and portable toilet or trowel, toilet paper and plastic bags for carrying out all trash and solid waste, plus your own table and chairs.
Rustic: Established, no-frills campgrounds with potable water and vault toilets and typically picnic tables, usually in national forests. On-site campground hosts clean campsites, provide cleaning and maintenance of facilities, and ensures rules are followed. They also sell firewood if there isn't a campfire ban in effect. Bring typical car camping gear, including bio-degradable soap and possibly an ample supply of sanitizing and/or body wipes for personal hygiene.
Comfortable: Established campgrounds with restrooms and sometimes showers and other amenities, such as a children's playground, marked trail network, and ranger-led programs. These are usually found within state and national parks. No special gear required.
Deluxe: Private campgrounds tailored to RVs, providing full restrooms, swimming pool or beach access, and a store or visitor's center. Cabins, yurts or other overnight rental accommodations are also sometimes available. Examples include for-profit RV parks and campgrounds and private, membership-only "camping clubs."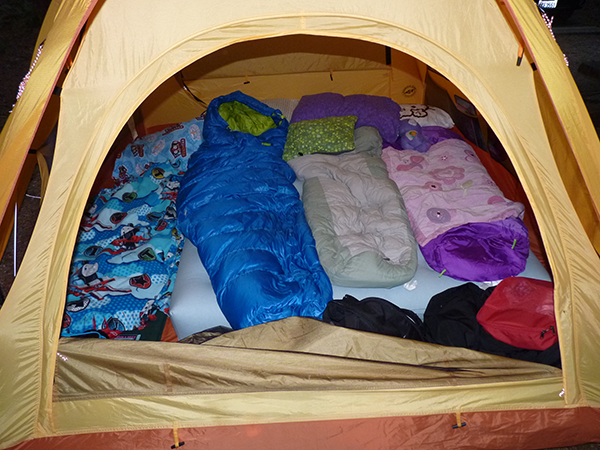 Location, Location, Location
Pick a campground that's located near opportunities for the recreation and activities your family enjoys. If you're looking for a lake-focused experience that includes fishing, paddling or swimming, then campgrounds like Round Lake State Park near Sagle, Idaho, or Hawley's Landing at Heyburn State Park, on the shore of Lake Chatcolet, are good choices. If you want more trails for hiking, mountain biking, and perhaps the opportunity to play disc golf, then book your stay at Farragut State Park, near Athol, Idaho. For campsites within walking distance to a lake to launch a stand-up paddleboard or kayak that also have a dog-friendly beach, try Sam Owens Campground on Lake Pend Oreille near Hope, Idaho.
Depending on your previous camping experience, and the ages of your children, you may want to choose a campground located within a 1-2 hour drive from home, or within close proximity to a supply store or alternative overnight lodging. Have a Plan B. Kids may get sick. A rainstorm might soak your clothes and gear. Nights may be colder than you planned. Whether you need to retreat to home or book a night at a hotel or lodge to dry out and recover, there are ways to modify a trip and salvage a vacation.
Choose a Campground Near Entertainment Attractions
For some kids, camping close to alternative activities, especially if you're camping out for several nights, can make all the difference. Try Farragut State Park, near Athol, Idaho, and visit Silverwood Theme Park. Or when camping in Washington's Cascade Mountains, there are two campgrounds located off I-90 west of Snoqualmie Pass (Tinkham and Denny Creek) that open up many opportunities for experiencing different activities: hike the trails within the Alpine Lakes Wilderness in the Mt. Baker-Snoqualmie National Forest, hike through old-grown forest to Franklin Falls, plan a day trip to Seattle, or visit the Northwest Railway Museum and Snoqualmie Falls in the town of Snoqualmie, which hosts the "Day Out with Thomas" family event in July. Off-campground excursions can be thrilling for the whole family.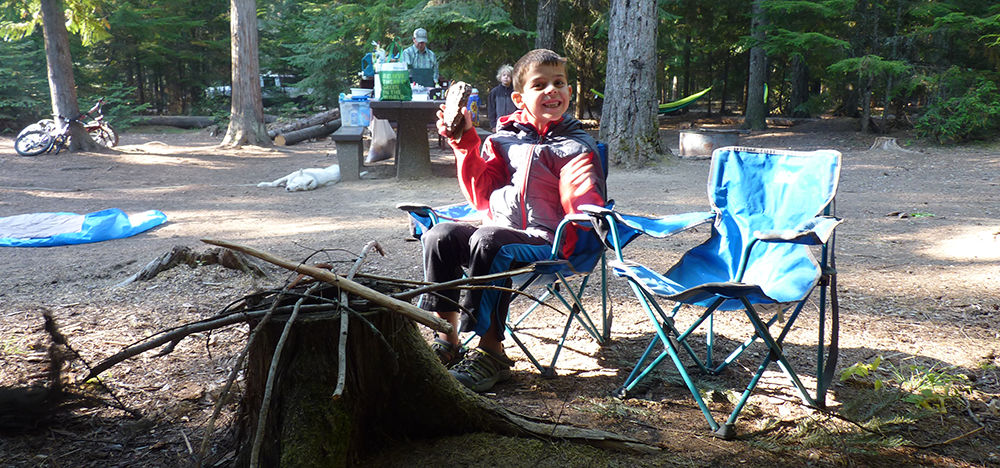 Plan Ahead to Maximize Fun
Do not risk disappointment with a first-come/first-serve campsite. Ensure you have a campsite waiting upon arrival. Some campgrounds allow reservations up to 6-12 months in advance. Most campgrounds provide easy online reservation systems.
Make sure you don't forget critical things. Consult a packing checklist and plan ahead to create intentional fun and surprises. Rather than start a checklist from scratch, use one provided by an expert source like Jennifer Aist, author of "Babes in the Woods: Hiking, Camping, and Boating with Babies and Young Children." On her website, Wildernessforkids.com, there are free downloadable resources.
Other reputable camping gear and packing checklists can be found at Nwtripfinder.com, Wta.org, and Rei.com. And don't forget fun items such as nighttime glow-sticks, nature journals, bug nets, bubbles, water squirters (for the lake or river), or special, surprising treats like Jiffy-Pop® or ingredients to make unique S'mores (e.g., peanut butter cups), campfire banana boats or donut snakes. Camping-themed bedtime stories, like "Curious George Goes Camping" are a fun way to end the day.
Leave No Trace Principles for Kids
Teach your children Leave No Trace ethics. Be creative and patient as you pass on your love for nature and camping, and demonstrate how to tread lightly. The member-driven Leave No Trace Center for Outdoor Ethics teaches people how to enjoy the outdoors responsibly. This copyrighted information has been reprinted with permission from the Leave No Trace Center for Outdoor Ethics (LNT.org).
Try these tips for limiting your impact on the places you visit:
Choose The Right Path
Trash Your Trash
Leave What You Find
Be Careful With Fire
Respect Wildlife
Be Kind To Other Visitors
Originally published as "Summer Camping Smiles: Create The Ultimate Camping Experience For Your Kids" in the April 2017 issue.