Wearing creative, even outlandish, costumes while running is becoming the trademark for local triathletes Jenny Yoakum and Kristina Northcutt. As Team Blaze members and Ironman Coeur d'Alene veterans, they've been running weekly together in costumes since last October.
"Wearing costumes has helped us to not take our training so seriously," says Northcutt, who competed in the Troika Half Ironman on May 31. It also reminds them to "enjoy the journey" – encouraging advice from their late coach and Team Blaze founder, Scott Roy, who embraced this as motto, before he died in April 2012.
"Engaging in the moment [means] the experience you have while you're running. You're going to get slower as you age; if you place your happiness only in your performance, it's harder to be happy. If you don't meet your goals, then you'll be disappointed in your training. Because we run in costume, every training run is meaningful and holds memories," says Yoakum, who is preparing for her third Ironman CDA on June 29.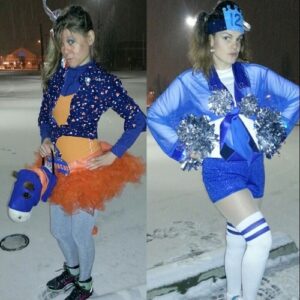 "Rather than trying to break records, [our goal is] to actually enjoy the race experience…to be engaged in the race, in its entirety, and not just be focused on yourself," Northcutt says. It's also "to show people, 'Who cares, let loose. Stop caring what people think about you.' Running in a costume makes me laugh and helps me not take myself too seriously."
But what really started it all? Yoakum's youngest son, when he was three, was the original catalyst. He didn't want to wait until Halloween to wear a costume, so she enacted "Costume Fun Friday," where they'd dress in costume every Friday, October 2013, for errands and other activities.
"This got us thinking that Kristina and I should wear costumes," Yoakum says, and it became their new Wednesday ritual for the month. But then Northcutt asked, "Do you think we could do this for a year?" Now it's turned into something fierce. "People tell us we can't stop after a year," Yoakum says.
They accept fan suggestions, and their goal is to not repeat any costume. Here's how their running schedule works. "We like to see the sunrise," Yoakum says. So they meet up at 4:15 a.m. and run 3-6 miles, but usually they track by total time running. Afterwards, the day rolls on – work, family, a full day ahead. Both are moms, with three children each. They credit their husbands and children for supporting their fitness goals.
After running together, Yoakum goes straight to work for her 10-hour shift as a surgical nurse. Meanwhile, Northcutt goes home to join the morning routine of her three children, ages six to almost three; she also teaches group fitness classes. "We try not to take time away from our families. We're not asking our husbands to miss out on something, and our children are still asleep at home. Our husbands are fully supportive," Northcutt says.
With races approaching, they've also been meeting for 15-mile runs on Sundays, wearing only partial costumes. Currently, their costume calendar is planned into July. Typically they choose themes based on upcoming holidays, including obscure and quirky ones.
For Yoakum, costumes also remind her to "stop defining myself by other people's expectations. I used to strive for things because I thought that would make me happy – it's still a process. For me and my life, a real abrupt change was when my oldest son almost died." At age 13, he lacerated his liver from hitting a tree while alpine skiing; he didn't realize the severity of his injury until Yoakum took him to the ER the next day where he was admitted to ICU. Miraculously, he fully recovered. After that experience, her whole outlook on life did a one-eighty. "I realized how nothing is promised; how quickly life changes or can be taken," she says.
"When I look back on my life, what do I want my memories to be? I ran Bloomsday once in 56 minutes, but when I look back on that specific race day, I don't remember anything else…. I'm not going to define my enjoyment or happiness by a [finish] time, but by whether or not I'm enjoying what I'm doing and whether it's bringing me fulfillment."
To see a photo archive of their running costumes, visit www.facebook.com/jkrunningfun. //