Some of the best ski and snowboard days of the year at Inland Northwest resorts unfold during the final weeks of the season when longer days and sunnier skies bring creative, fun events where costumes, contests, beer cups, and barbecue are the norm. Don't miss these OTO favorites for 2018!
Lookout Pass
St. Patty's Day falls on a weekend this year. Go green on March 17 at Lookout's crazy costume day, happening alongside their 10 Barrel Brewfest and a scavenger hunt for kids. Celebrate spring on March 31 at the Cardboard Box Derby, Pond Skim, and Beach Party Luau. Then, finish off the season by helping the staff finish off their kegs at the first Drink Our Barrels Dry Party on April 8. https://skilookout.com/
Silver Mountain
Silver's Spring Carnival kicks off on March 31, with a free pond skim and a costume contest with gift card prizes. Then, on April 21, compete as an individual or team in the rowdy adventure course that is the annual Leadman Triathlon—run, ski/snowboard, and bike! http://www.silvermt.com/
Schweitzer Mountain Resort
The Stomp Games Banked Slalom is back March 10-11. This timed event is fun, flowy, and for skiers and snowboarders of all ages. On March 17, experience the thrill and technical skill of some of the best riders at the nighttime showcase Sam Adams Air & Après. Make sure you stop by the Samuel Adams Festival Village and grab a cold beer before the show. March 24 is the 10th annual 24 Hours of Schweitzer, a fundraiser held in honor of 11-year-old Hank Sturgis of Sandpoint and others suffering from the rare, fatal disease cystinosis. https://www.schweitzer.com/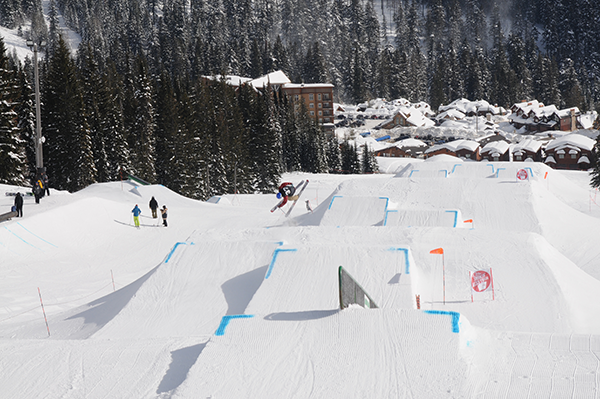 Mt. Spokane
On March 18, the mountain and KREM will be hosting a Free2Ski canned food drive. Donate eight cans and get a lift ticket. That's a good deal and proceeds go to Second Harvest. March 24 is another free ski day, this time for active or retired military personnel. It is also Family Fun Day, complete with an obstacle course, prizes, and the Mt. Spokane Yeti. http://www.mtspokane.com/
49 Degrees North
The resort's annual 4-person team Bavarian race, March 10, is sponsored by Northern Ales, raises money for the 49 Degrees North Mountain Hosts, and involves pitchers of beer. March 17 is 49's Hawaiian Dayz with proceeds from this Pond Skim, BBQ, and raffle benefitting the ski patrol. Finally, Oysterfest rounds out the season on March 24. The price is around $20 for all you can eat oysters that are one-day fresh from Puget Sound, dipping sauces, corn on the cob, and slaw included.  http://www.ski49n.com///
S. Michal Bennett is a freelance writer living and playing in North Idaho. She has recently contributed to Out There Outdoors on the topics of food, drink, snow amusements, and the unique pleasure of fat biking.
Feature photo: Leadman Race // Courtesy of Silver Mountain Resort
Originally published in the March 2018 print edition of Out There Outdoors under the title "Celebrate Spring on the Mountain."