Becoming a good camp cook using the open flames of a campfire can be easy with the right equipment, ingredients, and recipes and a little preparation. Here are some tips and recipes to get you started.
Equipment and Tools
Having the right supplies with you for campfire cooking is critical, since a run to the store may not be easy or possible. Don't leave home without these key items.
Multi-purpose tool (e.g., Leatherman®)
Lightweight, portable cutting board and a sharp knife
Heavy-duty aluminum foil
Long-handled metal tongs
Fire-resistant silicone glove or welder's glove
Steel fireplace poker, grill hoe or shovel, or "fire stick" found around campsite for moving around campfire wood and coals
Mixing bowls (Squish® makes collapsible products for compact packing and storage)
Metal camp plates
Roasting sticks: long, clean sticks (find downed branches around your campsite); telescoping forks; or long metal skewers
Metal campfire grate (use over large grate provided at campsite fire-ring)
Cast-iron skillet, pie iron, and/or Dutch oven (depending on the type of meals you want to cook)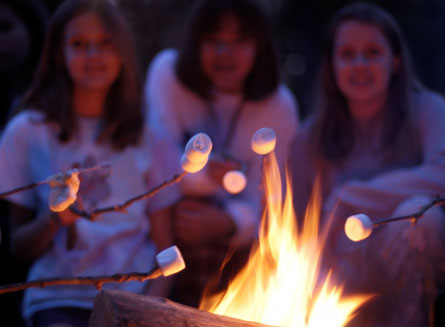 Cooking and Preparation
Save time and make campfire cooking easier with these tips.
Freeze meat before packing in your cooler so it remains cold enough until you're ready to cook it. This helps keep meat from spoiling. Marinate meat in a gallon Ziploc bag and double-bag it to prevent leakage.
Prep time: pre-cut vegetables at home to save time. Veggies like bell peppers, onion, carrots, and zucchini keep well in a cooler after being cut up.
Cook time: usually two bundles of firewood are needed for an evening campfire – one for cooking and another to maintain the cooking fire and keep it going after dark for roasting marshmallows, warmth and all-around campsite merriment.
Clean-up time: When planning your menu and meals, consider the number of dirty dishes it will create. If you plan to do an evening kayak paddle before sunset, for example, you don't want to be tied down doing endless dishes. Be as sustainable as you're willing to be with reusable plates, utensils, cups and prep bowls. Consider how some dishes serve dual purposes – such as a mixing bowl becoming your "sink" for washing the rest of the dishes.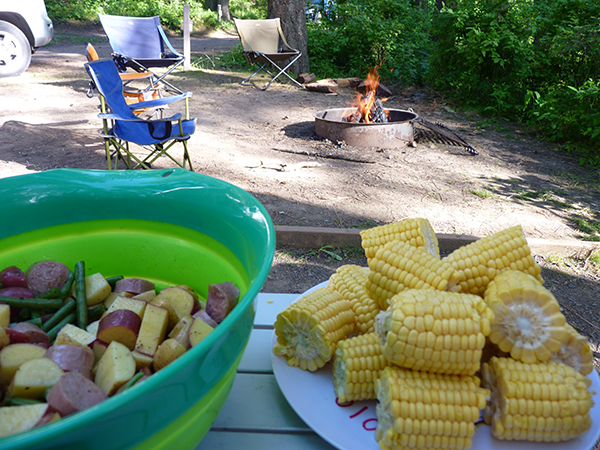 Campfire Recipes
Campfire Shrimp Boil Bundles
Ingredients & Supplies: 1 lb. baby red potatoes or fingerlings, halves or quarters; 1 lb. green beans, zucchini, bell peppers, and other vegetables of your choice (cut into bite-sized pieces); 2-3 ears of corn, husked and broken into thirds; 1 lb. cooked sausage (cut into 1" pieces); 1 lb. uncooked shrimp, deveined with tails attached; avocado or grapeseed oil (which both have a high heat threshold); seasonings of your choice (e.g., all-purpose, salt and pepper, etc.) – season to taste; heavy-duty aluminum foil – square sheets large enough to "bundle" each meal; garnish (optional): cocktail sauce, melted butter, lemon wedges
Directions: In a large mixing bowl, add cut vegetables, potatoes and meat (no corn cobs); add oil and seasonings, and mix it all together. Put a small amount of oil on each foil sheet to prevent food from sticking. Place a handful or more of vegetable, potato, and meat mixture onto the oiled surface of the foil and bundle ingredients depending on personal preferences. Add shrimp and corn cobs to the top of the vegetables. Fold foil edges together to create a bundle and secure the edges. Place bundles directly on campfire coals or on a campfire grate. Cook for about 7-10 minutes; check after a few minutes to prevent burning (shrimp cooks fast, but potatoes take longer). When done cooking, place the bundles on a metal plate or rock. Carefully cut open the foil and enjoy! Recipe courtesy of Spokane mom Keri Reser who first learned to cook around the fire camping on Lake Coeur d'Alene.
Donut Snakes
Ingredients & supplies: 1 tube of eight refrigerated biscuits; ¼ c. butter, melted; cinnamon and sugar mixture; and a roasting stick or long metal skewers.
Directions: Unroll each biscuit, shape them into long strips, and wrap each biscuit "snake" around a long, clean stick or metal skewer. Hold sticks about 6" to a foot above hot coals. When browned, push biscuits off the sticks and onto a plate and then brush them with melted butter and sprinkle generously with cinnamon and sugar. Recipe from "Campfire Cooking" published by CQ Products (2004).
Originally published as "Campfire Cooking: Over-The-Fire Recipes For Tasty Meals Under The Stars" in the July 2017 issue.
For more camp cooking ideas: Campfire Cooking Hacks: Beyond Foil Meals
[Edited online 5/2021]