By Rebecca Mack 
"Will you bring the petting zoo?" Our far-flung kids ask this every time we head out to see them. Of course, the answer is yes. The ability to travel with the animals is one of the primary reasons we bought our van, so we're happy to make room for the dogs and birds and their sundry provisions. Our two senior rescue mutts, Chili and Ellie, aren't impressed that we went whole hog and bought a crazily expensive Winnebago Revel Sprinter van complete with solar panels and a nifty motorized bed. They just like being able to go with us on our adventures. 
Everyone likes a good view out the window, so my husband built a custom viewing platform for our short-legged dogs, which doubles as their bunk bed at night. Our parrot Lovey is happy sitting up front on the cupholder or perched on the swing in her cage where the motion of the van mimics swaying treetops. Having animals along for the ride requires you to tolerate nose prints on the glass and a certain amount of dirt, dog hair, and dander. The smell is negligible, but maybe we're just used to it.
One recent weekend we had no idea where we were headed, but we had a short list of must-haves. Hudson's hamburger joint was a top priority, so we headed east to Coeur d'Alene, Idaho. We enjoyed our lunch in the shade of a lakeside park and looked at a map—the paper kind. Our campsite had to be in the woods on public land, away from people and traffic but not too long a drive, and with a creek close by for refreshment.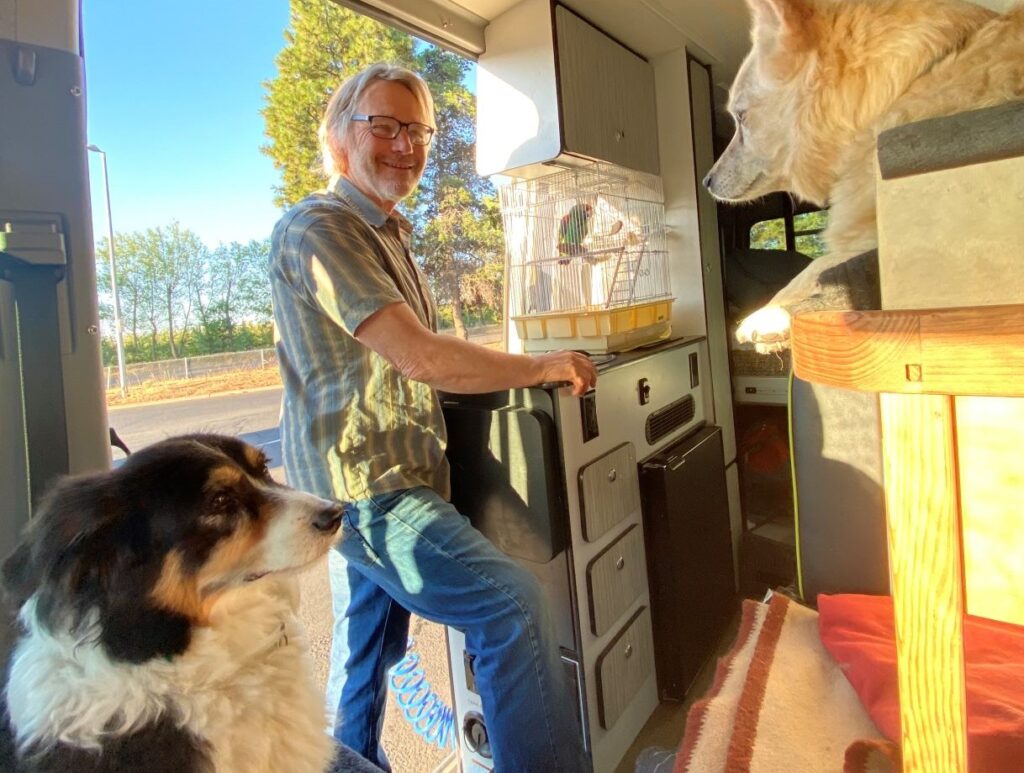 The area north of the freeway between Kellogg and Wallace looked promising, with vast expanses of Forest Service land laced with a multitude of watersheds and old logging roads. We followed our noses through gorgeous green countryside, occasionally consulting our map. There was no Internet and very little signage. 
After fruitlessly pursuing several narrow winding tracks that initially looked promising, we found ourselves bumping along in the deepening dusk, peering into the looming forest through a downpour. We began to trade away our must-haves in exchange for actually finding a place that would suffice. The animals were restless, and we were beginning to think it was a bonehead idea to embark on an excursion with zero planning.
We ended up on forest road #152, a fairly decent road interspersed with deep ruts and pockets of standing water. No people, no cars. After a while, we spied a rugged sidetrack that led off into the woods on the right, where we suspected there was a creek. We were grateful for having four-wheel drive, because, Eureka! We hit pay dirt. A level, needle-and-moss carpeted space to camp, sheltering firs, and a small crystalline creek just steps away.
Next morning, we explored the rest of FR 152, and found it ended at Settler's Grove, a 2-mile easy hiking loop through old-growth cedar. The giant trees were stunning, the burned areas intriguing, and we didn't see a soul. 
Invigorated after a little morning birdwatching, we headed home over King Pass, and dropped into Wallace after a picnic by yet another pretty little creek. We have an embarrassment of riches when it comes to the variety and abundance of beautiful outdoor places to romp. Our recent quickie trip in the van shows that sometimes, all you have to do is pack up, grab a good map, and head out. And, yes, take the petting zoo!