From first day pedal pushers to those who shred singletrack every day, cycling is a sport that attracts riders of all different sizes and skill levels. Some have loved the sport since they were kids, while others may have taken it up later in life because knee issues or as a new way to get around town and commute. While the bikes and the way professionals and amateurs ride can differ considerably, there is one thing that all cyclists should be doing the same: getting a professional bike fit.
A bike fit is exactly what it sounds like – a professional service that helps personalize the fit of your bike for the way you ride. A proper bike fitting can improve comfort, handling and power output. Fitting also takes away the guesswork when you're trying to determine what bike is best for your body proportions. It ensures your positioning on the bike will allow you to have the most enjoyable, effective ride possible. While most bike shops offer some type of bike fitting with bike purchases these days, Jim Kozak of CycleMetrix in Coeur d'Alene has made it his specialty, fitting bikes professionally for the last 12 years. We asked him to share his perspective on the importance of bike fitting.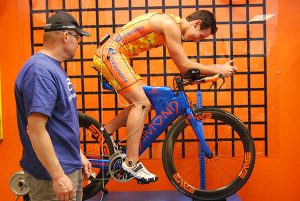 OTM: Why is bike fitting so important?
Kozak: A professional bike fit is without a doubt the best accessory you can purchase for your bike. Comfort and efficiency will make your time in the saddle much more enjoyable so that you want to ride, rather than stashing your bike in the back of the garage. I cannot tell you how many people come to me for bike fits with bikes that are not ideally suited for them. A good fit technician can adjust a bike in many ways, but there definitely are limits before something starts to suffer, particularly, comfort, handling, and efficiency. You have to start with a frame geometry that is suited to your proportions, flexibility level and goals. Every bike of reasonable quality has a geometry chart. These charts contain key numbers about each frame size and model that can be confusing for consumers to make sense of. Get help from a trusted fitter before selecting your next bike. The hot looking bike, at a bargain price from the online bike warehouse, could be your worst nightmare if it can't be fitted to your body.
OTM: Have you seen any changes or progression in the bike fitting world since you started?
Kozak: I've seen huge changes, both in the training programs involved and in the tools used. In the early days a plum-bob and a tape measure were mainstays of a bike fitter. Today's tools include power meters, lasers, 3D camera systems, cleat wedges, variable length pedal spindles, pressure sensors for rider contact points that measure heat and friction in real time, wind tunnels and much more. A good, experienced bike fitter can still do a lot without a wind tunnel. Triathlon bike fitting has evolved into its own specialty. It's advancing at an even faster rate than road bike fitting because the sanctioning bodies of road racing have strict limitations on bike geometry, whereas triathlon bikes are not under those restrictions. Hence, triathletes can ride steeper seat tube angles on more aerodynamic frame designs, and are not limited to the traditional double diamond style bike frame.
OTM: How did you get into bike fitting?
Kozak: I've been involved in cycling since I was a kid, back in the day when a Schwinn Stingray was every paperboy's ride of choice and every racer wanted to have a Schwinn Paramount. I raced a little and rode a lot. As I acquired different bikes, I was always interested in how my own bikes felt and performed when I rode them. Eventually, I became frustrated with the minimal effort that most bike shops put towards optimizing a customer's riding position on a new or existing bike. Back then, unless you were in a true PRO shop, frame size was usually determined by having you straddle the top tube, checking your crotch clearance, making sure your leg had a "slight bend" in it when fully extended, and not much else. Fitting beyond that was generally up to the rider to figure out on their own.
In 2004, I began researching experts in the field of bike fitting and studying their different methods and philosophies. I contacted a fellow by the name of Michael Sylvester, who had developed the fitting programs for Serotta and would later become head of Trek's bike fitting division. I traveled to Portland to meet him and spent two days there watching him fit customers to their bikes. Later I participated in an intense training program that he offered in North Carolina. I have performed over 1,200 bike fits since opening CycleMetrix. I have attended five different certification programs, as well as numerous other seminars by other schools and instructors. I am always learning new skills as bike fitting is constantly evolving.
For more information on bike fitting, talk to your local bike shop or visit Cyclemetrix.com. //