BikeCdA is all about making connections. And that's what its founder, Coeur d'Alene Police Officer John Kelly, had in mind last March when he went looking for Tom and Jamie Morgan one day. Tom and Jamie were waiting for other members of the Lake City Flyers cycling group to arrive when Kelly, wearing his uniform, came in asking for them by name.
Jamie remembers thinking, "What did we do?" As it turned out, nothing wrong and everything right. Kelly was in the middle of creating BikeCdA to promote a safe and active cycling culture in Coeur d'Alene, and wanted Tom and Jamie to join in. Since then BikeCdA has quickly grown. Its Facebook group has nearly 1,200 members now, and in November it became a 501(c)(3) nonprofit organization.
In its quest to become a hub for all things bike related, BikeCdA holds Bike Talks every month at the Calypso Coffee Shop. I attended the January and February meetings. The number of participants, the projects the group has taken on and the synergy is amazing. Bike Talk is all about making connections: connecting visitors with bike shops; riders with trails; volunteers with bike-related events; cycling advocates with government agencies; and connecting other BikeCdA advocates with charitable organizations, universities, and even the landfill where members would like to reclaim bikes that have been thrown away.
The meetings are open to everyone. Those in attendance not only learn the status of BikeCdA projects, but also contribute to Coeur d'Alene's cycling environment in one way or another. There's Kirsten Pomerantz, a high school teacher who is on the city Bicycle/Pedestrian Committee and is also the Coeur d'Alene School District liaison to BikeCdA. David Groth, who teaches fifth grade at Sorenson Elementary and volunteered to gather numbers from other schools for the Lights for Life program. Blair Williams, a BikeCdA board member, who has been in a wheelchair for 34 years and decided to get a hand-powered cycle when her daughter started riding a bike. There were other people who identified themselves as "just bike riders," and their input and participation is just as valuable and appreciated. Upcoming events are discussed, ideas are exchanged, people sign up on the volunteer lists and, most important, things get done.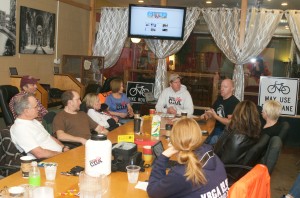 The first of BikeCdA's three ongoing projects is called Lights for Life. During the fall someone noticed there were a lot of bicycles parked in the bike racks at Lakes Middle School and Woodland Middle School. The decreasing hours of light meant the children would be riding in the dark without lights. The group was able to purchase 100 front/rear combo light sets at cost, and now is working with the schools to identify students who could use them.
It also has a bike giveaway program that got started in December. Members gather donated and abandoned bikes, and Tom Morgan, Aaron Young, and Clark Richman tune them up, repair them, or cannibalize them to fix other bikes that go to adults and youths who need them. Sixteen requests were filled a week before Christmas. Thirty bikes have been given out so far, and they have 20 more ready to roll out the door. Tom's goal is to give out 200 bikes this year. Aaron told the group how one woman got bikes for her children because they lived close to the trail. But then she thought she should get one too so she could ride with them, which is exactly the goal of the group: getting more people into cycling.
The last project has yet to hold its first event. BikeCdA is planning bike rodeos for kids within the Coeur d'Alene schools with the idea of promoting cycling and an active lifestyle. The fact that nobody in the group has done a bike rodeo before doesn't faze them one bit, although they are realistic about the learning opportunities and proactive in their approach to the challenges ahead.
One such challenge is the need to create a vested interest for each recipient towards the bike they receive. The group is discussing ideas like having people complete a maintenance course or work some volunteer hours first. And their greatest challenge may be increasing the bike and pedestrian input within the city planning and traffic engineering departments, but with their collective energy and momentum, I don't doubt that they will also reap their greatest success.
Learn more about BikeCdA at www.bikecda.com and follow them on Facebook. //