Getting bored with grilled hamburgers and s'mores every time you go camping? While there is nothing wrong with this traditional, all-American campsite meal, perhaps you're ready for some different ideas. If you're backpacking, it's tempting to be satisfied with store-bought, freeze-dried meals or ramen noodles – simple, easy, little mess. Yet, you shouldn't submit to mediocre food just because you're away from kitchen conveniences. Freeze-dried meals may taste good when you're hot and hungry in the backcountry, but they're high in sodium and expensive. With a little extra planning and preparation before leaving home, you can eat well while either car camping or backpacking.
Backpacking Meals
Trailcooking.com – whose motto is "Do not take what you do not like to eat" – is a great resource for backpackers. Created by Washingtonian Sarah Kirkconnell, who devised the Freezer Bag Cooking (FBC) method as a less expensive and healthier alternative to store-bought freeze-dried meals, this website provides recipes and instructions to inspire you – such as Huckleberry Donuts: trailcooking.com/dessert/huckleberry-donuts. The site also includes tips for dehydrating food to make homemade freeze-dried meals, plenty of recipes, and information about one-pot and no-cook methods.
Car Camping
All you tent campers or back-of-the-truck sleepers who still pack a propane stove and cooler and cook on an open fire, this is for you. When meal planning for your trip, consider these questions: What kind of foods and entrees do you and your fellow campers most enjoy? How much time in your trip schedule will you have for on-site meal preparation? How many servings will you need per meal? What will happen with any leftovers? What supplies and gear are required to prepare and cook the meals you desire? Are campfires allowed at your campsite for the time you plan to go? Are you able to allow the necessary time and muster the energy to properly clean-up after cooking?
Trailcooking.com's one-pot recipes can be modified for car camping. At-home preparations where you portion servings and divide ingredients into re-sealable plastic bags means that you can sometimes prepare a meal at your campsite in 15 minutes or less. To ensure your raw meat stays cold and fresh, consider seasoning or marinating the portioned meat at home (pre-cut as necessary) and freeze prior to your departure. Frozen meat will thaw in your cooler and be ready in a day or two for grilling, roasting or sautéing in a skillet. //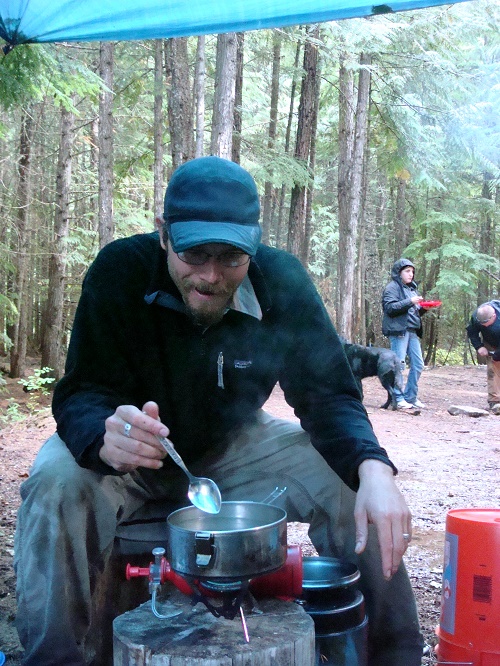 Camp Cooking Ideas
"Campfire Cooking" is a spiral-bound cookbook organized according to six different cooking methods: in a pie iron, wrapped in foil, roasted on a stick, on the grill, in a Dutch Oven, and in a skillet.
"Backcountry Cooking Deck: 50 Recipes for Camp and Trail"
Sunset Magazine's "Favorite Camping Recipes for Dinner" (includes a recipe for tofu and eggplant hobo bundles). Sunset.com/food-wine/kitchen-assistant/camping-cooking-recipes.
Boozy Cheese
Round up these ingredients: a wheel of brie or similar style rind cheese, Pear eau de vie or brandy, loaf of French bread, and aluminum foil. Poke several holes in the cheese wheel, drizzle with booze and wrap completely in foil. Place wrapped wheel in the embers of the fire (not direct flame). Remove after about 12 minutes – cheese should be gooey and melted. Open foil and serve with bread for dipping.
Campfire Cone (kid-friendly)
You'll need sugar or waffle ice cream cones, marshmallows, chocolate chips, assorted nuts, fresh fruit, peanut butter, and other toppings as desired. Fill cones with the above ingredients, wrap in foil and place on embers for 5 to 7 minutes. Peel off foil and enjoy!