When visiting a new mountain for the very first time, or even a fifth time, it helps to get insider advice from a "home mountain" skier/rider (aka season-passholder). When skiing with children still learning beginner and intermediate skills, whether toddlers or teens, plan for success by knowing the best ski runs for kids.
Here, fellow Inland NW parents and young skiers share the runs they recommend for brand-new skiers and riders and those advancing skills — with suggestions covering a range of ability levels.
"Best" is a relative term, so use these ideas to help you decide where to go the next time you're at one of these mountains.
What to know about trail ratings
A ski run's difficulty level is relative to all the runs on that particular mountain. Meaning, not all blue squares and black diamonds are equally challenging across mountains. A designated "black" at one mountain can seem more like an intermediate compared to another mountain.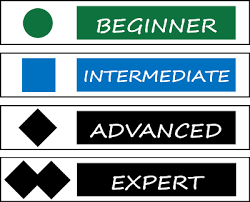 Additionally, an intermediate run can seem like a black diamond for a more advanced beginner skier/rider. And remember, any run can be more challenging on any day based on current weather and snow conditions. (Note: Experienced skiers/riders typically refer to a run difficulty by the respective color rather than the skill level; e.g., "Rock Slide is an easy black.")
For the Ski the Northwest Rockies association, member businesses include Lookout Pass Ski & Recreation Area and Silver Mountain Resort (both in north Idaho off Interstate 90), and 49 Degrees North Mountain Resort and the non-profit Mt. Spokane Ski and Snowboard Park, both located in eastern Washington.
Mt. Spokane Ski & Snowboard Park
Rockslide: black / Illuminator (chair #2) –This was the first black diamond that my kids went down at our home mountain—and it's the mountain's easiest black, according to my family. I've also led some of my friends' young kids down Rockslide as their first black diamond experience, and everyone agrees that it's more fun than scary and easier than they thought it would be.
Secret Squirrel: blue / Northwood (chair #6) – A "long run with a good slope angle and fall line," says my 12-year-old son, Landon. However, on the rare occasion when this run isn't groomed, it would be more challenging; yet on those days it's a good teaching run to learn how to navigate ungroomed terrain. The run is accessible off Yellow Brick Road (green cat track) starting from the summit, via Vista Cruiser (chair 1), with a return to the summit via Northwood chair.
Jim's Gem: green / Northwood – A more challenging run for advanced-beginners, this backside green circle (two runs past the turn-off for Secret Squirrel) is best for those with endurance who want to experience a longer run. A good choice for someone who has mastered all the beginner runs on the mountain's front side. (Remember, a skier/rider has to return to the front side via Northwest Passage—a long journey back to the lodge for tired legs.)
Ridge Run: blue / Hidden Treasure (chair #4) – "A longer run with variable pitches for those who want to go a little steeper but not for long," says my husband, Judd, who has been ski patrolling at Mt. Spokane for nearly 25 years.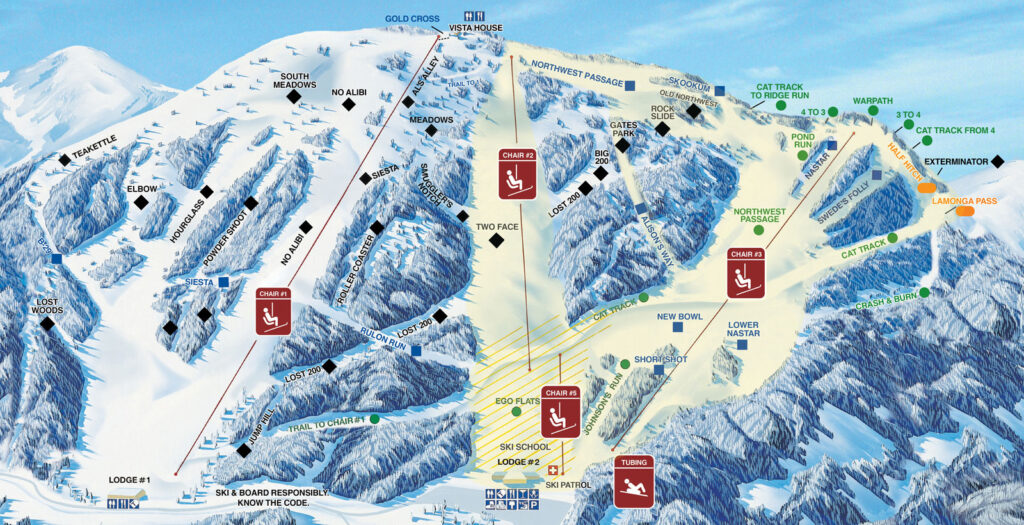 Lookout Pass Ski & Recreation Area
Huckleberry Ridge: green / Peak 1 Quad – "For families relatively new or brand new to skiing, my daughters recommend Huckleberry," says Lookout season passholder AnnaMarie White. Daughter Olivia says this run "helps (kids) to build confidence because it's not too steep—it seems like it goes on forever." From the mountain's North side, ride Timber Wolf (chair 3) back to the summit to access Huckleberry.
Tamarack: blue / Timber Wolf (chair 2), Montana Side – "Long run with a little slope to it for kids" who are still learning "and wide enough to work on turning," says Alex Conrow, dad of one of this issue's featured "Little Rippers."
Rainbow Ridge: blue / Timber Wolf (chair 2) – Similar to Tamarack, and fun for experienced skiers as well, says Conrow, because you can quickly get going fast.
49 Degrees North Mountain Resort
Gold Chute: green / Pay Day chair – "This is a unique and magical experience designed for beginner skiers. This easy, gentle run is hidden in the trees off our Pay Day lift and features animal signs to mark the way," says 49 Ski School Director Alison Pasino.
Huckleberry Ridge: green / Sunrise Basin, Peak 1 Quad chair – "This gentle, family-friendly run has versatile green terrain for beginners to intermediates. Fun natural jumps along the side. Great for kids looking to ride both of 49's quad lifts and explore the mountain," Pasino says.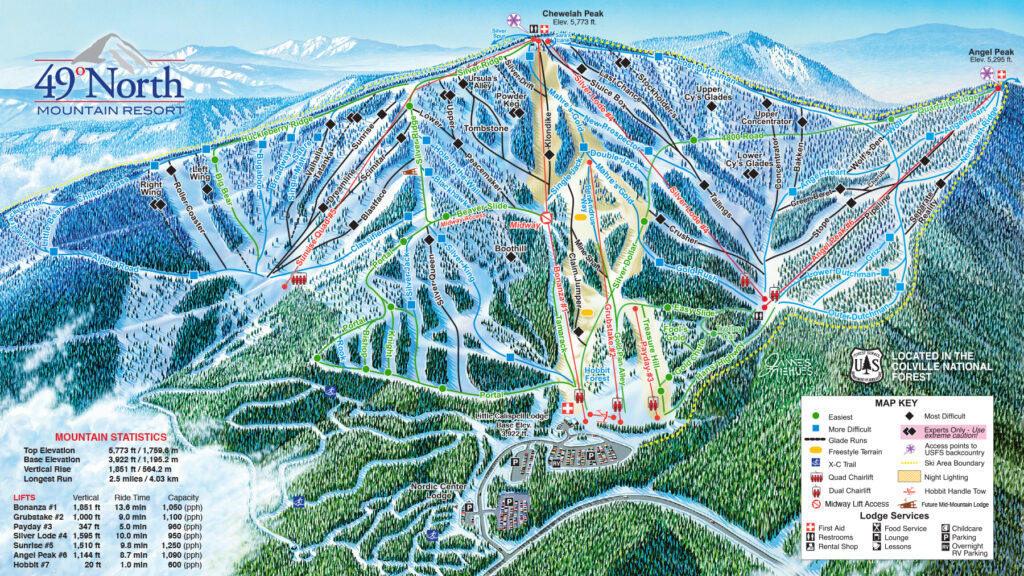 Silver Mountain Resort
Easy Street: green / Magic Carpet: Silver's bunny hill has a giant, covered conveyor called 'Magic Carpet' in the middle, with ski/boarding on one side and tubing on the other and is a family favorite says Mandy Labahn, who works and snowboards at Silver and is "Little Ripper" Zoey's mom.
Claim Jumper & Dawdler: green / chair 5 – Below the Magic Carpet, Claim Jumper leads to the bottom of chair 5. "[This chairlift] runs slow just for the kids and beginners learning to use a lift," says Labahn. Stay straight on Claim Jumper and the trail turns into Dawdler, the easiest of the easy, she says.
Sunrise: blue / chair 2 – Long run, from top to bottom, with great views. "If it's a sunny day, I want to stay on chair 2," says Courtney Yarber, who, along with her husband and daughters, ages 9 and 12, are season passholders.
Silver Bell (blue) to Alpenway (green): chair 2 – While you could follow Silver Bell all the way to the base of 2, Yarber likes to turn onto Alpenway (skier's right), go under the chair, then turn skier's left at the junction with Sunrise—go left and enjoy an easy route to chair 2's base.
Find more stories for outdoor families, about skiing/snowboarding and teaching kids to ski, the annual Family Winter Sports Guide, and more Ski NW Rockies stories in the OTO archives.