I'm not gonna lie—the walls really started closing in this fall, with all the social distancing and stuff. With summer over and nothing fun to do, my mind easily wandered to winter, impatient for its arrival.
I know, I probably need a hobby to occupy myself in these weird times. One member of my household learned to play the piano (which sounds amazing), and a friend of mine makes hatchets (cool, but kinda creepy). Good for them, I say. I'm not crafty, nor do I have an ear for music, so creating something or learning to play an instrument are out.
Guess I'll just wax skis and burn stuff. In any event, there sure looks to be a ski season, and I really don't care what it looks like so long as there is snow on the ground and the chairs are spinning. Heck, I think there might even be some advantages to a socially-distanced ski season.
First off, I'm sure we will be encouraged to ride the lift with whoever we rode up to the hill with, or wear a mask if pairing up with another single. This will force me to spend more quality time with my better half discussing the finer points of hardwood floors and other domestic treats, so everyone's a winner. That, and I don't like to wear a face covering when I ski, so methinks I will be riding single if skiing alone. Oh, and I detest idle chitchat with strangers, so again, everyone wins here.
Chances are good we will be required to wear a mask when entering the lodge to use the facilities or warm up, and I am totally down with that. As noted above, I don't like to cover my face while skiing, and prefer to feel and smell the fresh mountain air. This usually results in massive icicles forming on my oft-hated mountain man facial hair, which then drip down my face the second I enter the lodge.
Now I can just hide the mess behind a mask and wring it out. It should also cover up my breath on those days when I forget to brush my teeth prior to heading to the mountain, which happens more often than you'd think.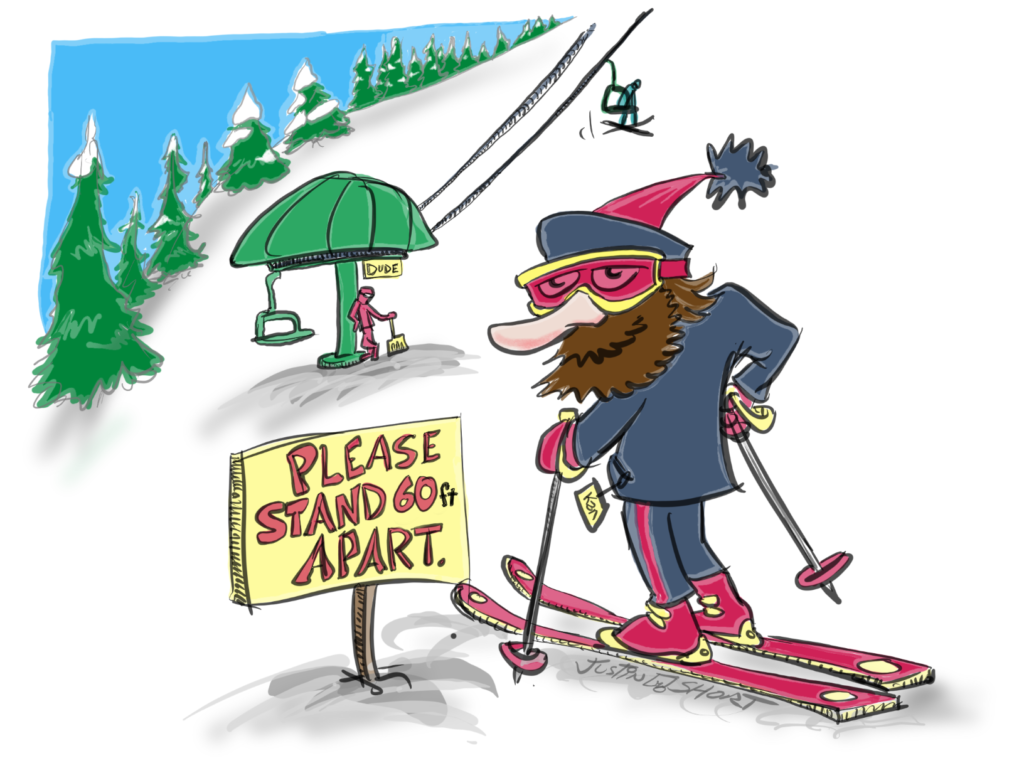 If the mountain operators can keep folks spaced out in the lift line as well, man will I be happy as a pig in excrement. Don't get me wrong, it's not that I don't like people. It's that I don't like people crowding me in line when I'm just trying to enjoy the day. I mean, come on bro, do you think trampling on my top sheets is really gonna get you to the summit faster? In case you're wondering, the answer is no.
My favorite is hearing someone say, "Hurry up", and then scoot themselves closer to my backside like that will somehow speed the chair up. They usually back off after catching a whiff of the biscuits and gravy I had for breakfast, if you know what I mean. Keeping everyone spaced out in the lift line will definitely help keep the peace this year. If it doesn't, I guess I will have to double down on the biscuits and gravy.
Originally published as "The Upside of Socially-Distanced Skiing" in the On the Mountain section of the November-December 2020 issue.

Brad Northrup is a former ski racer, coach, and ski industry professional. We are all hoping we are distanced as far as possible from him this season.