Friends don't take friends who are new to skiing or snowboarding or kids who are learning to the top of the mountain for a first run. (Believe me, I've seen it happen.) Luckily, all the Inland Northwest ski mountains make it easy to be a newbie.
You or your kids will never be the only one snowplowing on the bunny hill. There's plenty of beginner-friendly terrain to practice stops and turns on green circles, too. Then, when you or your kids are ready, move to the more challenging terrain of blue squares.
Here are recommendations from mountain staff members, from each of the Ski the NW Rockies affiliated mountains, about where to go for a first day on skis or snowboard—and, when ready to get off the bunny hill, which beginner terrain to venture to next.
49 DEGREES NORTH
49 Degrees North Ski Resort – Chewelah, Washington
Surface Lift: Gold Fever, located near the lodge in the ski school teaching area. Snowsports School Director Alison Pasino says it "is the ideal place for little ones to have their first experience sliding." It's open to both children and adults, regardless of ability level.
Bunny Hills: Access the beginner area using the Payday Lift (Chair #3). For skiers, Pasino recommends Easy Slide, Gold Chute, and Fool's Gold. For snowboarders, Lower Gold Pan Alley has a gentle pitch and wide-open slopes.
Beginner Runs: Great trails for new skiers and snowboarders are found in all areas of the resort, which is the second largest in Washington State. Pasino recommends Huckleberry Ridge and Big Bear located in Sunrise Basin; Quartzite Ridge off Angel Peak; and Lost Dutchman to the 4800 Road in the West Basin. In Central Basin, the trails off Beaver Slide include a "mellow, meandering route for those who want to cruise and enjoy the beauty of the Colville National Forest."
Don't Miss: Hobbit Forest, where you can search for iconic bells hanging from branches alongside the trail. It provides a "first taste of the epic tree skiing that 49 North has to offer," says Pasino.
Other Recommendations: 49's Mountain Host program offers free guided tours of the alpine terrain. It's like an orientation to find the best runs, groomers, and powder stashes for all ability levels of your family.
Beginner runs at 49 Degrees North: Carrie Peck teaching her daughter how to ski (left), and son, Oliver (right), making a "pizza" with his skis. // Photos by Nate Peck.
LOOKOUT PASS
Lookout Pass Ski & Recreation Area – Mullan, Idaho
Bunny Hill: Success Slope via Success Triple chairlift. "This slope is designed to allow you to get comfortable on snow without the fear of going high up on a mountain or riding a high lift," says Lookout's marketing director Matt Sawyer.
Beginner Runs: Sawyer recommends taking Huckleberry Ridge to Grub Steak run—a "longer run with a mild pitch," he says. Get there via the Peak One Quad chairlift, which takes you to the mountain summit. "Tell the staff member who is loading the lift that this is your first time on this lift and they will slow the chair down for your load," Sawyer says. "You get to enjoy awesome views and you have reached the summit, which is a goal for most beginners."
Next Level: Tamarack on the Montana-side of mountain (referred to as the "backside"). At the bottom is the base of the Timber Wolf Triple chair. Sawyer says a ride on this chair offers the best views that Lookout Pass has to offer a beginner, including Stevens Peak and St. Regis Basin.
Other Recommendations: Huckleberry Jam Progression Park has "very low and mild progression style features that are ideal for a first foray into a terrain park," says Sawyer. Parents and kids can learn to ride on small terrain style features, including flat boxes with a ride on lip, a wide dance floor feature, and even a very casual rainbow feature.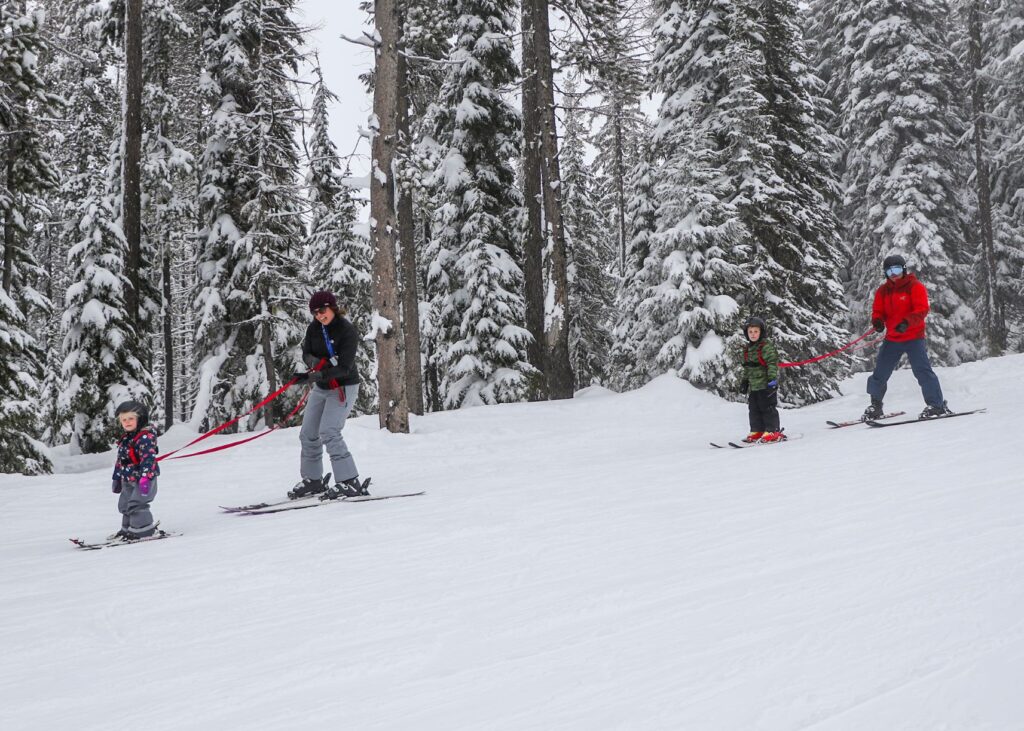 MT. SPOKANE
Mt. Spokane Ski & Snowboard Park – Mead, Washington (located within Mount Spokane State Park)
Magic Carpet: Located just below Lodge 2 (main lodge) near the ski school building, ski patrol lodge, and bunny hill chairlift loading area.
Bunny Hill: Ego Flats via Chair 5 that's now named Beginner's Luck. Mt. Spokane's outdoor recreation manager Katrin Pardue, who is also Mt. Spokane's Ski and Ride School director, says snowboarders should stay center on this run. At the top of the chair, turn right to access the lower section of Johnson's Run. Because it is narrow, she advises staying skier's left.
Beginner Runs: Northwest Passage, via Parkway Express (Chair 3). Stay center and then go skier's left. Also try Half Hitch, staying skier's right to avoid the terrain park. Both runs lead to the cat track where you can head back to the base of Chair 3 or 5, or continue along to access Chair 1. If you don't turn off Half Hitch onto the cat track, you go straight onto Lamonga, which has some terrain features and leads to the bottom of Chair 4.
Next Level: Take the Vista Cruiser lift (Chair 1) to ski/ride a series of linked runs—Gold Cross to Upper Northwest Passage ("stay close to the trees") to Skookum ("stay skier's left until you hit the flat section") to Northwest Passage.
Don't Miss: The triple chair (#6) on the backside, Northwood. Pardue recommends taking Yellow Brick Road to Jim's Gem (stay along the tree line, skier's left; it gets flat at the bottom, so snowboarders should be careful) to Big Timber (stay skier's right at the lower part for the "most mellow pitch").
SILVER MOUNTAIN
Silver Mountain Resort – Kellogg, Idaho
Surface Lift: Prospector Adventure Lift—a new, covered conveyor lift (640 feet long) located by the Mountain House.
Bunny Hill: Easy Street—near the surface lift and Mountain House.
Beginner Runs: Ross Run, recommended by Silver Mountain's marketing director Gus Colburn, follows the gondola line down to more beginner runs, including Dawdler, Bear Grass, or Huckleberry, before ending up at Chair 5.
First Blue Square: Colburn recommends taking the Alpenway run down to Junction, "which is the best progression run to build your skills to eventually take laps on Silver Belt."
Family Winter Sports Guide sponsored by Ski the NW Rockies.
Read more stories from OTO's annual Family Winter Sports Guides.