Southeast British Columbia Winter Destinations
Winter adventure doesn't stop at the U.S./Canada border; in fact, opportunities to ski and ride, wander, and explore hip mountain towns only get bigger, better, and less crowded once you cross the 49th parallel. Out There's 2nd annual B.C. Ski & Winter Travel Guide comes at a time when the exchange rate still favors American visitors to Canada, with savings on everything in the 25-30% range. And with ski and stay and other travel deals in abundance, it's time to get your border-crossing ID in order and head north!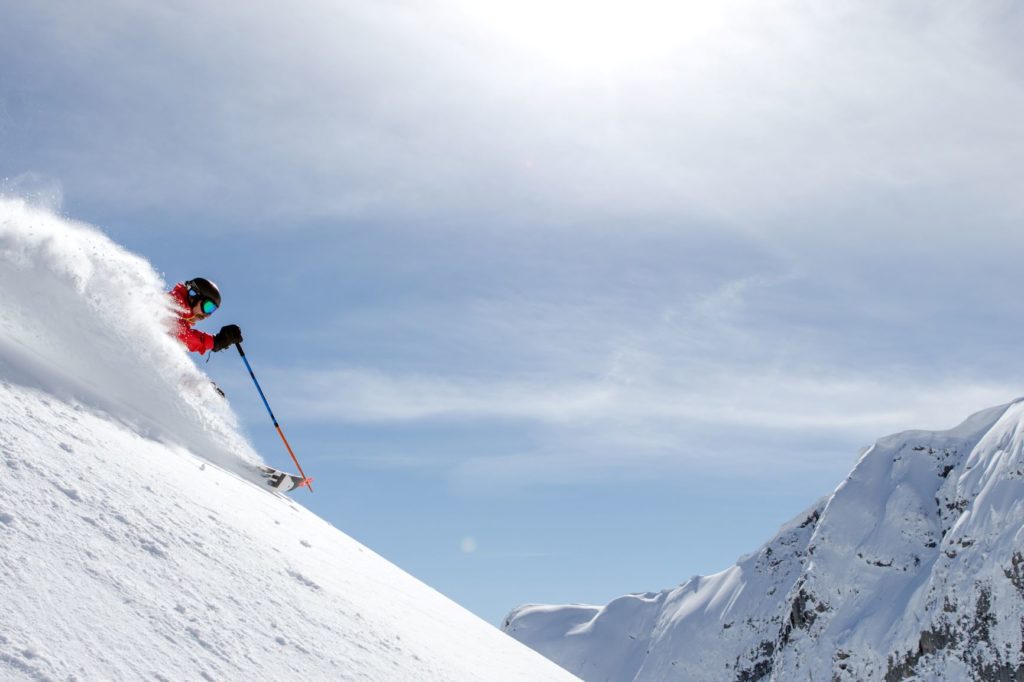 SKI & SNOWBOARD RESORTS
Location: Penticton, B.C.
Summit: 7,175 ft.
Lifts: 2 chairs, T-bar, & magic carpet
Runs: 79 marked; 40+ unmarked
Vertical: 2,000 + ft.
Annual Snowfall: Nearly 20 ft.
From Spokane: 5 hours
Why Go: Dry, light powder; 5,000 hectares of backcountry/slackcountry terrain; close to amazing Okanagan Valley wineries.
Location: Oliver, B.C.
Summit: 9th highest ski resort in Canada (7,580 ft.)
Lifts: 2 + magic carpet
Terrain: 35 alpine runs, 360 acres of trails, and 240 acres of glades
Annual Snowfall: 25 ft.
From Spokane: 4.5 hours
Why Go: Dry Okanagan powder; no crowds; 80% beginner and intermediate terrain.
Location: Kelowna, B.C.
Summit: 7,606 ft.
Lifts: 15
Patrolled area: 2,765 acres
Vertical: 2,550 ft.
From Spokane: 4.5 hours
Why Go: The 2nd largest ski resort lift system in Canada with real Champagne powder (and no lift lines); 100% ski-in ski-out accommodations; huge, vibrant village with over 20 restaurants & bars and plenty of off-the-slopes fun; super family friendly with new magic carpet and plenty to do for all ages and abilities (even for non-skiers).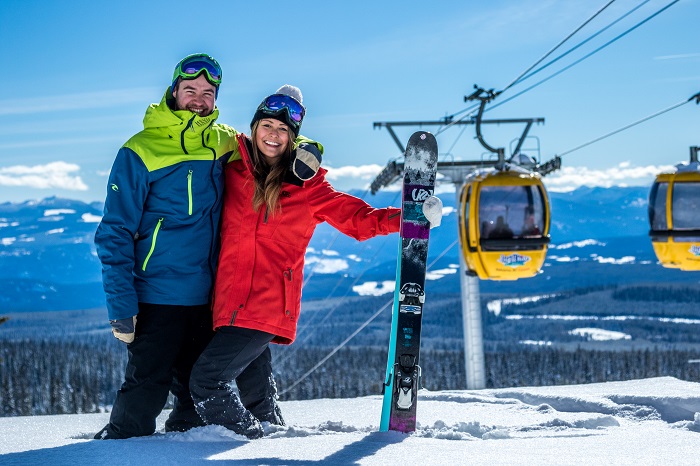 Location: Fernie, B.C.
Summit: 7,000 ft.
Lifts: 10
Skiable acres: 2,500
Vertical: 3,550 ft.
Snowfall: 30 ft.
From Spokane: 5 hours
Why Go: Fernie is an action-packed, real-deal ski town with seemingly endless resort and backcountry skiing and snowboarding; the views of jagged Rocky Mountain peaks above town will blow your mind.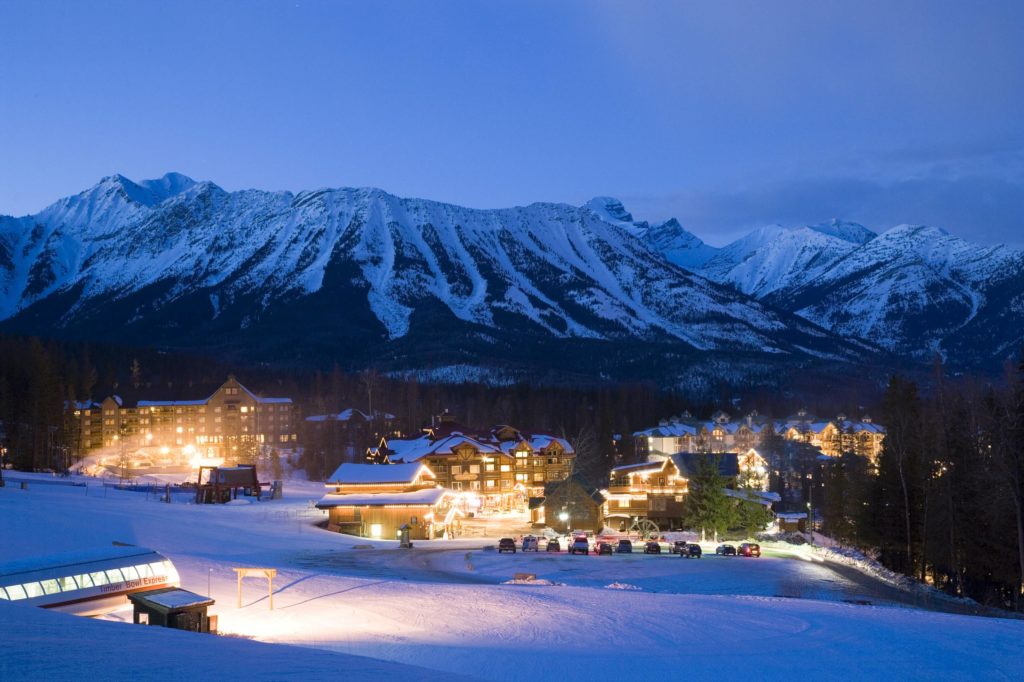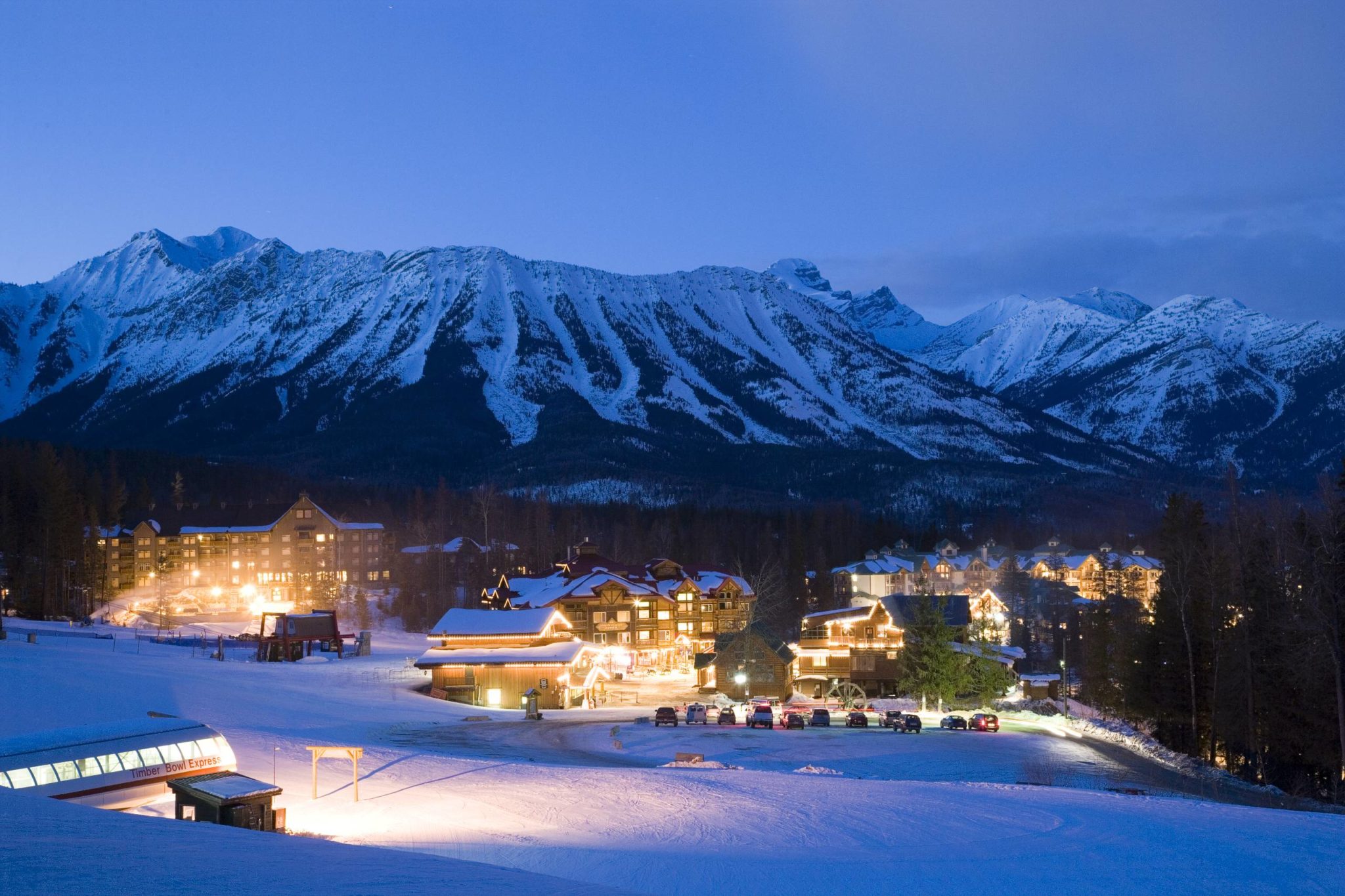 Location: Golden, B.C.
Summit: 8,218 ft.
Lifts: 5
Skiable acres: 3,486
Vertical: 4,314 ft.
Snowfall: 24 ft.
Inbounds chutes: 85+
From Spokane: 6.5 hours
Why Go: New terrain was added in 2018; 60% advanced & expert terrain including 85+ inbounds chutes; and the 5th biggest vertical in North America!
Location: Kimberley, B.C.
Summit: 6,500 ft.
Lifts: 5
Resort acres: 1,800+
Vertical: 2,465 ft.
Snowfall: 13 ft.
From Spokane: 4.5 hours
Why Go: Some of the sunniest skiing and riding in the Kootenays; over 40% of the terrain is intermediate; friendly, laid-back atmosphere.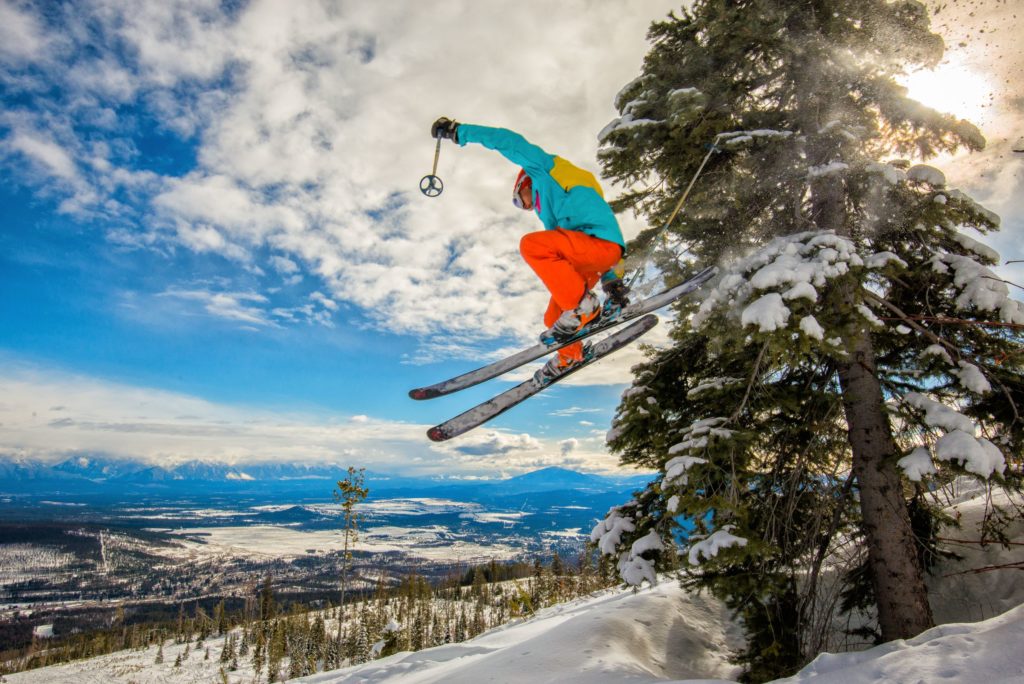 Location: Invermere, B.C.
Summit: 8,038 ft.
Lifts: 10
Resort terrain: 2,975 acres
Vertical: 4,265 ft.
Annual Snowfall: 16+ ft.
From Spokane: 5.5 hours
Why Go: Top 10 vertical in North America; 75% of the runs are suitable for beginners and intermediates.
Location: Grand Forks, B.C.
Lifts: 2 (T-bar and rope tow)
Terrain: 15 runs
Vertical: 800 ft.
From Spokane: 3.25 hours
Why Go: Great place for families to ski together and beginners of any age to learn; super unique community ski hill vibe.
Location: Rossland, B.C.
Summit: 6,807 ft.
Longest Run: 4.3 miles
Lifts: 8
Skiable Acres: 3,850
Vertical: 2,919 ft.
Annual Snowfall: 300 inches
From Spokane: 3 hours
Why Go: New Topping lift and terrain that will ease occasional Motherlode Chair traffic jams; $10/run in-bounds cat-skiing; epic tree-skiing and in-bounds steeps; nearly 82% of the terrain is intermediate to advanced; new on-mountain lodging options.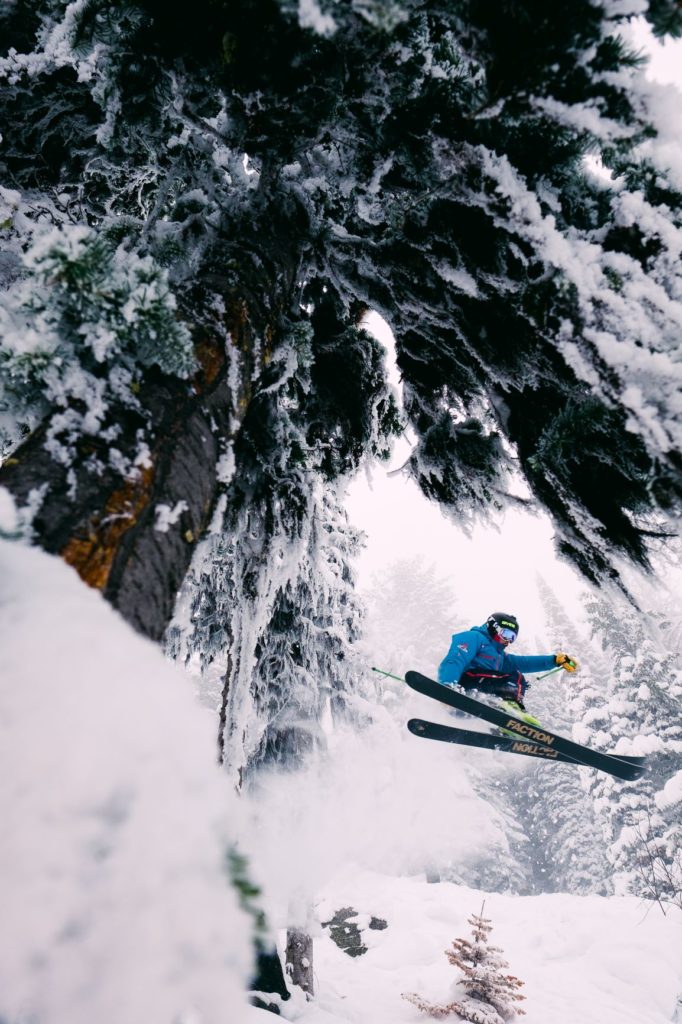 Location: Revelstoke, B.C.
Lift-top Elevation: 7,300 ft.
Skiable Acres: 3,121
Longest Run: 9.5 miles
Vertical: 5,620 ft.
Annual Snowfall: 30-45 ft.
From Spokane: 6 hours
Why Go: Biggest vertical in North America; incredible in-bounds expert terrain; 45% intermediate terrain; new lift and beginner terrain for 2019/20.
Location: Salmo, B.C.
Annual Snowfall: Plenty
From Spokane: 3 hours
Why Go: Fully-lit night skiing; great family-friendly terrain with a rowdy t-bar; old-school community ski hill on the way to Nelson.
Location: Vernon, B.C.
Summit: 6,280 ft.
Lifts: 11
Runs: 132
Skiable Acres: 3,282
Vertical: 2,500 ft.
Annual Snowfall: 275 inches
From Spokane: 6 hours
Why Go: Colorful, ski-in, ski-out mid-mountain village; all-inclusive lift ticket includes access to alpine slopes, Nordic trails, tubing, ice skating, and fat bike and snowshoe trails; B.C.'s 3rd largest resort; Canada's largest daily-groomed cross-country trail network.
Location: Kamloops, B.C.
Summit: 7,060 ft.
Lifts: 13
Patrolled area: 4,270 acres
Vertical: 2,893 ft.
Annual Snowfall: 19+ ft.
From Spokane: 8 hours
Why Go: True to its name, Canada's 2nd largest ski area soaks up over 2,000 hours of sunshine per year on average.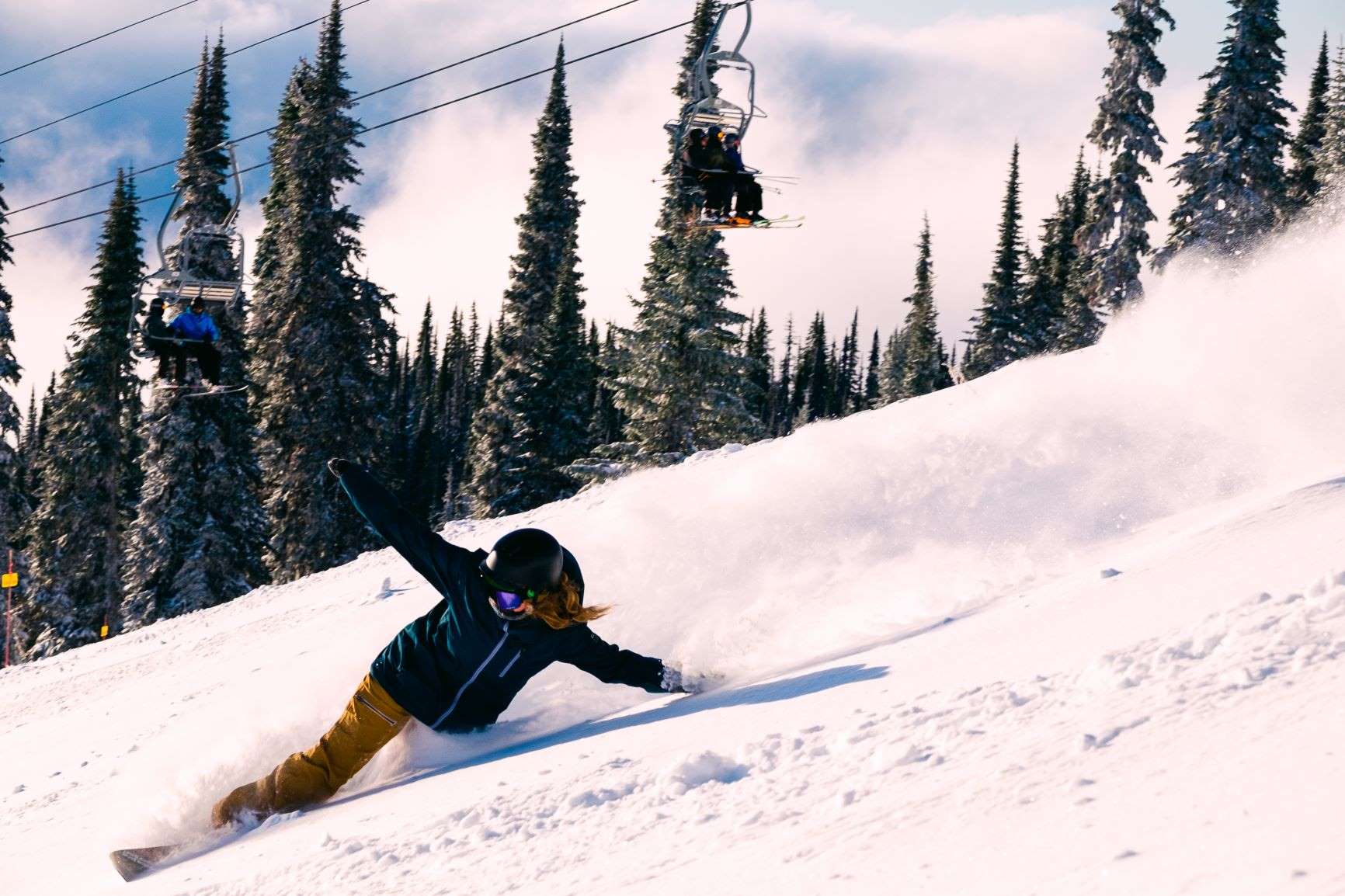 Location: Nelson, B.C.
Summit: 6,700 ft.
Lifts: 3 (and one handle tow)
Skiable Acres: 2,367
Vertical: 2,044 ft.
Annual Snowfall: 40 ft.
From Spokane: 3 hours
Why Go: 40 feet of Kootenay pow fall here annually (on average); 55% advanced in-bounds terrain and incredible lift-accessed backcountry; friendly vibe, legendary food, and proximity to Nelson, B.C.'s one-of-a-kind mountain town amenities; and home of the Coldsmoke Powder Festival each February.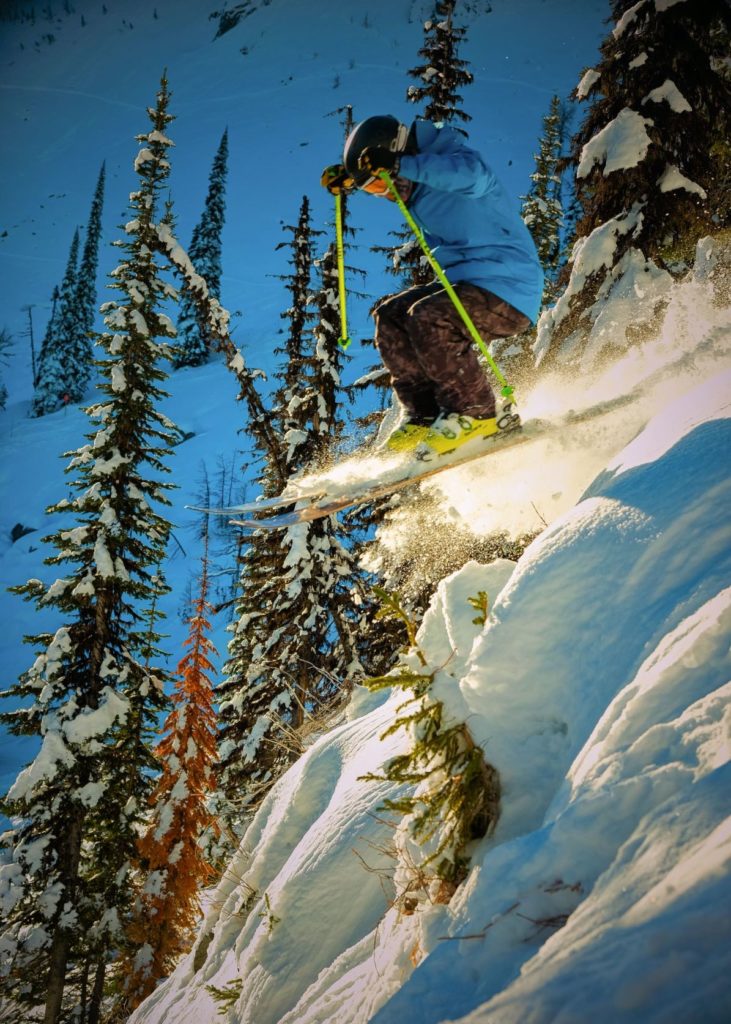 HOT SPRINGS
When you plan a trip to Whitewater Ski Resort or Nelson, B.C., don't miss the rewards of the short drive north to Ainsworth. The natural hot springs were first visited by the Ktunaxa First Nations peoples for healing and rejuvenation, and today the resort is fittingly owned by Yaqan Nukiy, the Lower Kootenay Band of Creston, B.C. The hot springs includes warm, mineral-rich waters in a pool and a natural cave without the sulfur odor associated with some natural hot springs. There's also a cold plunge pool and stunning views of Kootenay Lake and the Purcell Mountains.
Amenities: Newly renovated hotel rooms (hot springs passes included with your room) and the new, family-friendly Ktunaxa Grill restaurant with an impressive menu and views of the lake. 4 hours from Spokane.
Canada's largest natural mineral hot springs with views of the Canadian Rockies. Resort includes a hot pool, large warm swimming pool, and dive pool.
Amenities: A variety of lodging and dining options at the resort and an on-site, family-friendly ski hill. 5 hours from Spokane.
This remote and beautiful resort along Upper Arrow Lake 20 miles north of Nakusp, B.C., and on the way to Revelstoke offers mineral-rich natural hot spring pools and majestic lake-side views of the Monashee Mountains. The name "Halcyon" is a reference to a Greek myth and is a term used throughout history as a reference to times of peace and calm, which the resort serves up in abundance. The hot springs also has a spray park for kids.
Amenities: Multiple on-site lodging options and the Kingfisher Restaurant featuring healthy gourmet cuisine with many ingredients. 5.5 hours from Spokane.
This community-owned hot springs in the Selkirk Mountains near the village of Nakusp consists of two pools (one warm, one hot) fed by nearby natural springs.
Amenities: Rental chalets and camping, snack shop, and kids' playground. More lodging and dining options are available in the village of Nakusp. Nearby trails offer excellent snowshoeing or hiking options. 5.25 hours from Spokane.
Two large pools (one hot, one warm) provide soaking in natural mineral water within Kootenay National Park near the communities of Radium and Invermere. 5.5 hours from Spokane.
FAT BIKING
You can find fat biking trails, shared Nordic trails, and rentals at many of the ski resorts listed in this guide, but some of the best singletrack winter bike trails are being groomed in and around Rossland, Cranbrook, and Fernie, B.C.
Ride over 12K of machine-groomed trails around Rossland including loops pieced together from the Centennial Trailhead, Red Mountain Resort, or in town from Revolution Cycles. Stop by Revolution Cycles for a copy of a new fat biking trail map and for bike rental or gear needs. The Redstone Golf Course in Rossland also has another 7k of groomed fat biking trails. There are typically ridable sections of trail (depending on conditions) on both sides of the highway at the Seven Summits Trail trailhead too.
Beginner, intermediate, and expert riders will find a variety of groomed and user-packed trails for fat biking right out of downtown Fernie and another 11k of groomed multi-use trails at Fernie Alpine Resort. Book a 'learn to fatbike' session at Fernie Alpine Resort and spend a few hours with an experienced guide. Visit Tourismfernie.com for updated trail and grooming info and a winter recreation map or stop by one of the local bike shops for recommendations.
Cranbrook has valley terrain that is similar to Spokane and North Idaho, with plenty of flats and rolling hills that make for a great groomed fat bike trails system. This winter, grooming will include terrain in the South Star Cross Country Ski Area and the Cranbrook Community Forest. The total trail network for the season will be between 60-70K of singletrack, with options for all levels of riders. If you don't have a fatty, no worries; you can rent one from Bootleg Bike Co. or Kimberley Alpine Resort.
Check out Trailforks to explore your riding options in and around Cranbrook. And find trail grooming reports on the Wildhorse Cycling Club or Cranbrook Community Forest Society Facebook pages.
CROSS-COUNTRY SKIING
British Columbia has over 50 Nordic skiing areas across the province, with many of them located within an hour or two from the U.S. border. Most alpine ski and snowboard resorts have groomed cross-country trails, and many communities have additional cross-country trail systems that are regularly groomed with excellent facilities and nearby amenities.
SilverStar Resort/Sovereign Lake Nordic Centre
Canada's largest network of daily-groomed cross-country ski trails begin at the SilverStar Mountain Resort near Vernon, B.C. Connected to SilverStar's 55K of world-class trails is another 50K of groomed Nordic trails at Sovereign Lake Nordic Centre (duel mountain passes available).
Located 10 minutes south of Nelson on Highway 6 at the Whitewater Ski Area turnoff, the Nelson Nordic Ski Club maintains 30K of groomed trails (classic and skating tracks) for all levels. The trail system includes a day lodge, two warming huts, and 1.5K of lit trails for night skiing.
Five minutes north of Rossland, the 40K Black Jack cross-country trail system is one of the premier Nordic areas in western Canada and the closest B.C. trail system to Spokane. In addition to the groomed classic and skate skiing trails, there is a 2.5K lit night-skiing loop.
The Kimberley Nordic Club hosts a 33K first-class groomed trail network including double track, single track, and a center skating lane. The trail system on the edge of Kimberley includes a 3.3K lit loop for night skiing, a lodge with bathrooms, and a warming hut.
There are over 50K of groomed cross-country trails around Fernie, from beginner circuits to advanced trails. You can explore one of these different trail systems in the spectacular wilds of the Canadian Rockies each day of your trip: Fernie Alpine Resort, Fernie Golf Club, Island Lake Lodge, Montane, and the Elk Valley Nordic Centre.
BACKCOUNTRY
Scoring untracked backcountry powder on skis or a splitboard in the Kootenay-Rockies region of B.C. can take on many forms, from earning your turns while camped out in the front seat of a Subaru at a mountain pass to fully-catered hut trips and vertical-maximizing cat ski or heli ski tours. Don't venture into these B.C. backcountry hotspots or any other backcountry terrain, however, without the necessary safety gear and avy/backcountry training.
Kootenay Pass: Just north of the border near Salmo and Creston, this popular backcountry area can get crowded on weekends. Excellent terrain, reliable snow, and avalanche risks abound on both sides of the highway.
Whitewater Ski Resort: Whitewater's spectacular in-bounds riding is just the beginning of what this gateway to backcountry terrain has to offer those equipped to access the powder fields and steeps you can't see from the lodge.
Rossland/Red Mountain Resort: There are plenty of backcountry ski tours in the Rossland Range as well as lift-accessed touring possibilities from the resort. Check RED's backcountry page for any updates to their touring policy and visit Backcountry Skiing Canada's Rossland page for more info.
Fernie: The long season and jagged Rocky Mountain peaks around Fernie make for dramatic ski touring and splitboarding out of the resort and other nearby alpine areas. Two local cat skiing operations make for a great guided option to explore the backcountry.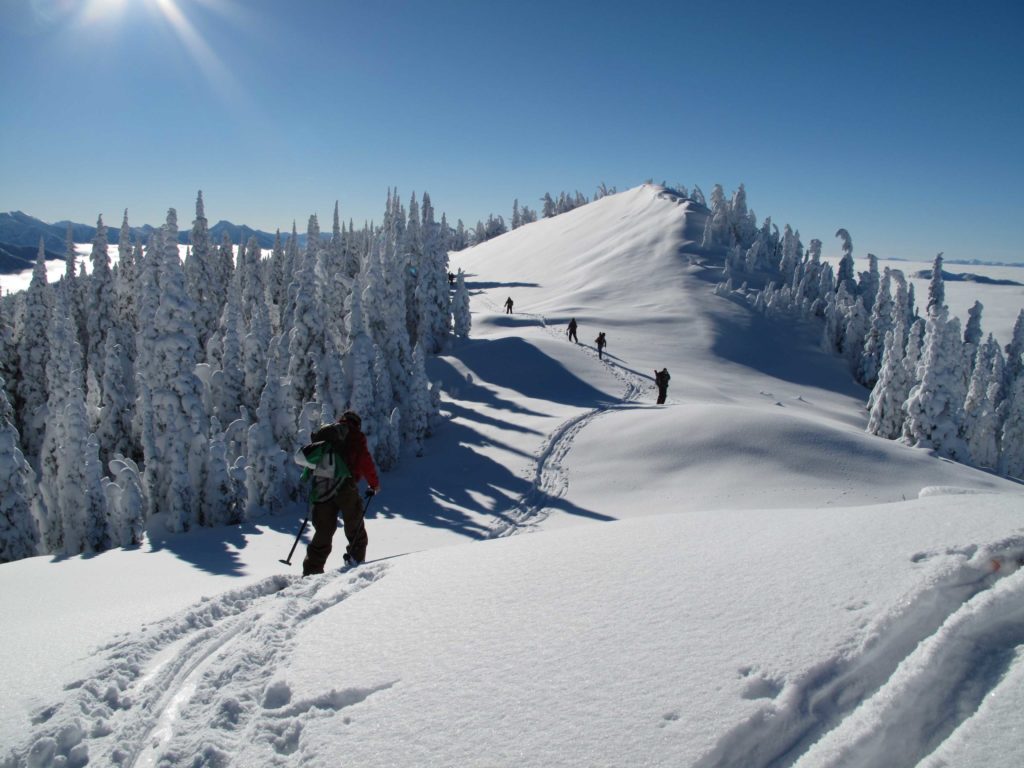 Rogers Pass: This legendary backcountry destination between Revelstoke and Golden demands respect and a keen awareness of avalanche dangers. The big mountain terrain has gained a reputation that attracts skiers from around the world.
Backcountryskiingcanada.com: This treasure trove of backcountry ski and splitboarding route recommendations, forums, and other valuable information and resources will help you explore B.C.'s wide range of backcountry options wisely.
OTHER WINTER ADVENTURES
Open for winter caving tours by email appointment only, Cody Cave Tours offers guided tours of a fragile underground world sculpted by glacier-fed waters above Ainsworth Hot Springs north of Nelson. The winter tour requires a heli-shuttle and/or strenuous snowshoe hike in.
Experience the backcountry surrounding Big White Ski Resort on your own snowmobile as part of a tour or self-guided trip. Choose from groomed trails and more advanced powder riding routes.
Find packed trails and untracked snowshoe wandering at several snowshoeing areas around the vibrant mountain town of Fernie. Or learn about Fernie's rich history and the mountain environment on a Mountain Heritage Snowshoe Tour interpretive outing or book a snowcat ride, lunch, and snowshoe tour deep in the mountains at Island Lake Lodge. //