Every summer there comes a point when the dry and dusty trails around the Inland Northwest lose the appeal they once had in the spring. Berms are blown out, punishing brake bumps have formed and the rising dust makes riding with friends a health risk. It's at this time that I start searching for good trails out of our neighborhood.
For years I have been traveling to as many bike parks as possible, checking them off my list. Each one has a unique character built into the trails, village and the people. The shear vertical footage of riding you get at a lift-accessed park is far beyond what we can obtain when pedaling ourselves to the top. That is what fueled my trips for a long time; you can really hone your skills as a rider. I always leave a bike park feeling like a pro.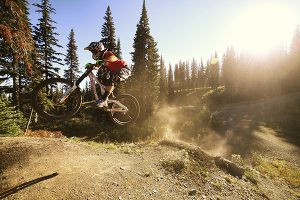 After many summers of traveling to ride, the bike park I keep returning to is Silver Star, located just out of Vernon, B.C., about five hours north of Spokane. It's not just the 30 miles of gravity trails with 600 berms and 300 jumps or the 20 miles of all mountain trails with panoramic mountain views; it's also the small mountain village vibe that makes Silver Star Bike Park the perfect summer trip.
The village has a few hotels if that is what you're looking for, but the real win at Silver Star is their camping area. It doesn't look like much. In fact, it's basically a large open area with fire pits spaced evenly around the edge. However, it's the amazing view over the whole valley below that makes this spot so special. It's one of those places where you would expect hotels and resorts to be sitting. Instead, they provide a perfect camping area for just ten dollars a night per group, which includes a heated and maintained shower and bathroom facility. To top it all off, the campground's mid-mountain village location means you get to start your day with ripping singletrack down to the bottom of the lift.
In the evening, the village comes alive with bikers, hikers and travelers eating tasty food and choice beverages. As you retreat back to the campsite, you'll see each fire ring glowing softy as other groups spend the evening reliving exciting moments from the day. And when all the lights go out, relax into the silence and gaze up at the unpolluted view of a dark night sky. It doesn't get much better than that.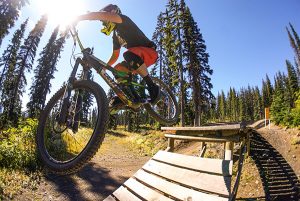 Silver Star Bike Park is open seven days a week through September 7, with limited lift-access on select weekends in September after that. Skisilverstar.com. //