Our plan had been to fly into a chain of rugged and remote lakes in the Tweedsmuir South Provincial Park and traverse it by inflatable stand up paddleboard. However, British Columbia was facing the worst fire season it had ever seen, and the park had been closed most of the summer due to nearby fires. When we showed up in nearby Bella Coola anyway, it was still closed.
The park is diverse in terrain and extends from the lush Bella Coola Valley up to the drier Chilcotin Plateau, resting at 3,600 feet above sea level. The seven subalpine lakes of the Turner Lake chain include Hunlen Falls, the third highest waterfall in Canada. Getting there is difficult to say the least; access is either by a rugged 16-mile hike or by floatplane.
Park rangers told us they didn't see it opening anytime soon. We stayed down in the valley for two days, watching grizzly bears feed on salmon (see sidebar below), and I kept checking the BC Parks webpage, holding on to hope. By a stroke of luck, on our third morning the park reopened. We got groceries, fuel, and caught a flight into Kidney Lake three hours later, just in time for sunset. Upon our arrival the pilot said, "I think you're in for some weather the next few days." And with that he took off into a storm cloud, leaving us three days to cross seven lakes and reach our pickup spot at the north end of Turner Lake.
Since the park had just opened up that morning, there were no humans in the area at all. Everyone else had cancelled their reservations and made other plans, leaving us in total solitude. After a morning hike in the area, we had a breezy paddle to the sandy shores of Widgeon Lake. However, our pilot was right about the weather, and my idea of a sunny, mellow paddling trip was soon replaced with survival-mode thoughts about wind management and keeping dry. How ironic, since we had spent the whole summer praying for rain.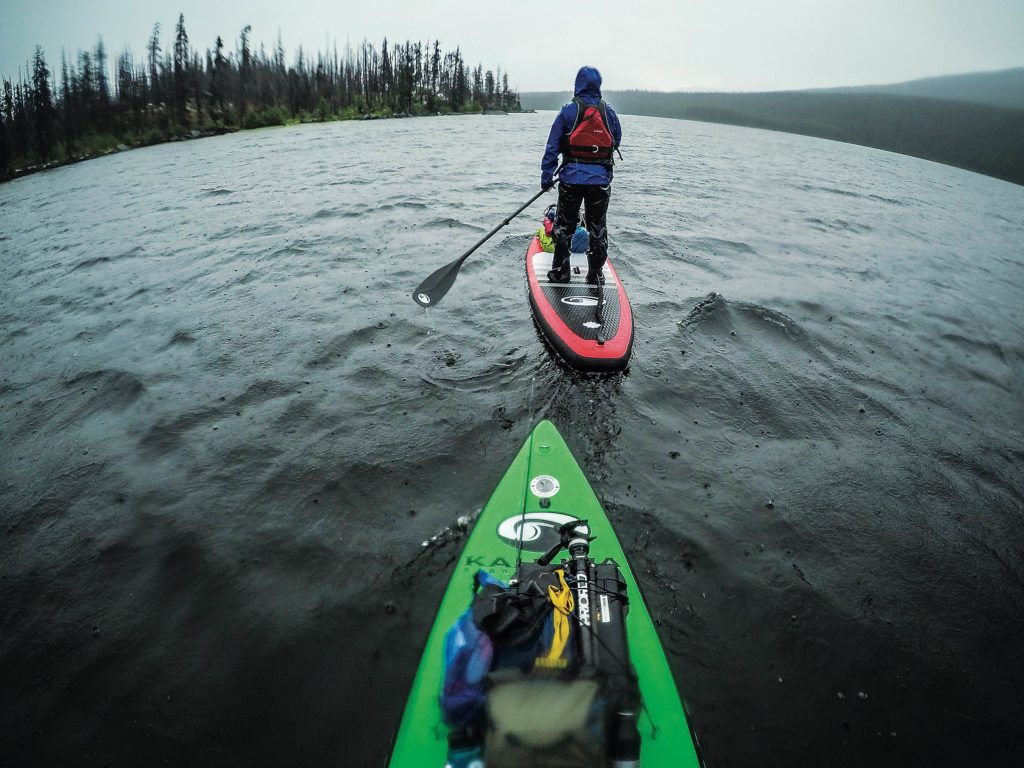 On our second morning, after a fairly sleepless night due to howling winds that seemed to only get worse as the night went on, we woke up to pouring rain. With pooling water encroaching on our tent, we hastily got our rain gear on at 6 a.m., packed up the tent, scarfed down a CLIF Bar, and got on the lake. The wind helped us cross Junker Lake, but the rain was persistent, and the overgrown bushy portages added to our soggy state. We continued on like that, hopping across tiny Vista and Cutthroat Lakes. That day we paddled/portaged for seven straight hours, completely saturated from the unrelenting rain.
Just as our hope of finding some dry shelter was diminishing, I saw some blue in the sky as we neared our next campsite on the southern shores of Turner Lake. As soon as we hit land, we stripped naked to put on dry clothes and let the sun's rays warm our souls. We had overcome adversity, and now had another day and a half of sunny paddling to finish off our trip.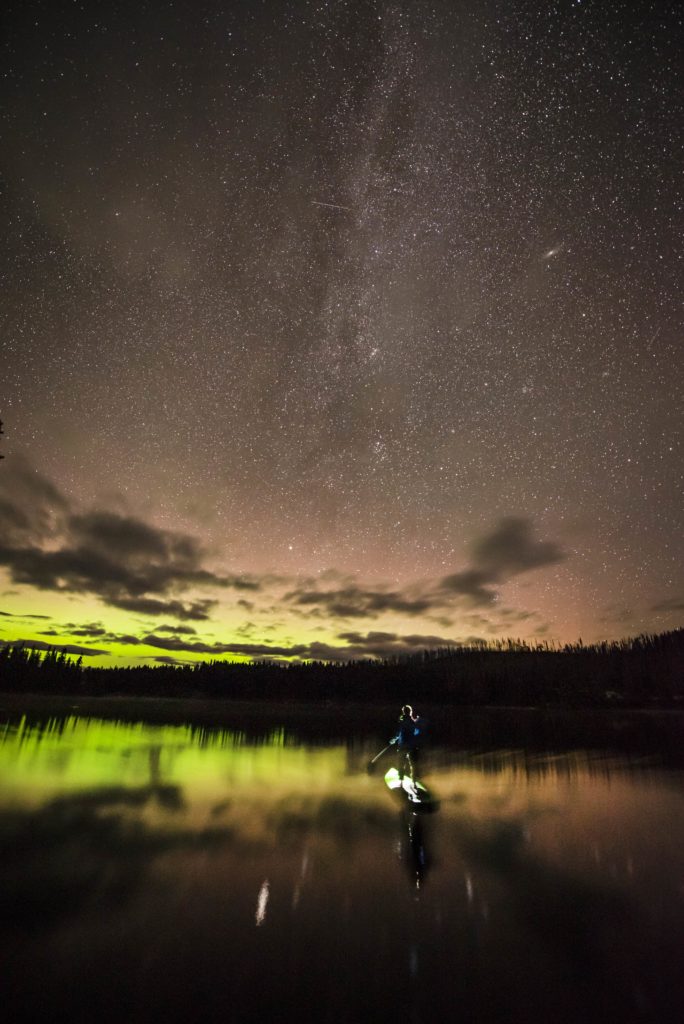 After a beautiful sunset and starlit night, we awoke to low fog on a glassy Turner Lake. With less than 4 miles to paddle, we got to work shortly after breakfast. The home stretch was a victory lap—a sunny, straight shot down the long, narrow lake, with small detours to check out tiny islands around the shorelines. Once we reached our campground at the north end of the lake, our paddling part of the trip was over, but we still had one last objective. A short hike from our final campsite brought us to Hunlen Falls. At what seemed like the edge of the earth, water from the lake chain dropped a continuous 853 feet into the Bella Coola Valley below, and eventually joined the Atnarko River.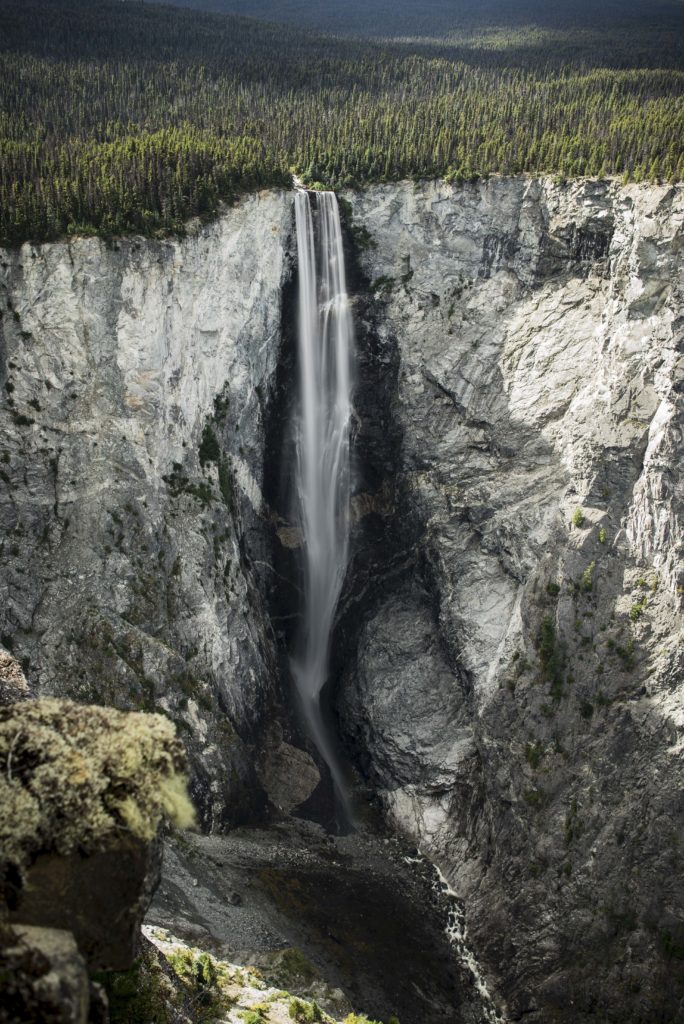 After a sunset viewing at the falls, we returned to our campsite to enjoy our remaining chocolate and whiskey. As the temperatures dropped and the stars came out, I noticed some aurora on the northern horizon, and we couldn't resist getting out for one last paddle under the stars. The next morning, our pilot came in to retrieve us, and we would soon be reunited with civilization. On our drive home, the smoke had cleared out around Williams Lake, where just a week earlier it had covered the region in a thick haze. Rain had saved the day— and quenched our thirst for adventure.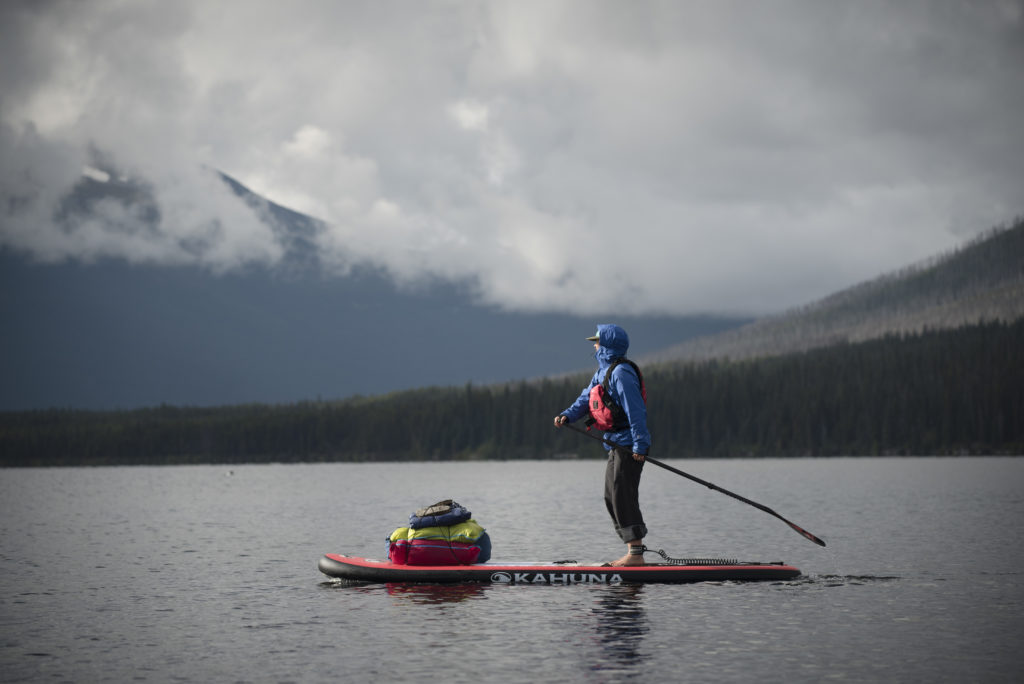 Exploring around Bella Coola
There is no shortage of things to do in this vast, wild area of British Columbia. Here are a few must-see-and-do highlights.
Paddle M Gurr Lake. Glacier Creek Outfitting rents paddleboards for this excursion and also offers guided paddleboard trips to the inlet and estuary. If you have a four-wheel drive car, Blue Jay Lake is another great option for a day trip.
View grizzly bears. In September, Bella Coola is an internationally-renowned destination for viewing grizzly bears feeding on salmon. The Belarko Wildlife Viewing Area has a free viewing platform with staff and an electric fence. Or for a more intimate view, visit the Tweedsmuir Park Lodge and go on a drift boat tour!
Hike to Odegaard Falls. Down in the Bella Coola valley, a rugged drive can get you to a fairly short hike to the lookout of the impressive Odegaard Falls. Note: four wheel drive is required!
Hike in the Rainbow Range. Another beautiful section of Tweedsmuir South Provincial Park, the Rainbow Range offers a variety of hiking options, from mild day hikes to moderate overnight trips.
Visit the community of Bella Coola itself. On the coast in the Bella Coola Valley, this town is definitely worth a visit! It offers lush scenery, great views, and lots of small day hikes.
Related: How to Pack for your First Overnight Paddleboard Trip
Written by Eric Poulin