If you like sagebrush and juniper, shade-less desert heat, wind and unpredictable weather, relentless climbs up steep mountain jeep tracks, and long stretches of riding without human contact, then Oregon's Big Country Bikepacking route might be for you.
The 357-mile ride with 18,350 feet of climbing through the mountainous desert terrain of extreme southeast Oregon and northern Nevada was pioneered by Bikepacking.com contributor Gabriel Amadeus around 2016.
The route crosses three mountain ranges, the Alvord Desert, and three national wildlife refuges. It also stops by five different hot springs and a funky desert town on the Oregon and Nevada state line.
Three of us set off from Spokane in early June 2021 with a vanload of mountain bikes and bikepacking gear headed to the tiny outpost of Frenchglen, Oregon.
The following morning, after donating blood for several hours to highly aggressive mosquitos, we set off with way too much camera gear, an obscene amount of wine and other luxuries, and only a vague notion of the challenges and surprises ahead.
Day 1: Malheur National Wildlife Refuge to Steens Mountain
After a late afternoon start to avoid the 90-degree afternoon heat, we pedaled through the roadside wetlands of the Malheur National Wildlife Refuge and then up into the mountains.
We arrived at our first camp after dark partway up the shoulder of Steens Mountain.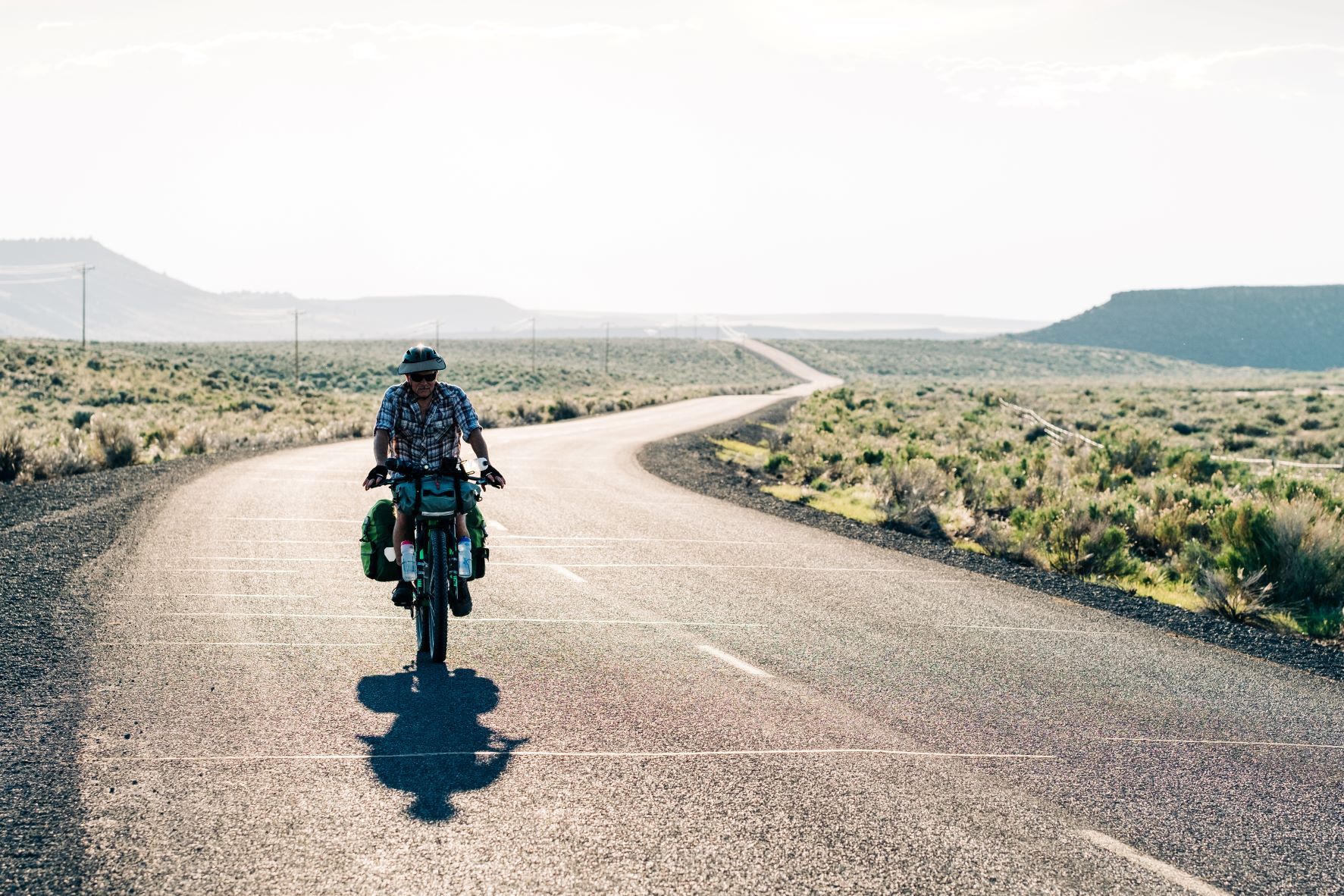 Day 2: Up and Over Steens
After watering up at a spring, we climbed slowly over rocky ranch roads, following our Ride with GPS route map up faint tracks through wildflowers and sage that at times looked abandoned. Despite the hot temps, the wind gusted and storm clouds threatened rain.
We finally crested the shoulder of Steens Mountain into a wonderland canyon with aspen and a rushing creek. Plunging down the steep, technical doubletrack, my front brake failed. I doubled down on my rear brake, pausing from time to let it cool.
Near the bottom, we reached our second camp next to a beautiful little creek and a giant juniper tree.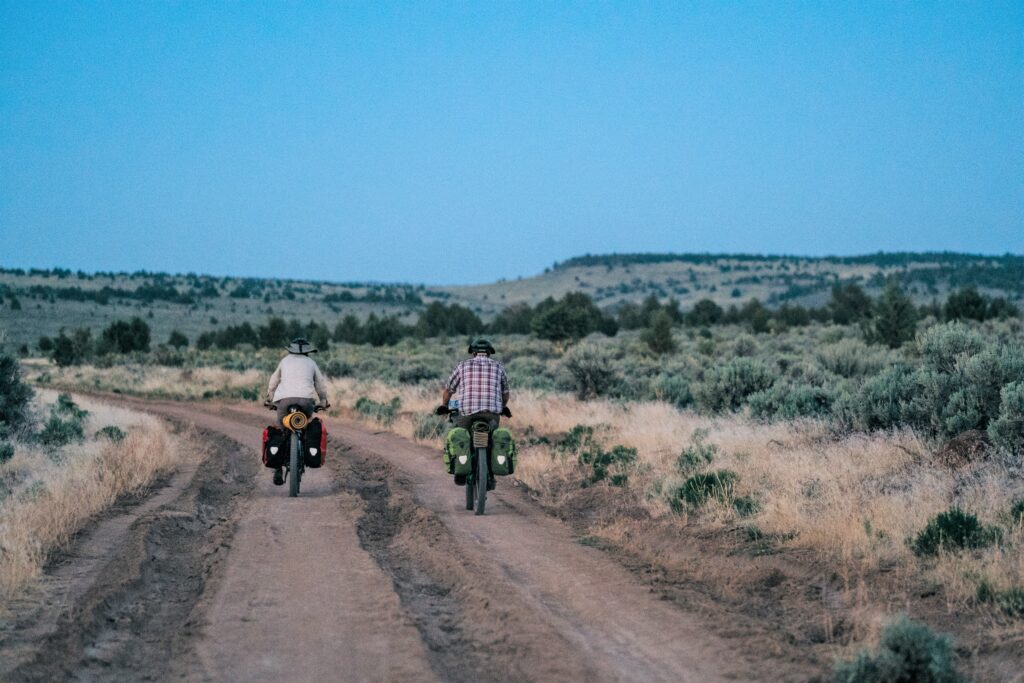 Day 3: Across the Alvord Desert, Up Big Sand Gap, & On to Willow Hot Springs
We woke much earlier than expected, thanks to an insane wind storm that blew one of our tents down around 1 a.m. The 25-35 mph winds howled all night, and with only a few hours of sleep, we set off at 6:30 a.m. for a roughly 25-mile ride to Alvord Hot Springs.
We weren't super stoked for a hot soak in the 95-degree sunshine, but after loading up on drinks from the small store, we spent several hours sitting in the only sliver of shade in the roofless hot springs shack. We still had over 30 miles to ride that day, including the 8-mile crossing of the baking Alvord Desert.
Once on the other side of the dry lakebed, we faced several miles of bike pushing through sand of aptly-named Big Sand Gap, followed by mile after mile of rolling ranch roads and opening and closing countless cattle gates.
Just before sundown, after crossing the only paved road of the day, we rolled into the primitive campground at Willow Hot Springs.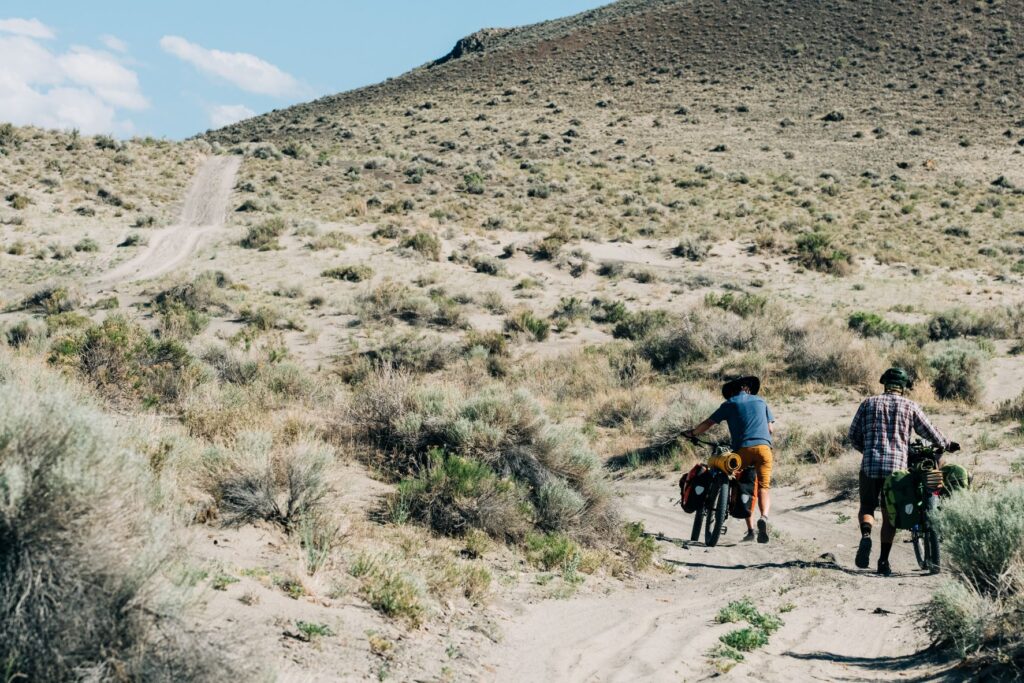 Day 4: The Trout Creek Mountains
Day four was all about the Trout Creek Mountains, an incredibly remote Great Basin mountain range along the Oregon/Nevada border with peaks as high as 8,500 feet.
Roughly halfway up, we paused for a nap under a cluster of wildfire-burned mountain mahogany trees. Our camp, and next water source, was somewhere high above us, so we pedaled on up steeper and steeper doubletrack into a fierce, unrelenting headwind.
As the sun dropped closer to the horizon, each false summit revealed another climb. There was some cursing, long silent stretches, and plenty of pushing. Eventually we passed over the real summit and began a wild, raucous descent into an entirely unexpected canyon full of aspen glowing in the golden light of the setting sun.
My limited braking capacity gave me some pause, but after a day of hard climbing, the rip-roaring free-fall down to camp was irresistible.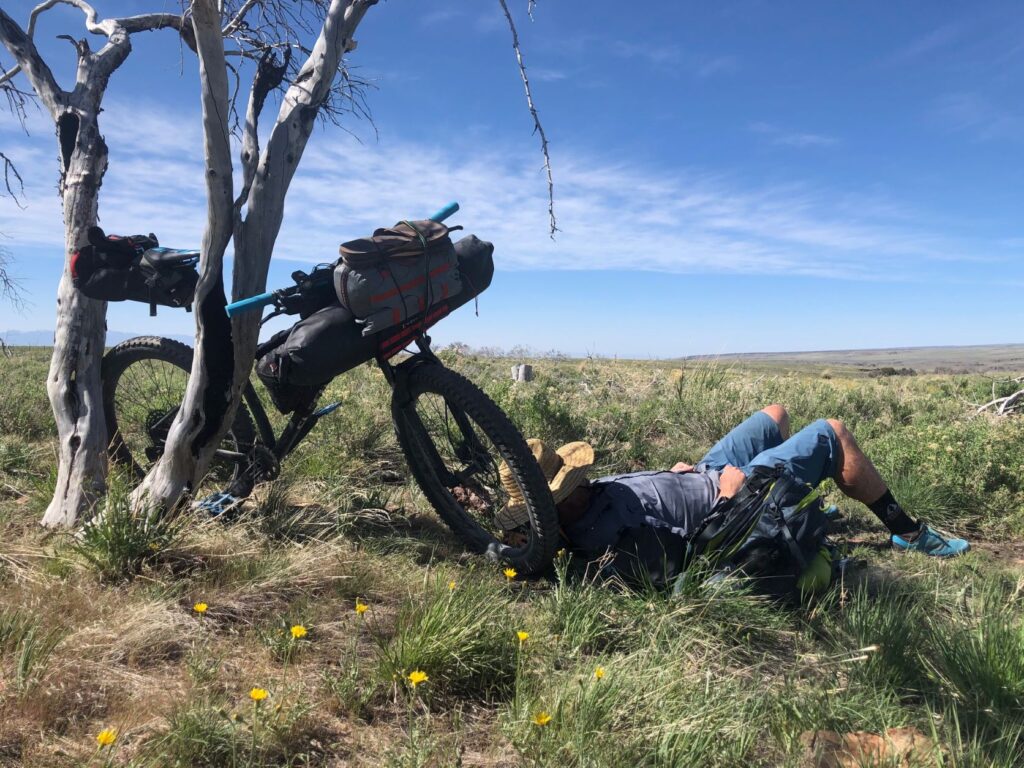 Day 5: A "Quick Bomb" Into Denio, Nevada
I intentionally, for the most part, read very little about the route before our departure, but we all remembered reading something about a quick bomb down from the Trout Creek Mountains to the only resupply stop in Denio, Nevada.
Even though the forecast called for another day of stiff headwinds, and the restaurant and store closed early on Sundays, we slept in and hit the trail late. We expected some climbing that day, but were surprised by the number of steep hills that broke up the occasional "quick bomb."
Eventually, the climbing gave way to a rollicking, rocky descent to the valley floor with nothing but a steady 20-30 mph headwind to great us.
By then it was 3 p.m. and the restaurant in Denio Junction had closed and the store would too in another hour. We had 10 or so miles of hot, flat desert dirt road to cover, and it quickly became a funnel that drove sand and dust into our faces as we cranked hard against the wind. We were nearly out of water and hadn't seen another human or vehicle in two days.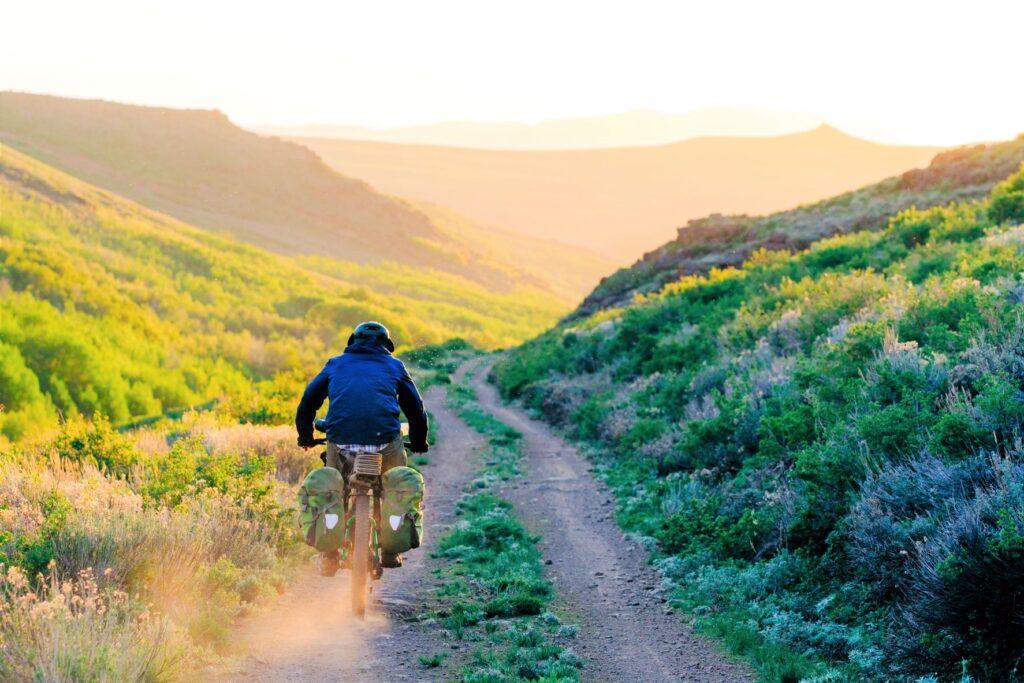 Shockingly, we rolled up to the tiny store with minutes to spare and set off hording snacks and drinks from the meager selection. Battered by the wind and blowing sand, we booked the last available motel room and settled in at a shaded table out front to hydrate and watch the parade of interesting characters stopping for gas and provisions.
At one point, after lamenting that we'd missed a hot restaurant meal, a guy in a truck delivering grass fed beef out of Reno pulled up. We chatted him up and a few minutes later we were searing four amazing steaks on a camp stove and frying pan we borrowed from the restaurant.
We passed around chunks of delicious steak on plates cut out of the cardboard box they came in, grease dripping down our hands. I can't remember a more enjoyable meal or a time when I was so filthy and a shower felt so good.
Day 6: Off-Route to Virgin Valley Hot Springs
After a leisurely restaurant breakfast, the wind was already a force to be reckoned with by the time we hit the trail. Cutting off around 20 miles by taking a more direct route to Virgin Valley Hot Springs seemed like the best idea.
Less than 30-miles later, after some desert doubletrack, a stretch of highway riding, and a steep push and fast descent down a rough dirt road, we arrived at the hot springs just as the wind reached a new level of intensity.
We soaked in the barely warm natural pool and learned from soaking old timers that the big draw around those parts was the nearby recreational opal mine.
Back at our camp, we endured a few hours of being blasted by the wind before drifting out into the desert to watch one of the longest and most beautiful sunsets I've ever seen.
Day 7: A Long Ride Through the Middle of Nowhere
Maybe it was something we ate, or the wind, or the strange campground noises, but we all had a hard time sleeping that night. Morning came early, and for only the second time on the trip we got an early start.
We had no idea what to expect from the Sheldon National Wildlife Refuge section that day but hoped at least the wind would back off. No dice. Mile after mile of sleep-deprived pedaling through an unfortunately bleak, sun-blasted landscape made for a long, quiet day in the saddle.
We all agreed that this long stretch of mostly flat, scrubby Nevada sagebrush would be worth bypassing if possible. As if to punctuate our ongoing critique of the Sheldon NWR section, we camped that night in a waterless, wind-hammered, jack rabbit shit-littered cluster of knee-high sagebrush that stretched on as far as we could see.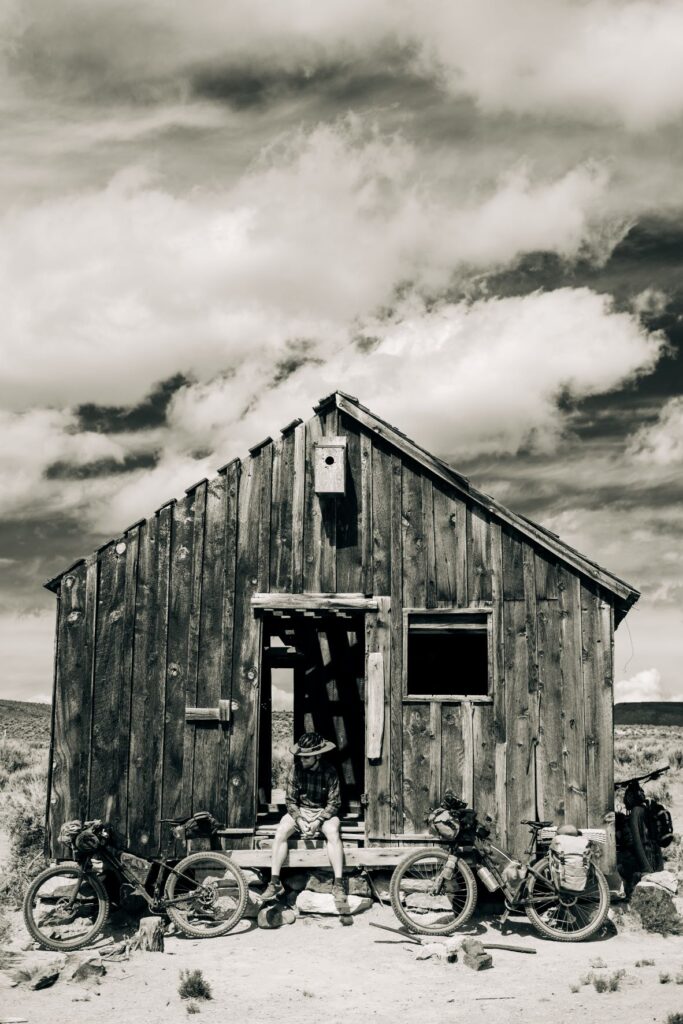 Day 8: Hart Mountain National Antelope Refuge
By now the temperatures had cooled considerably as we continued on a long, flat ranch road to the second of two historic, abandoned ranches. From there our route began to climb through increasingly lush desert terrain.
We saw plenty of antelope, made several deep stream crossings, and, with the wind finally at our backs, reached the flank of Hart Mountain and a forest of pine, fir, and aspen. After watering up in the crystal clear waters of Guano Creek, we climbed the final miles of the trip to a pass with some truly big country views.
The rollercoaster descent down the lightly-travelled doubletrack eventually spit us out abruptly amongst car campers, the first other humans we had seen in two days, and the inviting stone walls of the Hart Mountain Hot Springs.
With storm clouds building to the west, we soaked off layers of dirt and sunscreen from the trail, then hurried to set up camp and cook dinner before the rain started. I pulled my pot of food off the stove just in time to dive into my tent as a deluge unloaded on us.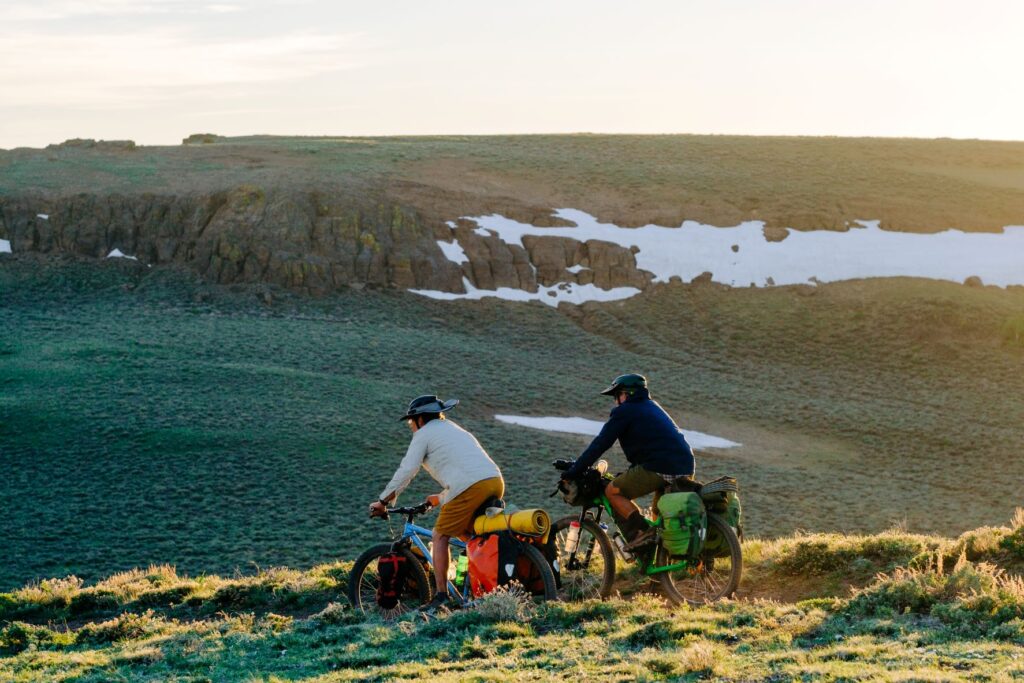 Day 9: Hart Mountain to Frenchglen
A cold rain pounded us all night, and around 5 a.m., I woke to a lighter, familiar sound tapping on my rainfly. Since we weren't prepared for riding in the snow, we hit the hot springs again that morning while we waited for the weather to improve.
The rain and snow let up mid-morning and the sun came out. We ended our trip with a 50-something-mile, mostly downhill and quite monotonous gravel road ride back to Frenchglen, Oregon.
Originally published as "Into The Wild Wind: 9 Days On Oregon's Big Country Bikepacking Route" in the July-August 2021 issue.
Derrick Knowles is OTO co-publisher and editor-in-chief. He is a humble, hard-core outdoor enthusiast.
To learn more about bikepacking, check out related stories from the OTO archives.