#1 Experience a River of No Return Jet Boat Tour
Experience Idaho's famed Frank Church River of No Return Wilderness and the wild Salmon River on a 1-3 day jet boat tour out of Riggins, Idaho this spring or summer. The tours are a safe and fun way for families to visit the river canyons and remote wilderness beaches to hike, fish, swim, sightsee, view wildlife and relax. Overnight tours include all-inclusive accommodations at either China Bar Lodge or Mackay Bar Lodge. Half-day tours are also available. More info: 1-888-892-2820 or at Salmonrivertour.com and Mackaybarlodge.com.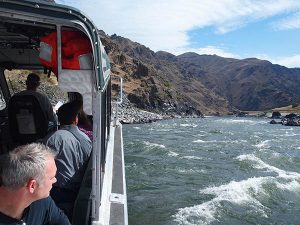 #2 One-Stop Family Fun in Fernie, B.C.
A little over four hours north of Spokane, Fernie, British Columbia, may be the ultimate summertime destination for outdoors-loving families. The exceptionally scenic mountain town situated in the dramatic Canadian Rockies has developed a well-earned reputation as mountain biking meca (so bring the bikes), but the town and surrounding mountains also offer a wide range of inexpensive and often free family-orientated recreation opportunities and outdoor activities.
Being an old mining town, Fernie has a lot of engaging history. The Fernie Museum is a great place to start exploring the town's past. James White Park sits right on the picturesque Elk River and is home to the Fernie Frisbee Golf course, which is free. Easy, signed family nature and hiking trails are located in the nearby Mount Fernie Provincial Park, and Fernie Alpine Resort has chairlift rides and hiking and biking trails. Kids fishing adventures, river floats, Arts Station tours, dirt jump and skate park trips, the Fernie Waterpark and Aquatic Centre, or family biking along the dyke in James White Park are just some of the fun family times to be had in Fernie. Everything is in close proximity to town, allowing for low-stress mini-adventures from your hotel or campground between naps and mealtimes. Tourismfernie.com.
 #3 Go Hiking and Bird Watching in Leavenworth
The central Cascade mountain town of Leavenworth is a hiking family's dream. Explore the trails in the Icicle Creek Canyon area (including some challenging options), the Icicle River Nature Trail near the Leavenworth National Fish Hatchery or the forested riverbank trails of Enchantment Park and Waterfront Park's Blackbird Island close to downtown. The Sleeping Lady Resort also hosts free Saturday morning bird walks with Heather Murphy, a local wildlife biologist, nature journalist and artist. Over the past 25 years she has recorded 109 species of birds in the Sleeping Lady area, which is documented in the Citizen Science eBird program at Cornell Lab of Ornithology. The tours run May 7 and 21 as well as the first and third Saturdays in June and September. Don't forget binoculars!  Sleepinglady.com.
#4 Spokatopia Outdoor Adventure Festival (July 9 2016)
Introduce your kids to outdoor recreation activities like stand up paddleboarding, rock climbing, kayaking, geo-caching, slacklining, canoeing or disc golf at the Spokatopia Outdoor Adventure Festival at Camp Sekani Park along the Spokane River. There will also be over 40 outdoor-lifestyle oriented exhibitors to visit, with many of them offering demos, samples and other activities. Kids will also enjoy watching mountain bikers fly through the air at the Spokatopia Jump Jam and listening to live music all day long. The festival runs from 10 a.m. to 6 p.m., and general admission is $5 per person (5 and under are free). Some clinics and activities cost extra and require advance registration (most sold out last year). Camp Sekani is located between downtown Spokane and Spokane Valley on Upriver Drive. Info and outdoor activity registration at Spokatopia.com.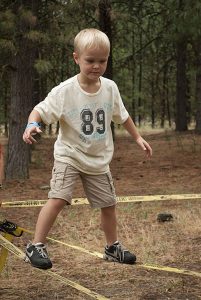 #5 Fly Through the Trees with Mica Moon Zip Tours 
Last summer Mica Moon started offering zipline and canopy tours in the mountains above Liberty Lake between Spokane and Coeur d'Alene. The 2.5 hour tours include eight ziplines, seven tree-top platforms, two short hikes and a UTV 4×4 ride up the mountain to start off the tour. The course threads through scenic forest, over a mountain stream and near historic moonshine camps. The season kicks off in April and runs all summer long. Micamoon.com. 
#6 Take a National Park Family Vacation
2016 marks the 100th anniversary of the National Park Service, and what better way to celebrate and take advantage of many special anniversary events and activities than to plan a national park vacation this summer. Several of the nation's most popular parks, including Glacier, North Cascades and Yellowstone, are an easy day's drive from Spokane and can make a memorable family trip, especially with the right planning and information.
Spokane couple Harley and Abby McAllister are a self-described adventurous husband and wife duo who drag their four kids outside as often as they can. After visiting Yellowstone National Park several times and having struggled to find quality information geared towards visiting national parks with kids, they decided to write a guidebook to help other families plan a Yellowstone trip.  Their book, "Yellowstone National Park with Kids" (available from Amazon.com) includes travel tips, top sights, fun adventures, a section on backpacking with kids, a guide to the geysers and sample trip itineraries. The information in the book is divided by regions of the park so that all of a day's planned activities can be organized by location, enabling you to make the most of your time in the park. The McAllisters have a second book, "Utah's Big 5 National Parks with Kids," which covers Arches, Bryce, Zion, Canyonlands and Capitol Reef. Learn more about the books and the McAllister's family adventures at Our4outdoors.com and about national parks at Nps.gov.
#7 Spend the Day at Silverwood Theme Park
Silverwood is the Northwest's largest theme park, located in a fairly rural area in North Idaho. The park features over 200 acres of fun and over 70 rides, slides, shows and attractions. You can experience world-class coasters, hair-raising attractions, kiddie adventures, a 1915 steam engine train, live award-winning entertainment, restaurants and more. Visitors can also cool off at Boulder Beach Water Park with two massive wave pools, thrilling water slides, children's water features and an endless lazy river. New to Boulder Beach for 2016 is a 400 foot-long slide standing nearly 60 feet tall. The new mat racing water slide will feature 6 side-by-side racing lanes for kids to compete against one another. Admission covers both Silverwood and the Boulder Beach Water Park. Silverwood operates seasonally from May through October just minutes north of Coeur d'Alene. For more information and the best price on tickets, visit Silverwoodthemepark.com or call 208-683-3400.// (Wil Wheaton)
Spokane Parks and Recreation—Outdoor Programs for All Ages
Spokane Parks and Recreation has offered outdoor recreation activities and programs since 1989, and many of them are perfect for kids and families. Explore Spokane's plentiful outdoor recreation opportunities with a guided group of like-minded parents. Spokane Parks and Recreation offers affordable hiking, biking, paddling, rafting, climbing and other adventures, and for many of them equipment, instruction and guidance is included in the trip. Here is a sampling of some of the adventures and camps being offered this year. Details and the full list of spring and summer activities at Spokanecity.org/recreation/outdoor.
Paddleboarding at Fish Lake (ages 8+): Learn the basics of stand up paddleboarding on the peaceful, smooth waters of Fish Lake near Cheney. All equipment and group instruction provided. June 29 and July 26 (6-8 p.m.). $19 per person.
Introduction to Rock Climbing (ages 8+): Instructors teach basic climbing techniques at Minnehaha Climbing Area. Rappel, climb, belay and practice climbing skills during this 5-hour course. July 23 (10 a.m. to 3 p.m.). $42 per person.
Spokane River Rafting & BBQ (ages 5+): Wiley E Waters river guides will take you down the Lower Spokane River through fun class II and III rapids. Enjoy wildlife sightings, beautiful scenery and a post-trip BBQ. All equipment included. July 3 (10 a.m. to 2 p.m.). $55 per person.
Family Kayaking on the Little Spokane River (ages 8+): Paddle tandem sit-on-top kayaks on the meandering, mellow waters of the crystal-clear Little Spokane River as it flows through a pine-studded natural area teeming with wildlife. Equipment provided. Multiple summer trip dates. $29 per person.
Prehistoric Camp (ages 6-11): Kids will learn about paleontology and animals that inhabited the planet millions of years ago – including dinosaurs, fish, amphibians and birds – at the Corbin Arts Center. August 8-12 from 9 a.m. to 3 p.m. $124 per child.
Archery Introduction (ages 5+): Learn the basics of archery in a beautiful, safe setting with the skilled professionals from Evergreen Archery Club (near Palisades Park in Spokane). June 4 and August 6 (9 a.m. to noon). $29 per person.
Teen & Youth Outdoor Adventure Camps (ages vary): Kids learn team building, self-confidence and outdoor skills all while exploring different outdoor sports and activities. (Multiple dates and pricing options available.)