A scenic view, grassy knoll, trailside bench, or perhaps a certain boulder or log may conjure the thought: "That would make a great spot to read." Here are some local walking destinations and recommended books to get started on your local summer reading tour.
Herbert M. Hamblen Conservation Area:
This public land area west of downtown Spokane connects with People's Park via the Sandifur Bridge, over the Spokane River. Trails begin near the bridge's south end. Hike upriver or down and find a reading spot. You can also access these trails by walking down the paved-switchback path linking the bridge to the Centennial Trail—at the section west of Kendall Yards. Another picturesque place to read is the overlook platform off the Centennial Trail, across the street from Olmstead Brothers Green (Nettleton Street & Summit Parkway). Although you may be distracted by passing cyclists and pedestrians, the Adirondack chairs and radiant sunset views are worth it.
Riverside State Park, Centennial Trail at Nine Mile Falls:
Start from the Carlson Road Trailhead (mile 37), south of the ranger station off W. Charles Road—only a 20-minute drive from downtown Spokane. Very soon you'll see a shady, picturesque bench facing the Spokane River, just steps from the paved trail. You can also venture closer to the riverbank where some big rocks make great reading perches. Continuing down the trail, you'll find more benches in the two-mile stretch to mile 35, including the Deep Creek Picnic Area. wta.org/go-hiking/hikes/spokane-river-centennial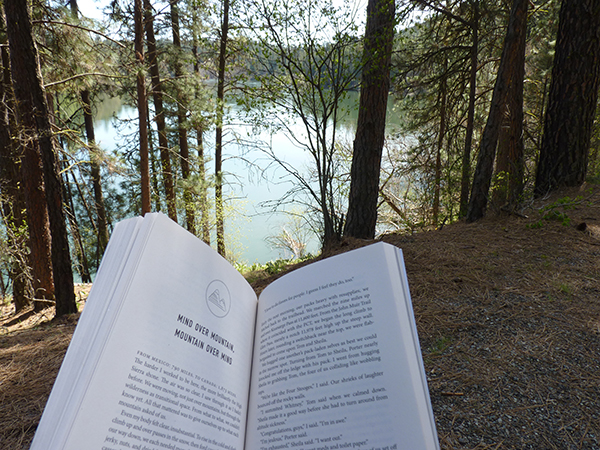 Palisades Park:
Beckoning readers are the quiet trails around Indian Canyon, west of Spokane. Explore Trail 121, Waterfall Loop Trail, for an up-close view of the falls. At the ridge overlook, near the parking lot and trailhead access off Indian Canyon Road, there is a bench seat carved from a huge old tree. palisadesnw.com
Turnbull National Wildlife Refuge:
Local author Paul Lindholdt (see book list) recommends the Pine Lakes Loop. Other short-distance hikes are the Kepple Peninsula or Kepple Lake Overlook Trails, both accessible from the Pine Creek Auto Tour Route. During March-October, entrance fees are $3/vehicle. outthereoutdoors.com/turnbull-national-wildlife-refuge-hiking
Moore-Turner Heritage Gardens:
Edwidge Woldson Park, next to Corbin Art Center on Spokane's lower South Hill, has dirt trails in addition to this historic site. Bring a blanket to read near the rose arbor or climb the basalt staircases to one of the terraces. (No food or pets allowed in the fenced garden.)
Cliff Park:
Just up the hill from the heritage gardens, along Stevens Ave, is this small, historic park, established in 1908. Climb the stairs to the grassy summit of the volcanic basalt outcrop, once a Spokane tribal lookout. Today the panoramic city view is mostly obscured by pine trees. spokanehistorical.org //
[Feature photo "Summer reading at the Centennial Trail mile 37 bench" by Amy McCaffree.]