By Seth Marlin
Even with shorter days and falling temperatures, the Spokane region is rich in natural beauty, and whether you're looking for vibrant colors, or more of a winter-wonderland atmosphere, there's something for every hiking aficionado. Here are a few of my favorite local late-season hikes. 
James P. Slavin Conservation Area – Nature Park Loop – 2.4 miles
Located just south of Spokane, this trail covers a range of landscapes, from forests to wetlands to prairie. Birdwatchers can glimpse a range migrating wildfowl, including Canada geese and sandhill cranes, and the wide-open horizon captures the sweeping grandeur of the neighboring Palouse. A great trail for older hikers and families with kids.
Antoine Peak Conservation Area – Antoine Peak Loop – 4.8 miles
This trail takes hikers up through dense woodlands, culminating in views of the Dishman Hills, Mount Spokane, Mica Peak, and even northern Idaho. Deer sightings are common this time of year, and the summit of this trail offers a visual feast of snow-capped hills and autumn hues. A must for any hiker craving a bit of solitude.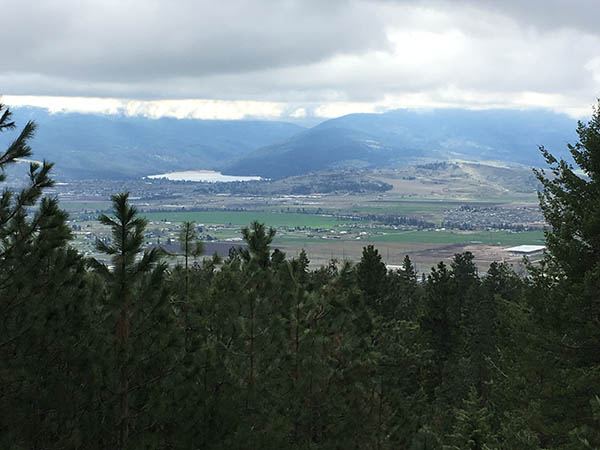 Mount Spokane State Park – Trail 120 Loop – 2.5 miles
Hidden in the shadow of Mount Spokane, this hike is more approachable than some others in the area, though trekking poles and good footwear are still recommended. This trail boasts old growth stands of western larch, whose needles turn gold in the fall, bathing the understory in a dreamy light. Coupled with amazing views of Mt. Kit Carson, this hike is bright, brilliant, and perfect for sunny days. This hike may turn into a snowshoe depending on the fall weather. Trail 120 starts across the road from Bear Creek Lodge. A fee is charged by the lodge owner for parking.
Turnbull National Wildlife Refuge – Pine Lake / Headquarters Loop – 1.7 miles
Situated just east of Cheney, a 20-minute drive from Spokane, Turnbull boasts an extensive network of trails that are well maintained and relatively level, with a broad array of natural wonders to behold. Of particular note is Winslow Pool—a major visual feature of the park, a survey site for Eastern Washington's Biology department, and a haven for amateur birdwatchers.
Columbia Plateau Trail – Cheney to Fish Lake – 7.6 miles (out and back)
Though easily the longest of the trails on this list, it is also one of the most approachable. This hike is part of the Columbia Plateau Trail, which spans 130 miles from Pasco to Cheney, covering much of the south-central part of the state. Its key features include well-paved and bike-friendly paths, numerous scientific displays detailing the regions geological history, and a serene view of Fish Lake.
Coeur d'Alene – Tubbs Hill Main Trail – 2.5 miles
While a common misconception holds that the best hikes lie far off the path, many lie tantalizingly close to town. Tubbs Hill, for just one example, presents an appealing option for hikers in Spokane or North Idaho alike. Situated on 130 acres of public land, Tubbs Hill is a popular woodland oasis in the heart of downtown Coeur d'Alene. It boasts well marked trails, accessible terrain, and stone's-throw proximity to Coeur d'Alene's numerous dining and shopping opportunities. Best of all, wintertime hikers will find no more stunning view of Lake Coeur d'Alene and its surrounding forests than on a crisp winter morning or in the midst of a gentle snowfall. 
Originally published as "6 Fall & Early Winter Spokane & CDA Hikes" in the Nov.-Dec. 2020 double issue.
Seth Marlin holds a Creative Writing MFA from Eastern Washington University. He is the author of "Five-Star Trails: Spokane," out now through Menasha Ridge Press.