Dandies Marshmallows: The marshmallows from our childhood needed an ingredient-list makeover, and Dandies has delivered. Dandies are 100% vegan, vegetarian-friendly, plant-based, kosher and Non-GMO Project Verified. Produced in the company's dedicated vegan and nut-free facility and air puffed to be light and fluffy. They're also free of common allergens, and, most importantly, they toast up great and taste amazing! Dandies Marshmallows are available in regular (campfire style) and mini sizes at select conventional and natural grocers nationwide, including Whole Foods Safeway, and Albertsons.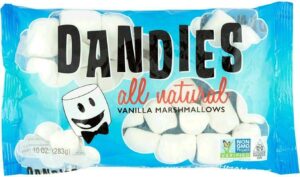 Sawyer Insect Repellents: I avoid DEET, preferring a few bites to potentially poisoning myself but was a slow to give up citronella-based repellents and try something new. My bad, because picaridin repellent is highly affective for up to 14 hours against mosquitoes, ticks, and biting flies; is safe for use with kids and pets; and doesn't have a strong smell like citronella. Another Sawyer scent-free, non-toxic product to keep unwanted insects away from your camp or backyard patio is its Permethrin Insect Repellent for clothing and gear. It won't damage your gear or tent and a single use lasts for six weeks or six washings. Sawyer says you are more than 70 times less likely to get bitten by a tick if you are wearing permethrin-treated shoes and socks. Available at REI or at Sawyer.com. 
Owala Water Bottles: With a graveyard of old, unused water bottles littering my gear room, I'm reluctant to review new ones and often find myself drinking water out of an old juice bottle. Owala's new FreeSip bottle changed my tune. Push the button and the cap flips open, keeping your grubby digits and germs off the drinking spout. The coolest thing about this bottle, though, is a 2-in-1 drinking spout that lets you tip the bottle for gulping water through a wider spout or sip more slowly from the built-in straw (great for driving in traffic when you don't want a bottle in your face). Owala's three models of bottles come in plenty of color options ranging from wild to tame. MSRP: $21.99-$29.99. OwalaLife.com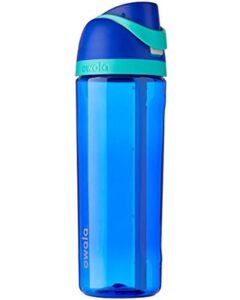 Dr. Fedorenko Sun Stick: Given some evidence that chemicals in many conventional sunscreens could actually increase cancer risk, I prefer not to take any chances. The hippier the better. The Sun Stick is a natural, 30 SPF broad spectrum sunscreen that's cruelty free, gluten free, non-GMO, fair trade certified, and it comes in a recyclable, non-plastic tube that looks like a giant tube of lip balm. Drfedorenko.com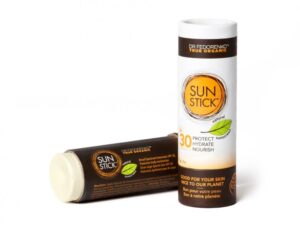 Dr. B Organics Hand Sanitizer: Having several bottles of sanitizer handy at camp is a good idea, especially when you'll be using public facilities like picnic tables, restrooms, etc. I always buy organic or natural hand sanitizers because I don't like my hands smelling like cheap perfume when I'm out in the woods, and those fragrances and other chemicals make my hands burn and itch. Dr. B's hand sanitizer is super powerful on germs with 70% alcohol, but easy on your hands with a proprietary essential oils blend that sanitizes hands and surfaces and, so they say, supports healthy immune function. Drfedorenko.com 
Originally published as "5 Products for Healthier Camping This Summer" in the July-August 2020 issue.