The Inland Northwest is home to hundreds of lakes within an hour's drive in any direction. When the temperatures start to rise, it's time to get out on the lake! Pick something in the list below you might enjoy, then find the corresponding number for details on which lakes make the best fit for your activity.
Go Surfing
Wake surfing is a water sport in which a rider is pulled behind a boat, riding the boat's wake without being directly pulled by the boat. The big difference between wake surfing and water skiing is the speed. For wake surfing, the boat only goes about 8-10 MPH, unlike water skiing at 20-40 MPH. This makes it much easier for children or older adults to enjoy the sport. After getting up on the wake, you can drop the rope, and ride the wave's peak in a fashion reminiscent of surfing. The only types of boats safe to surf behind are those with the propeller located beneath the boat rather than behind the boat. You can also try the growing sport of hydrofoil surfing on lakes.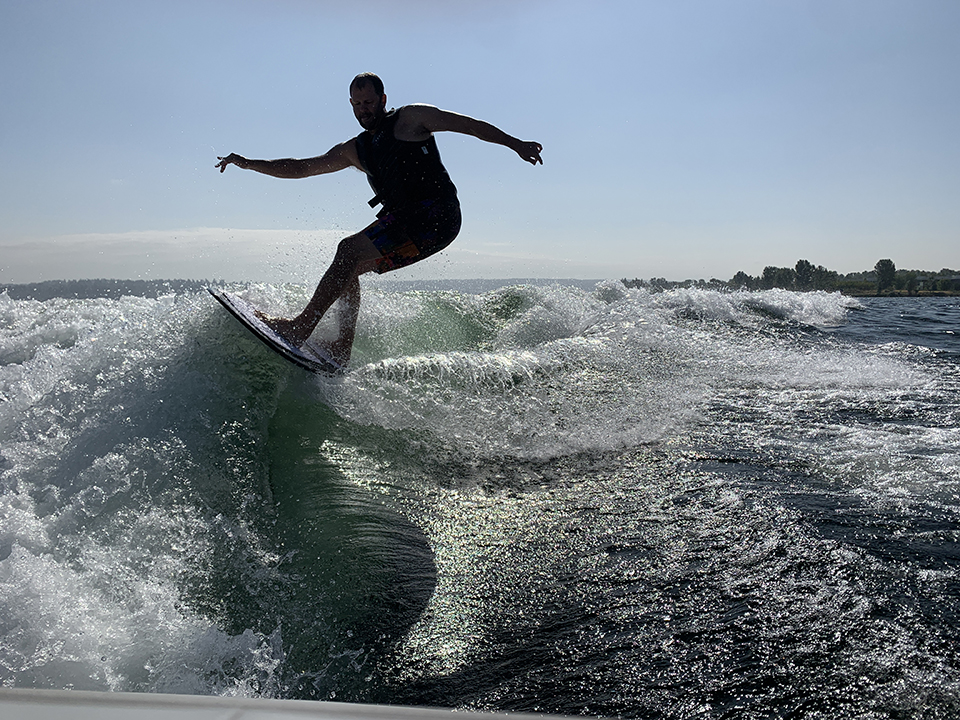 Hike The Lake
Whether it's an all-day hike around or up to a lake, or a short hike from your car to the beach, the idea is to get out and look around.
The Enchantments are considered one of the most beautiful and scenic wilderness areas in the Pacific Northwest and home to Inspiration Lake, Perfection Lake, and Crystal Lake, where nature has carved out an alpine paradise of granite worn smooth by glaciers.
Spirit Lake in Idaho has a relatively new hiking and biking trail system around the lake.
Dusty Lake and the Ancient Lakes, located in the Quincy Wildlife Recreation Area, are famous for their unique beauty, deep coulees, and even a waterfall, all in a desert landscape.
Lower Gospel Lake in the Gospel Hump Wilderness in Idaho's Wind River Range has remained somewhat off the radar for hikers, it's tough going, but you'll be rewarded with an uncrowded lake and excellent trout fishing.
All three of these websites will help you find great hikes around lakes according to your desired location and related activities.
The Washington Trails Association (Wta.org)
Fat Map (Fm)
All Trails (Alltrails.com)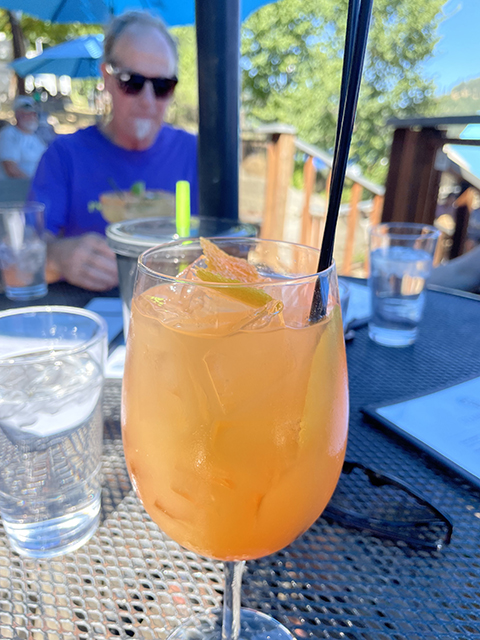 Boat in for Happy Hour and Dining
There's nothing better than pulling your boat up to the dock and hopping off for a happy hour, lunch, or dinner. Here are a few lakeside favorites worth trying.
Cedars Floating Restaurant or Tony's on Lake Coeur d'Alene serve an array of drinks and dining options. The Cycle Haus in Harrison is also a great boat-in favorite.
The Raven on Flathead Lake in Montana is a premier spot for dockside dining.
The Floating Restaurant in Hope on Lake Pend Oreille (ID) has been a local landmark for over 35 years.
The Dock n Duck on Kootenay Lake in Balfour, BC offers great dining and comfy lodging.
The Blue Diamond Marina and Resort on Priest Lake (ID) offers lakeside lodging and The Waterfront Restaurant & Wine Bar.
Check out Dockwa.com to find marinas with dining options, just about anywhere! Dockwa.com
Explore Nature and Wildlife
There is an endless amount of wildlife to explore in the greater Inland NW. The most common animals found around lakes include fish, snakes, herons, otters, beavers, muskrats, turtles, frogs, ducks, eagles, and salamanders. However, depending on where you are, there may be more. It's best to check websites for the National and State Park Services, Fish and Wildlife, and Fish and Game if you're interested in exploring the wildlife on your next trip to a lake. Here are a few suggestions worth learning more about.
Potholes Reservoir, located in central Washington, is in the Columbia Basin Wildlife Area.
Wild Horse Island Unit at Flathead Lake State Park in Montana is known for its wildlife including wild horses, bighorn sheep, mule deer, eagles and falcons.
Wallowa Lake in Oregon is known for its diverse wildlife, nearby including black bears, badgers, cougars, coyotes, elk, lynx, minks, and wolverines.
Learn about Tribal Lands and Heritage
There are seven Inland NW tribes that at one time made part of their living off the bounty provided by nearby lakes. The Colville, Kalispel, and Spokane in Washington, the Kootenai, Coeur d'Alene, and Nez Pearce in Idaho, and the Flathead in Montana. Learning about the heritage, culture, and experience of Native Americans in your area is a wonderful way to learn about the contributions of the region's first Americans.
Go Skydiving
Take the leap with Sky Dive Chelan and get a whole new perspective on the beautiful vineyards of the region around Lake Chelan. The scenic ride to altitude provides stunning views of Lake Chelan, the Cascade Mountains, and the Columbia River. After your adventure, swing by your favorite tasting room for a much-needed glass of wine!
Join A Boat Club
The Carefree Boat Club on the Spokane River in Post Falls, Idaho, is all about boating without owning. To join the club, you'll need to pay an initial fee and annual dues. You can use just about any type of boat, all geared up for you and ready to go! They even have kayaks, jet skis, or paddle boards. You don't have to worry about insurance, maintenance, or storage, and you can try different types of boats. You don't have to know how to boat, because membership includes training by certified instructors.
Go Wine, Beer or Cider Tasting by the Lake
These websites will get you started in your search for places to find local wines or beers on your next lake destination. By going to local wineries or breweries you can relax, meet new friends, and grab some supplies for the rest of your trip.
Washingtonwine.org
Lakechelan.com/drink/wine-tasting
Visitidaho.org/travel-tips/how-to-tour-northern-idahos-award-winning-wine-country
Bigskybrewscruise.com
Glacierparkcollection.com/glacier-national-park/stories/the-best-breweries-in-flathead-valley
Visitnorthidaho.com/stories/breweries
Washingtonbeerblog.com/eastern-washington-breweries
Go Fishing
There's a song by Van Morrison that says it all, "Hands are full of a fishin' rod, and the tackle on our backs; Yeah, we looked at the swim and we jumped right in; Oh, the water!"
Fishing in the lakes of Inland NW are some of the best fishing experiences in the world. It's an angler's paradise. Whether you're lying on the bank watching them jump, learning about hatcheries, or fishing from a kayak, you can never go wrong making fishing part of your lake experience. Before you go, learn about the type of fishing you'd like to do, take lessons, get the right equipment, and study the regulations for the area. Here are links to the fish and wildlife sites. Expert tip, check out the 'tournament section,' for contests and cash prizes.
Wdfw.wa.gov
Idfg.idaho.gov
Fwp.mt.gov
Dfw.state.or.us
Go for a Scavenger Hunt
You can look for scavenger hunts in your area, or you can create your own. Showing your kids or grandkids that you love the outdoors will teach them to appreciate it as much as you do. Teaching them to be observant and to notice nature will carry over into other aspects of their lives. There are websites for buried treasure, ghost towns, and geocaching, or you can create your own scavenger hunt by hiding items in your boat, camp, or car and seeing who can find them based on clues provided throughout your trip.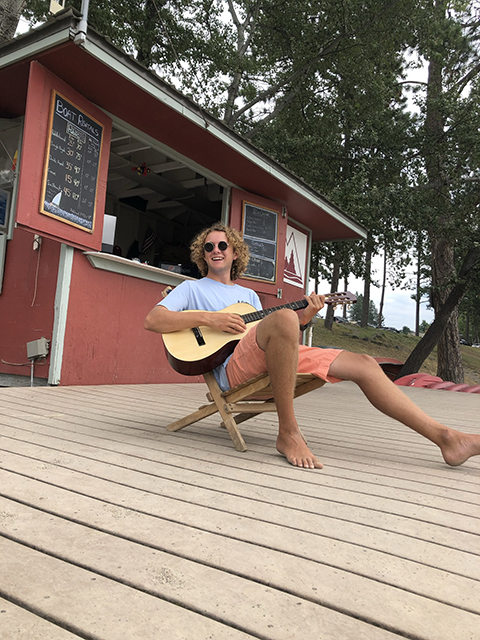 Enjoy Live Music
If you have a guitar, harmonica, or recorder, bring it along and serenade your friends and family, or join in with the frogs. There's nothing better than playing music while floating along in a canoe. However, you can also enjoy plenty of live music at some of these great music festivals.
Bluewaters Bluegrass Festival on Medical Lake (Bluewatersbluegrass.org)
Kaslo Jazz fest on Kootenay Lake (Kaslojazzfest.com)
Bands on Boats Coeur d'Alene Lake (Cdacruises.com/bands-on-boats)
Under the Big Sky Fest, MT (Underthebigskyfest.com)
Whitefish Songwriter's Festival, MT (Whitefishsongwriterfestival.org)
Sunbanks Rhythm & Blues Festival, Grand Coulee (Sunbanksfestival.com)
Participate in Lake Clean-up Days
It's always important to clean things up and leave everything as you found it, but a great way to do your part and teach your children the importance of keeping our natural surroundings beautiful is to participate in a volunteer clean-up day. All the lakes have them. Here are a few to keep in mind:
Flathead Lake Flathead Waters Clean Up
Stewards of Wallowa Lake Clean Up
Lake Pend Oreille Clean Up Day
Priest Lake Spring Clean Up
Discover a Lake Monster
In McCall, Idaho, there's a lake monster known as "Sharlie." The Native Americans were said to fear the calm, seemingly bottomless waters of the Big Payette Lake and told stories of an evil spirit that lurked in its hidden depths.
Sightings report a creature at least 35 feet long, with a dinosaur-type head, pronounced jaw, humps like a camel, and shell-like skin. The infamous monster has been supposedly seen many times, and in 1954 McCall residents had a contest to name the monster, now fondly known as Sharlie.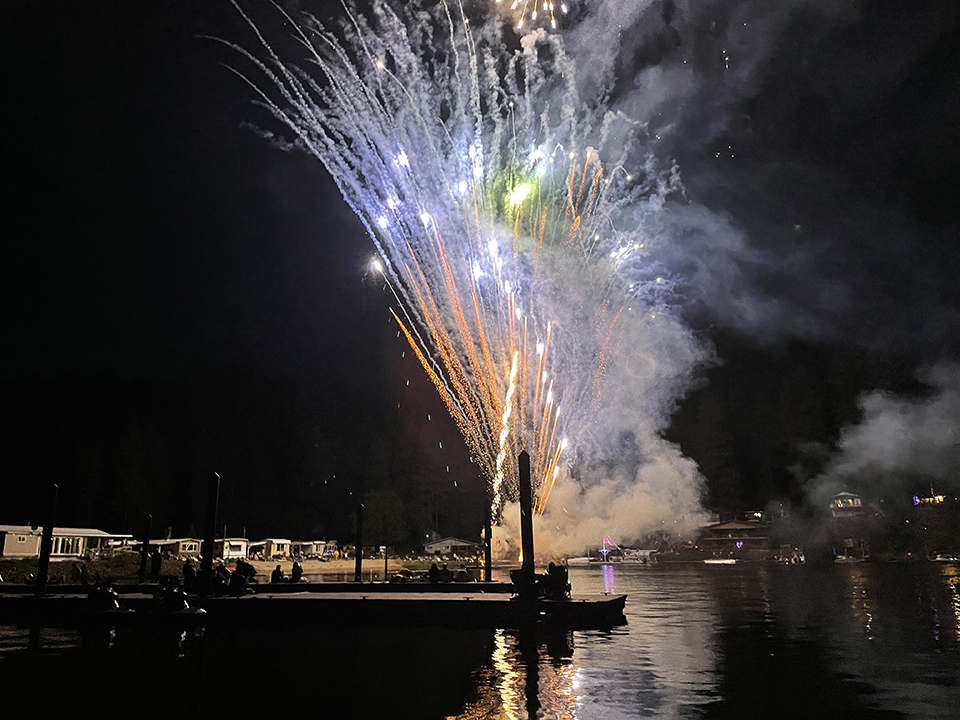 See Fireworks on the Water (16)
Many of the lakes have firework displays on the 4th of July, but here are some of the biggest ones.
Lake Chelan's Rockin Fireworks Display
Festival of America at Grand Coulee
Lake Couer d'Alene has the largest Fourth of July celebration in northern Idaho
The Fourth of July Mountain Music Fest on Payette Lake in McCall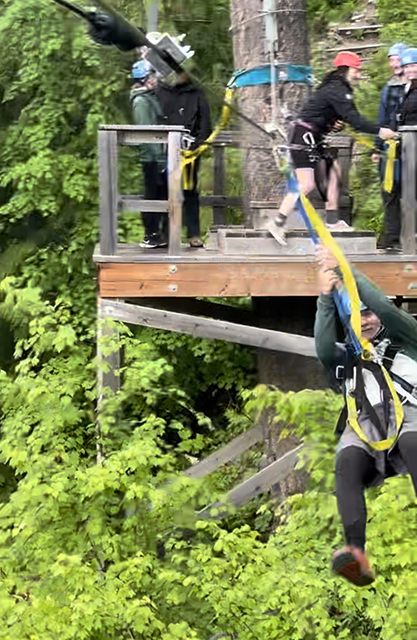 Go Ziplining
Soaring along the treeline is an exciting way to see the lake and the beauty that surrounds it! Here are some thrilling, action-packed zipline tours to explore.
The zipline tour at Tamarack Resort at McCall Lake includes eight zip lines and two suspension bridges. (Tamarack, Idaho.)
Experience the feeling of flight while overlooking the sparkling Columbia River from the high mountain cliffs at Tunnel Zip Lines, Castle Vineyards (Lake Chelan, Wash.)
Mica Moon Zip Tours include the thrills of ziplining while visiting old moonshine camps. (Liberty Lake, Wash.)
Soar high above the trees with views of the lake while you zipline or explore the sky bridge and treehouse ad Timberline Adventures (Coeur d'Alene, Idaho).
Soar hundreds of feet above the trees on Montana's longest zipline tour with views of Glacier National Park. (Whitefish, Mont.)
Do the Chain Lakes
Coeur d'Alene River Chain Lakes are made up of ten small lakes. Anderson Lake is about 1,183 acres and holds the state record for the biggest largemouth bass; Thompson Lake is one of the smallest chain lakes at 380 acres; Blue Lake and Swan are only accessible by boat; Cave Lake is the largest at 1,640 acres and includes caves; Medicine Lake features several undeveloped camping spots; Killarney Lake includes Popcorn Island; Bull Run Lake is small and marshy; and Rose Lake is a quiet and stocked with channel catfish annually.
Have A Picnic
In your boat, at the dock, floating along under the big blue sky, nothing tastes better than food on the water. There are stores with ready-made sandwiches and salads sprinkled around the lake, or you can get creative with your own charcuterie to go. Whatever you do, don't forget the picnic blanket. In a kayak, canoe, or paddle board? Don't forget to pack your picnic in a dry bag.
Be A Pirate
Legends say that pirates arrived in Lake Chelan in 1812, and the Lake Chelan Pirate Fest happens every July. You can also take the Lady of the Lake Pirate Cruise, including events for kids and a pirate costume contest. Be sure to visit Captain Dan Mimmack, well-known to locals as the Sandpoint Beach Pirate (ID), who offers free boat rides aboard his authentic-looking pirate ship, called the "Wild Spirit."
Lakechelanpiratefest.com
Visit A Castle
Stay at the Schweitzer Castle & Château de Melusine, a unique vacation rental near Schweitzer Mountain near Sandpoint, Idahom or the Idaho Castle overlooking Hope. Both are located near Lake Pend Oreille.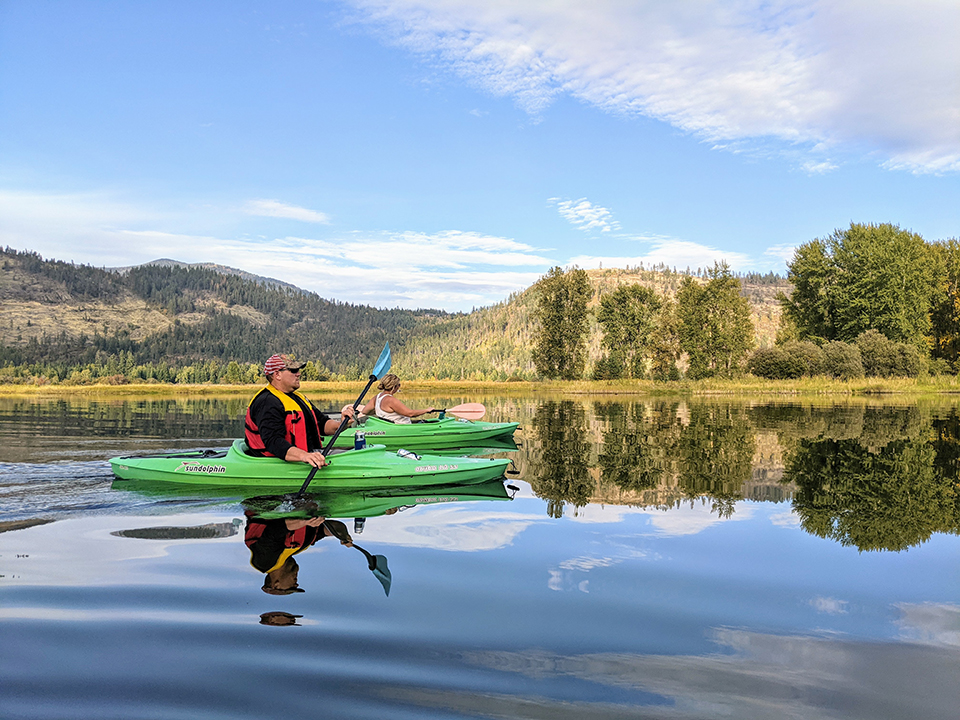 Paddle All Day
There are many ways to paddle at the lake, whether in a kayak, a canoe, or on a stand-up paddleboard. Spending your day enjoying the water while paddling is not only fun but also a great workout. Additionally, you can paddle in just about any lake, rentals are inexpensive and easy to transport, you can do it alone or with friends/family, and it's quiet and peaceful.
If you're just getting started with paddling, it's recommended you start by taking lessons. The Spokane Canoe and Kayak Club Sckc.club is a great place to begin. Their first priority is safety, next they will teach you the skills you'll need to fully enjoy the art of paddling. There are paddle clubs in most recreational water areas. To find one near you I recommend exploring the American Canoe Association Americancanoe.org website.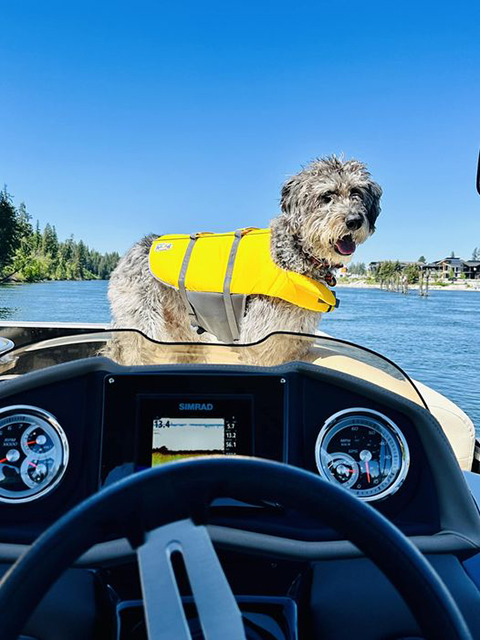 Things to do while paddling:
Fishing from a canoe or kayak isn't new, but what about a paddleboard? Fishing paddle boards are equipped with mounts to attach rod holders, bait trays, down riggers, fish finders, and more.
Yoga on any paddle board is possible, but for the most comfort try an inflatable paddle board with a spacious deck pad.
Take your pet! Many motorized boat rentals will not allow you to bring a dog, but bringing your dog along for a peaceful paddle, if done safely, can be wonderful. Remember, they too need a personal flotation device (PFD).
Explore wildlife while you quietly paddle close to shore or through wildlife sanctuaries. Not only will you see birds and plopping frogs, you might also see beavers, muskrats, turtles, and soaring eagles.
Resources:
The Spokane Alpine Haus has everything you'll need for your paddling adventures, including rentals, clothing, and gear. Specializing in Hobie Cat kayaks and peddle kayaks. Thespokanealpinehaus.com
Rambleraven Trader in Spokane has an expansive selection of both new and used equipment and rentals. Their website allows you to select different categories to see what's available and schedule rentals. Rambleraven.com
Breakwater Expeditions provides custom expeditions, such as teen trips, women's retreats, and full moon paddles. Unique and fully customized, these personalized expeditions are perfect for families (or groups of friends) who want to experience paddling together. "Different people have different comforts outdoors," explains Angie Roberts, one of the owners, "if you allow yourself to try something new, you'll find you're quite capable of doing quite a lot."
Breakwaterexp.com
Go Berry Picking
In the summer, roadside stands line the lakes, selling fruits and vegetables throughout the day, but why not pick your own? Cherries are especially sought after around Flathead Lake in Montana, and eastern Washington and North Idaho are legendary for their huckleberries. Research berry picking safety before you go, because bears like them too!
Do Some Magnet Fishing
Magnet fishing is all about searching for metal objects you can pull up with a strong neodymium magnet. This cult hobby/environmental treasure hunting trend has become quite popular and allows you to remove large debris such as discarded bicycles and tire rims from bodies of water. Initially started by boaters to recover fallen keys, magnet fishing has uncovered some interesting artifacts. Magnet fishing is legal in WA, ID, OR and MT. Considering the Spokane and Columbia Rivers were once important transportation routes for early settlers in the Inland NW, there's potential for some great finds.
Visit Lakes in Canada
Balfour, BC, is less than 4 hours from Spokane, and Kootenay Lake is one of the province's largest lakes. Okanagan Lake spans 84 miles, north to south, and boasts long, sandy beaches. The 100-mile-long Arrow Lakes region has two hot spring resorts. There are five parks in the region including McDonald Creek, Rosebery, Summit Lake, Syringa, and Valhalla, and several private campgrounds where you can set up a tent or park an RV.
Take a Hot Air Balloon Ride
Fly with commercially licensed pilots in a colorful hot-air balloon above Lake Chelan (WA), Lake Coeur d'Alene (ID), Flathead Lake (MT), or Lake Wallowa (OR). If you really love hot air balloons, be sure to attend the Spirit of Boise Balloon Festival (Boise, Idaho) or the Great Prosser Balloon Rally (Prosser, Wash.).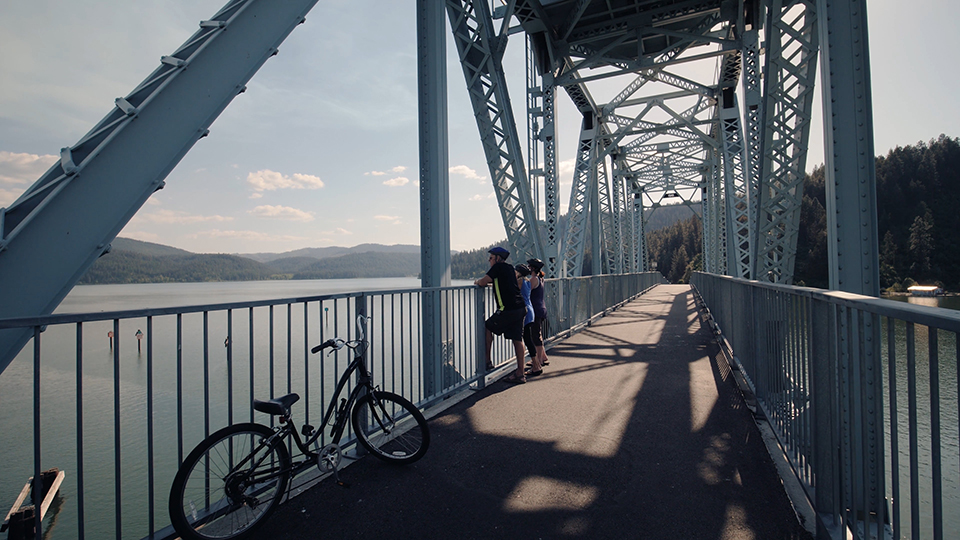 Bike the Lake
Whether biking around the lake, entering a race, going mountain biking, or cruising on an E-bike, there are endless ways to get on your bike around the lakes.
For something easy, try the Medical Lake Trail, a 2.9-mile trail east of Spokane off I-90, which can also be accessed from Waterfront Park.
For something more extensive, try the Trail of the Coeur d'Alene's, a 73-mile paved trail that spans from Mullan to Plummer through Idaho's chain of lakes region, connected by Lake Coeur d'Alene. The Cycle Haus, a bike shop and restaurant in Harrison along the trail, has rentals for any type of bike, including E-bikes, and a shuttle to transport you and your bike to any trailhead. All you have to do is bike back!
For bike races near lakes, consider the WaCanId (an annual bicycle tour taking cyclists on paved roads encircling the Selkirk Mountains); the Coeur d Alene Ironman; the Enduro Pescado in Whitefish, MT; Cycle Chelan (Wash.); Spokane Valley Cycle Celebration (Wash.); or the Kootenai River Ride (ID).
Helpful Resources:
WA Bikes.org Wabikes.org
TrailLink.com Traillink.com
Get Inspired
Impressionist painters started something called Plein air painting, which is about getting outside to 'experience painting and drawing in the landscape,' and what better landscape than a sparkling lake with the mountains and trees surrounding it? Next time you go on a lake adventure, be sure to bring whatever art supplies suit you and let the lake's beauty inspire you. If painting or drawing seems too complicated, try writing instead. Whenever we went on outdoor excursions as children, we had to bring journals and were asked to write something, even if it was only a haiku, a poem with only three lines, five syllables in the first line, seven in the second, and five in the third.
Forage for Plants
Non-commercial foraging for plants is legal on most public lands and state parks, and the bounty of wild mushrooms, berries, and edible and medicinal plants in the Northwest is prodigious. There are foraging groups around the lakes you can join, such as the Wilderness Crafts & Forest Foraging Camp in Coeur d'Alene, and you can also look for foraging groups on Facebook.
Resources:
Facebook Group Inland Northwest Foraging
Washington Native Plant Society
See the Lake from the Sky
Enjoy the lake(s) from above! The bigger lakes have seaplane tours that pick you up and drop you off at the dock. Look into Brooke's in Coeur d'Alene (ID), Backcountry Flying Experience in northern Montana, or Sandpoint Seaplane Service at Lake Pend Oreille (ID). Lake Chelan Helicopters can take you above the lake and the Cascade mountains, and the Moses Lake Airshow is one of the biggest in the West. Or, if you want something a bit more daring, try paragliding. You can go tandem with an expert or take lessons to go up on your own.
Visit Museums and Visitor Centers
Let's face it, the best days at the lake are when the sun is shining, but if you catch a rainy day or need a break from water, seek out the local museums and cultural centers. A great place to start is the visitor center in the town you're visiting. Most state and national parks have one as well.
View Famous Homes
Since lake property is limited, the homes around it can be rather spectacular. If you take a boat or seaplane tour, they will most likely point out some of the more famous homes. Also look for walking tours, garden tours, or historic home tours. You might even spot a celebrity!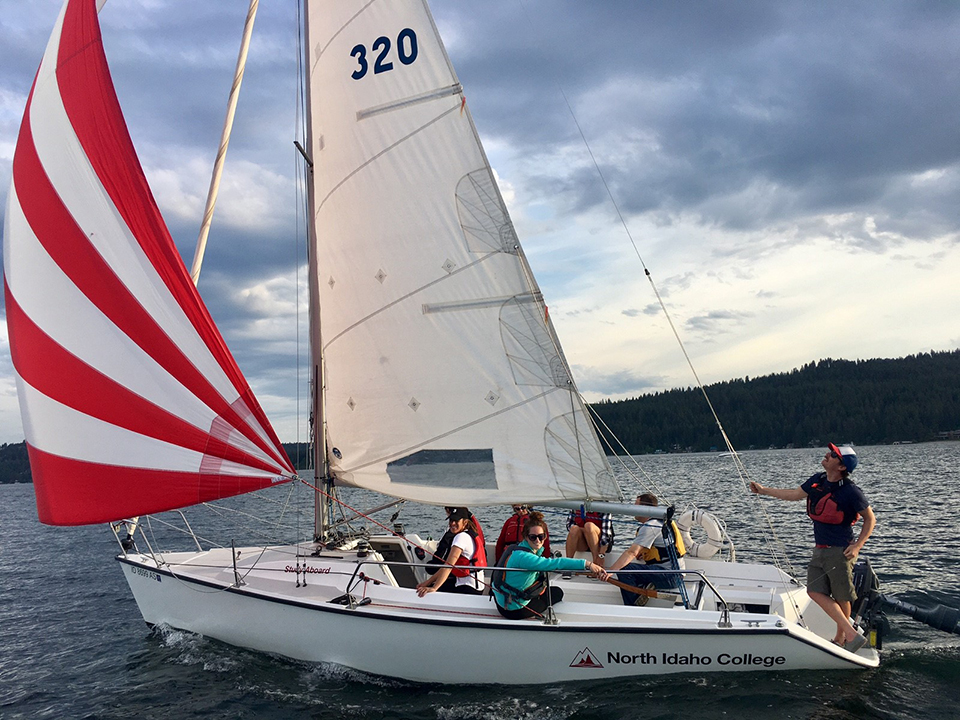 Go Sailing
Sailing on a lake can be less intimidating than the open sea, and therefore a great place to learn. The North Idaho College Outdoor Pursuits program has a rental shop on Lake Coeur d'Alene run by students in the summer. Here you can find a variety of paddle boats, as well as sailboats and sailing lessons. The Lake Chelan Sailing Association provides lessons, rentals, and several sailing events. The Sandpoint Sailing Association features several races, and Go Sail Montana at Flathead Lake offers lessons, rentals and charters. Fun To Sail offers lessons and rentals on Spokane and North Idaho area lakes as well.
Go Snorkeling
Snorkeling is a fun way to explore the lake. Depending on how clear the water is, you may be able to see fish, shells, and other aquatic life. Snorkeling can be a great learning experience, and unlike scuba diving, which requires a certificate and expensive gear, you can go snorkeling with a good pair of goggles, a snorkel, and a pair of flippers. Lake Chelan is a great choice for this.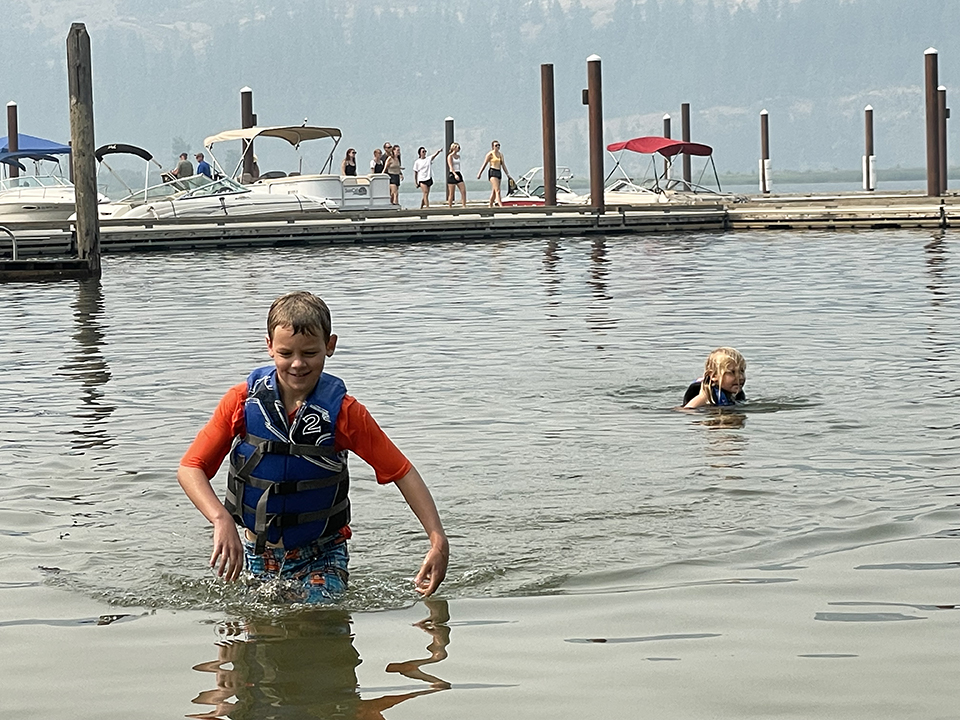 Swim/Tube/Float
Lake beaches are a great place to sunbathe, but the swimming is divine. The cool waters can be perfect after a long day playing at the lake—skinny dipping in a moonlit cove, cannon ball jumping off a dock, floating on your back staring at the clouds, tubing behind a boat, or riding about on a giant inflatable. Whatever or however you get into the water, always proceed with caution. The mountain waters can be cold, so always have a towel and a change of clothes. If you start to shiver, get out of the water; never swim alone; always keep your eye on the little ones; and if you're in open water or not a strong swimmer, wear a PFD.
Learn About Wooden Boats
Wood has been a reliable material for boats, but now we live in an era of fiberglass, aluminum, and steel hulls. Traditional boat owners and historians revere wooden boats as a symbol of boating culture. Because of that, you'll find several wooden boat events around the lakes in the summer months. Here are some of the bigger events, but you can also look for wooden boat clubs in your area.
The Wooden & Antique Boat Festival (Sandpoint, Idaho), July 15
Payette Lake Wooden & Classic Boat Show (McCall, Idaho), August 4,5,6
Coeur d'Alene Antique & Classic Boat Festival (Coeur d'Alene, Idaho), August 12 & 13
Mahogany & Merlot (Chelan, Wash.), October 6-8
Explore Wallowa Lake
Wallowa County is in Oregon's northeastern corner and is full of snowcapped mountains, wild prairies, pristine waterways, and North America's deepest river gorge. It's also home to Lake Wallowa. Fed by icy snowmelt, this dazzling lake was formed by a series of Pleistocene glaciers. Here you will find fewer people, mind-boggling stars, and the Wallowa Lake Tramway that climbs 3700′ to the top of Mt. Howard with sweeping views of all four states. Enjoy hiking, biking, watersports, horseback riding, wildlife viewing, fishing, and sightseeing around the area, and the 4-day Alpenfest in September.
Ride With the Ladies of the Lake
At the top of Lake Chelan is a little town called Stehekin, a breathtaking destination nestled in the heart of the North Cascades that you can only get to by boat. The Lake Chelan Boat fleet can take you there, and consists of the Lady of the Lake, the Lady Express, and the Lady Liberty—the three ladies of the lake. Once you reach Stehekin, you'll be surrounded by trees over a hundred feet tall as you wind your way up the one-lane road into a serene and magical place full of unique places to stay, biking, hiking, fishing, horseback riding, and electric boat rentals. The Lake Chelan Boat fleet also provides charters and activity packages.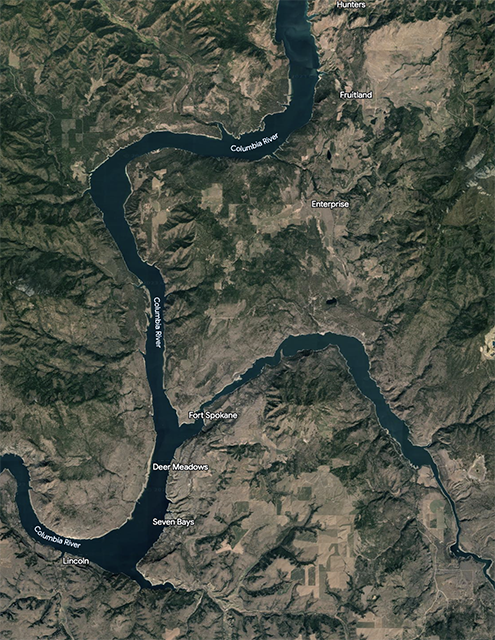 Discover where the Spokane River meets the Columbia River
For thousands of years, this area was a gathering place for native tribes fishing the rapids of the Spokane River and offers plenty of great camping and outdoor activities. Area attractions include the Lake Roosevelt Reservoir, Lake Roosevelt National Recreation Area, the Colville Indian Reservation, the Grand Coulee Dam, Steamboat Rock, Northrup Canyon, Hawk Creek Falls State Park, and Fort Spokane. A little farther north, you'll move into the land of mountains carved from prehistoric glaciers and the Kettle Falls that plummet nearly 50 feet, carving "kettles" in the quartzite rock. To the south is the Lake Roosevelt National Recreation Area, located along the upper Columbia River and cradled in walls of stone carved by massive ice age floods.
Find Peace
There are numerous reasons why lakes are so popular, but, for many, it's the peace of a lake that calls to them. Most of this list is about activities you can do at, in or around a lake, but after writing it I realized there was one thing missing, and that was the feeling a lake can give you as you lay beside it, float along it, or slumber upon it and the sense of inner peace it can bestow.
"A lake is a landscape's most beautiful and expressive feature. It is Earth's eye; looking into which the beholder measures the depth of his own nature." -Henry David Thoreau
Kate A. Miner is a writer, traveler, artist, and avid gardener. She has a BA in Visual Anthropology from Bennington College and believes in living a healthy life by seeking new adventures, learning from mistakes, and greeting each day with optimism and a smile.