By Maya Jewell Zeller
Enjoy these trails and abundant wildlife close to Spokane on foot, but please be aware that dogs and mountain bikes are not allowed. A Discover Pass is also required to park at the Indian Painted Rocks Trailhead located off of West Rutter Parkway in north Spokane. 
Little Spokane River Trail (3.5 miles round-trip)
Beginning at the parking lot, head west past the kiosk and the painted rocks (you can pause to check out the hieroglyphics—pictographs painted hundreds of years ago), onto the trail at the base of the burned cliff side. Take this trail along the river, winding in and out of recovering burn zone, past irises in the marshy terrain below, to your left, ending at the trailhead by the bridge. This is an out and back, so turn and come back how you came.  
Saint George's Trail (4-5 miles round-trip)
This trail toward Saint George's School is my favorite. The marked trailhead can be found by heading out of the parking lot, south across the bridge and the Little Spokane River, and then turning east into the forest. Follow along the downside of the sloped forest, about a mile to where you have to go uphill steep to the top of a basalt formation, then back down to the ravine, and then out again. There is a wide pond full of cattails to your right at about a mile and a half. If you continue another half mile, you reach a white gate, which marks the boundary of the Saint George's School trails. You can continue through to connect to that trail system or turn around for an approximately 4-mile trek. 
Knothead Loop (7.5 miles)
From the parking lot, pass the facilities and head north on the path that parallels the road for about 300 meters, then turn left at the kiosk and head up the valley on a wide, two-track trail that is at the bottom of sloping basalt/mud hills to your left and right. Follow this about 2 miles to where the trail spurs off to the left, winding through grass and ponderosa forest, then switchbacking up for about .5 miles to a higher, single-track trail that curves left to the top of the Van Horn, Edburg, & Bass Conservation area. The path will loop back down to join the Little Spokane River Trail, which finishes the loop with 1.75 miles along the river.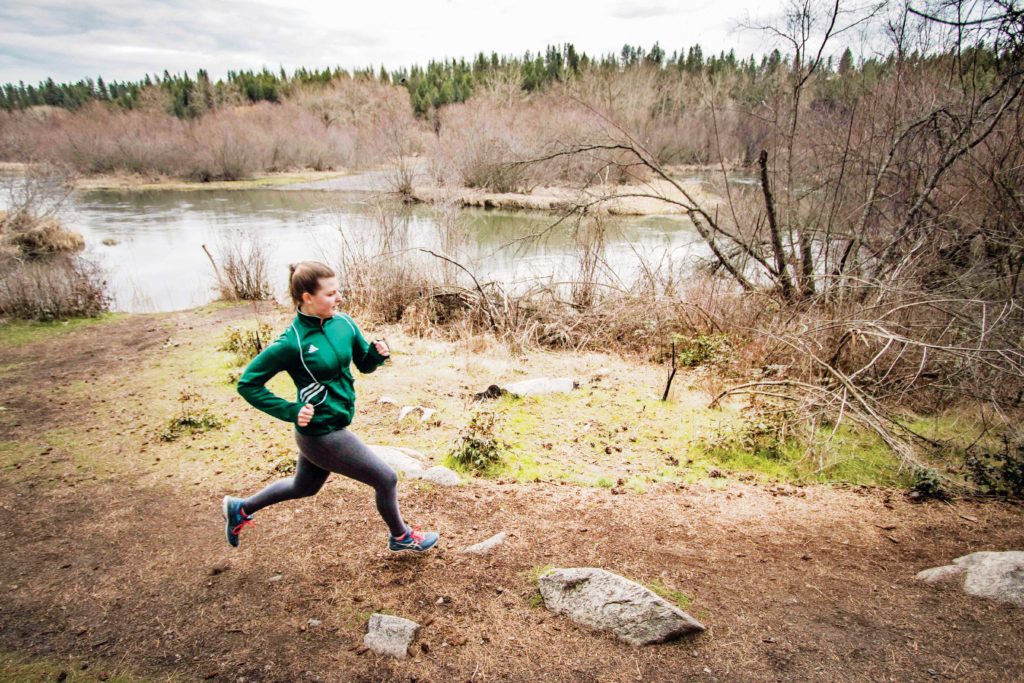 Read Maya Jewell Zeller's essay about running the trails along the Little Spokane River.