The federal government owns nearly 30 percent of Washington's land; in Idaho, that figure is more than doubled. Which is to say, we, the public, own some of the most beautiful real estate in the country, from sagebrush steppe to subalpine meadows. And while much of it is remote backcountry requiring serious sweat equity, vast swaths border backroads and two-lane highways.
The three scenic drives below sample some of the region's off-the-radar but on-the-road public lands. Fill up your gas tank and prepare to take a drive through your property.
TELFORD/CRAB CREEK (Eastern Washington)
Driving Distance: 96 miles
Although the Bureau of Land Management can be more familiar to farmers than recreationists, the agency administers nearly half a million acres of land in Washington, much of it in the channeled scablands of the central and eastern part of the state. Scoured to the basalt bedrock by Ice Age floods and buried by the exhalations of ancient volcanoes, this is a harsh landscape—especially to those who visit in the high heat of summer. 
But up-close exploration reveals a surprisingly colorful scene, where delicate ground-hugging flowers dot a trackless landscape of sagebrush. It's also, surprisingly, thriving with wildlife. Drive on the edges of daylight and you're likely to see hawks and owls perched on fenceposts and coyotes crossing the road. 
From Davenport, drive south 13 miles to the charming farm town of Harrington—a good spot to top off on gas and snacks—and then head west on Coffee Pot Road. Out here, the grid-like lines of farm roads contrast with countless pothole lakes that range from sizeable bodies of water, popular with anglers, to fish-less dimples in the surrounding landscape.
For hikers, the best of the bunch is Twin Lakes. To reach it, continue on Coffee Pot Road 14 miles, then turn right onto Highline Road. After 2 miles, turn right at an unnamed road, marked by a sign denoting public access to Twin Lakes. Continue 2 miles to the parking area. 
An 8-mile loop circumnavigates the lakes through aspen groves and wildflowers, although a short out-and-back hike in either direction will provide a good survey of the terrain. 
Back on Highline Road, continue north 4 miles, then turn left and follow Seven Springs Road for 2.7 miles to Swanson Schoolhouse Road. Turn right, and in a mile reach the Swanson Lakes Wildlife Area. From the wildlife area headquarters, a short ADA-accessible trail provides good wildlife viewing opportunities over Swanson Lake, a prime pit stop for migratory birds and waterfowl.
Back on Swanson Schoolhouse Road, continue west for 7 miles to Highway 21. Turn right and drive north 8 miles to Wilbur on US 2. From here it's 29 miles back to Davenport, bordered for long stretches of the drive by more BLM land on either side. 
PURCELL MOUNTAINS (Northwest Montana)
Driving Distance: 76 miles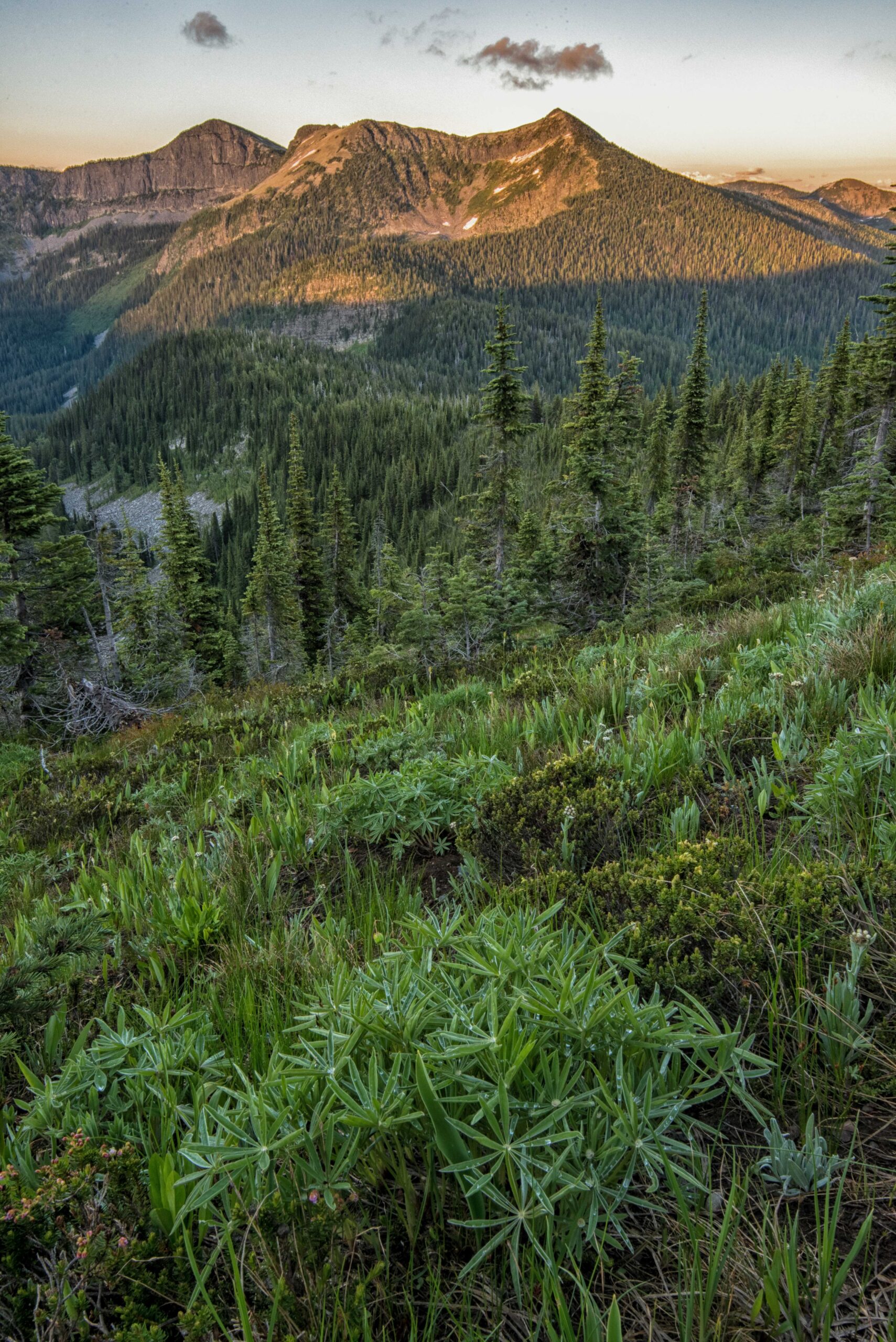 Overshadowed—quite literally—by the granite spires of the Selkirks to the west, the Purcells, which form the northernmost border between Idaho and Montana, are off the radar of many recreationists. Although most of the Purcells in the U.S. escaped glaciation, the Northwest Peak Scenic Area boasts chiseled cirques and expansive vistas. 
This is logging country—the "Timber Wars" of the 1980s began in this forest—but there's still plenty of pristine wilderness to explore. And one side effect of that logging activity: The roads are in great shape. 
From Moyie Springs, east of Bonners Ferry, leave US 2 on Forest Road 435. Part-paved, part well-maintained gravel, FR 435 (Deer Creek Road) steadily works its way from thick forests of lodgepole pine to a subalpine landscape of snow-cowed spruce and fool's huckleberry interspersed with small meadows. After 19 miles, crest Canuck Pass. Here, the 1200-mile Pacific Northwest Trail crosses the pavement.
To the north of the pass, Trail 35, Ruby Ridge, is open to motorcycles but receives little use. To the south, Trail 44, Keno Ridge, is non-motorized only. Numerous signs will remind you this is grizzly country and you should practice bear-aware recreation. 
Wander in either direction at your leisure, then return to the road. Descending east off the pass, FR 435 enters Montana and, now referred to as Spread Creek Road, becomes all gravel as it intersects the Pacific Northwest Trail again.
From this second trailhead, hikers can take a mile-long hike to Canuck Peak. Although the low, forested summit lacks its own grandeur, Canuck Peak offers nice views of the scalloped slopes of Davis and Northwest peaks to the east. Continuing on FR 435, return to pavement on the Yaak River Road, 15 miles from Canuck Pass. 
The 22-mile drive south along the paved Yaak River Road passes through wide meadows and ghost towns that are now simply a name on a map. 7 miles before reaching US 2, Yaak Falls spills over the angled layer cake of exposed billion-year-old bedrock. A roadside pullout provides easy access to the falls and makes an essential pit stop before the 20-minute drive back to Moyie Springs.
OKANOGAN HIGHLANDS (Northeast Washington)
Driving Distance: 70 miles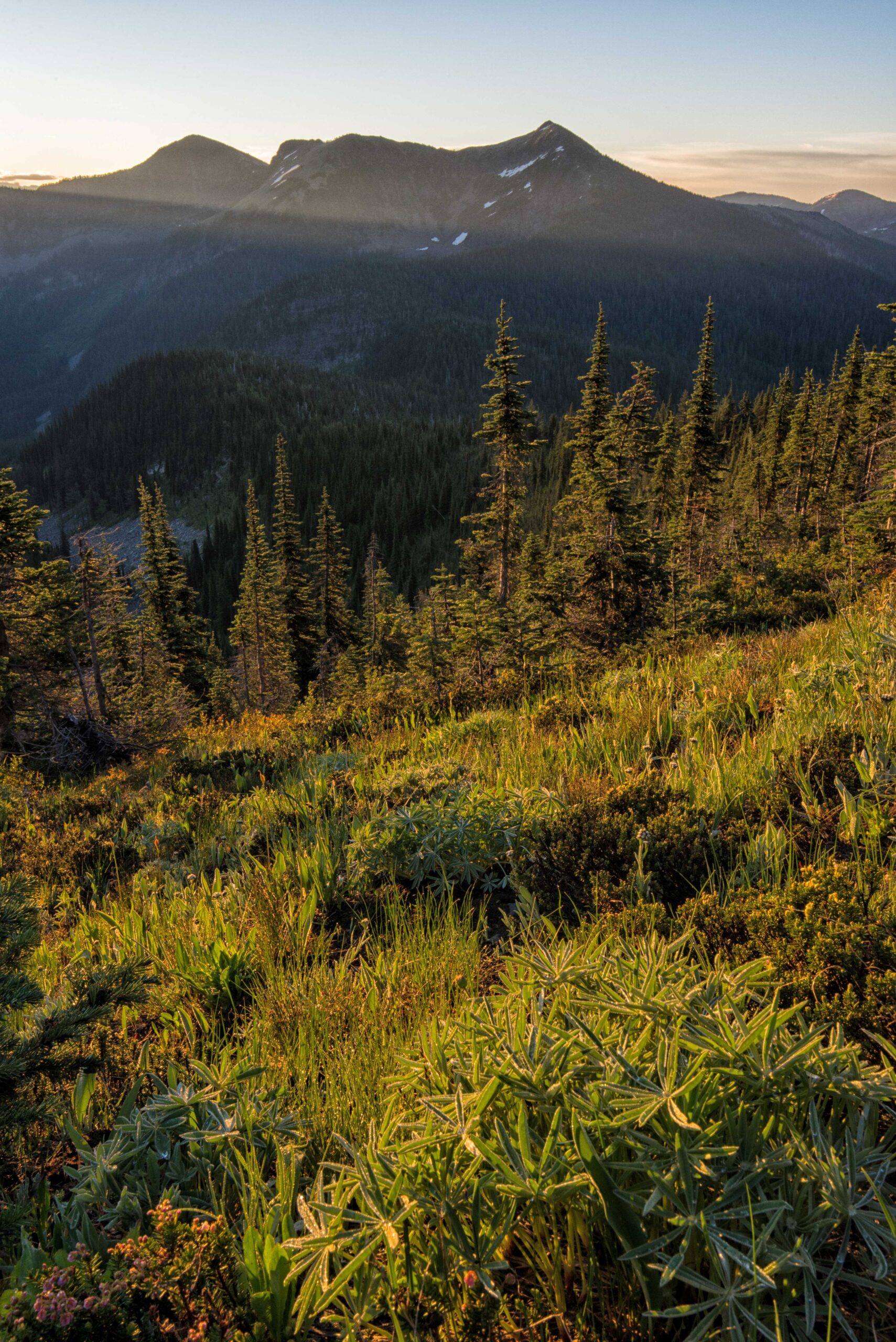 Where the broad expanses of the Okanogan Highlands begin to creep up on the westernmost outliers of the Rocky Mountains in northeast Washington lies arguably the quietest pocket of the quietest corner of the state. Ever since gold prospectors poured into the area in the 1860s, the eastern Okanogan Highlands have invited exploration. Yet far fewer heed the call these days compared to during gold rushes. Crowds are scant, even by Northeast Washington standards.
From Republic, drive west on Highway 20, noting the transition from ponderosa pine forest to arid foothills as you crest Wauconda Pass. At 20 miles, turn right onto Bonaparte Lake Road (FR 32). Bonaparte Lake, along with Beth, Big Beaver, Little Beaver and Lost lakes, forms Five Lakes Recreation Area.
Crowning the area is Mount Bonaparte, at 7,257 feet, the third-highest peak in eastern Washington. Although not a giant by Cascades standards, Bonaparte towers more than 3,000 feet above the surrounding orchards and wheat fields. It's a pine, fir, and larch-adorned island in a sea of working farmlands.
At the summit, a hand-hewn lookout, built in 1914 and on the National Historic Register, sits next to the highest working lookout in eastern Washington. The Forest Service campground on the south end of Bonaparte Lake provides a great base for exploring the more than 20 miles of trails that crisscross Bonaparte's massive flanks. 
From just north of Bonaparte Lake, bear left on FR 050 toward Lost Lake and the Strawberry Mountain Trail. This easy hike winds less than a mile each way through dense Douglas fir and western larch for an unbeatable view of Mount Bonaparte and its namesake lake. Clear days offer up the Cascades, with a foreground of far-reaching farmland.
Combine this hike with the Big Tree Botanical Loop, which can be accessed from Lost Lake Campground, to see a pair of western larch that were old growth when Columbus spied the Americas. 
Back on Bonaparte Lake Road, continue north for 6 miles (the road switches to FR halfway) to Beaver Lake and Chesaw Road. Turn right and continue 4 miles to Toroda Creek Road. Turn right again and drive through the ghost town of Bodie to close the loop on Highway 20. Aside from the decrepit state of the buildings of Bodie, things look much the same as they did in 1860.