By Heidi Lasher
When I moved to Spokane in 2010, I heard a lot about the ice-age floods. In fact, unsolicited information about the Pleistocene Megafloods would materialize in my life with annoying frequency: on signage along the river, tourist brochures, my kids' elementary school classrooms. Everywhere I turned, someone seemed to be tapping my shoulder, hey, have you heard about the floods?
Yes! I finally wanted to scream. A series of ginormous floods swept across the state some 15,000 years ago, draining ancient Lake Missoula, confusing geologists, stripping the land of soil, yada yada. I get it! Can we stop talking about it now?
I avoided flood-talk for about a decade until I started canoeing on the Spokane River, which turned me on to the aquifer, which got me interested in geology, which led me back to the floods. Recently, I caught myself bringing up the floods in casual conversation: Did you know that scientists have found landforms on Mars that resemble those found in Eastern Washington?
Now a flood enthusiast, I can't think of a more compelling story of the Inland NW. If you haven't explored the channeled scablands, or if you're just looking for a beautiful and desolate place to hike this fall or winter, the channeled scablands southeast of Spokane offer open vistas, rock outcroppings, hidden lakes, and habitat for the region's most charismatic fauna, including migrating tundra swans, moose, porcupine, coyote, foxes, and ducks and geese.
Below are three low-elevation hikes that will impress you with geologic anomalies, long views, and stark beauty. Each hike is paired with a diverting side-trip to a more colorful, human-scale point of interest.
Stubblefield Trail at Turnbull National Wildlife Refuge
Distance: 5.6 miles, roundtrip
Turnbull National Wildlife Refuge sits on the eastern edge of the channeled scablands where floodwaters gouged deep sloughs into the basalt bedrock, leaving behind pothole lakes and shallow wetlands that provide a wonderous and diverse habitat for birds and plants. The Stubblefield Trail is the longest loop trail in the public-access portion of the refuge and well worth a visit.
From refuge headquarters, follow the gravel road known as the "headquarters trail." When the road forks, go clockwise around a loop that leads across an open prairie of exposed rock mounds known as "mima mounds," past Stubblefield Lake, a habitat-rich oasis in the otherwise arid shrub-steppe, and past another small lake before looping back to the headquarters trail.
Turnbull National Wildlife Refuge is open between 6 a.m. and 6 p.m. from November to April. Entry is free.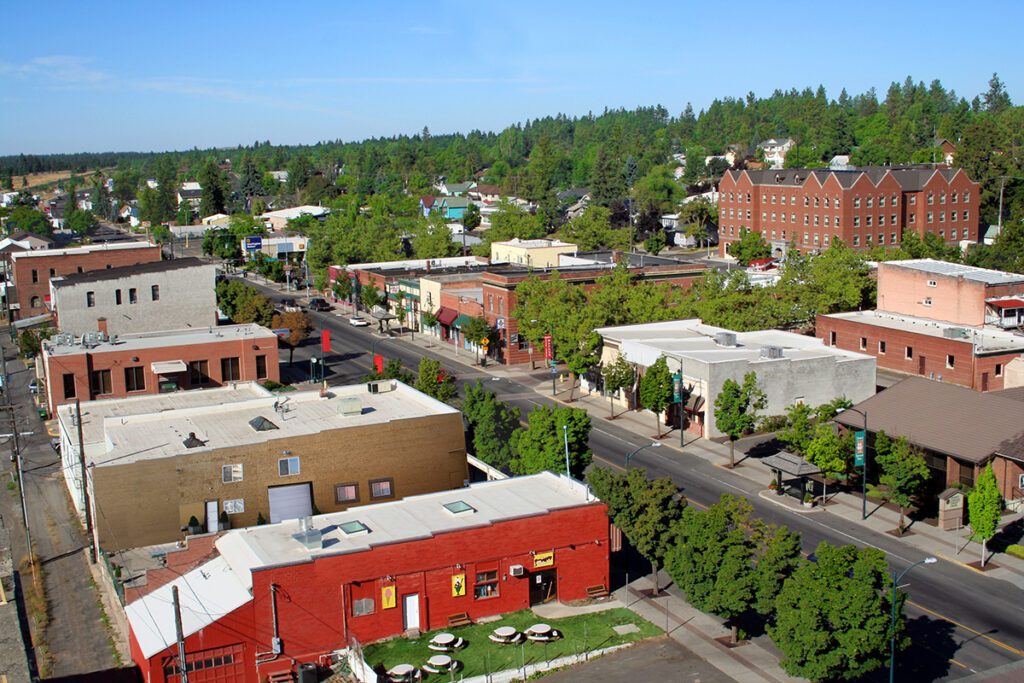 Side trip to EWU/Cheney
After hiking in Turnbull, drive back to Cheney and take a walking or driving tour of Eastern Washington University with its bucolic campus buildings, red-turf football field, and inexpensive dining spots. Local favorites for lunch include the Mason Jar (coffee and homemade sandwiches) and Bene's (eggs benedict, 10 different ways).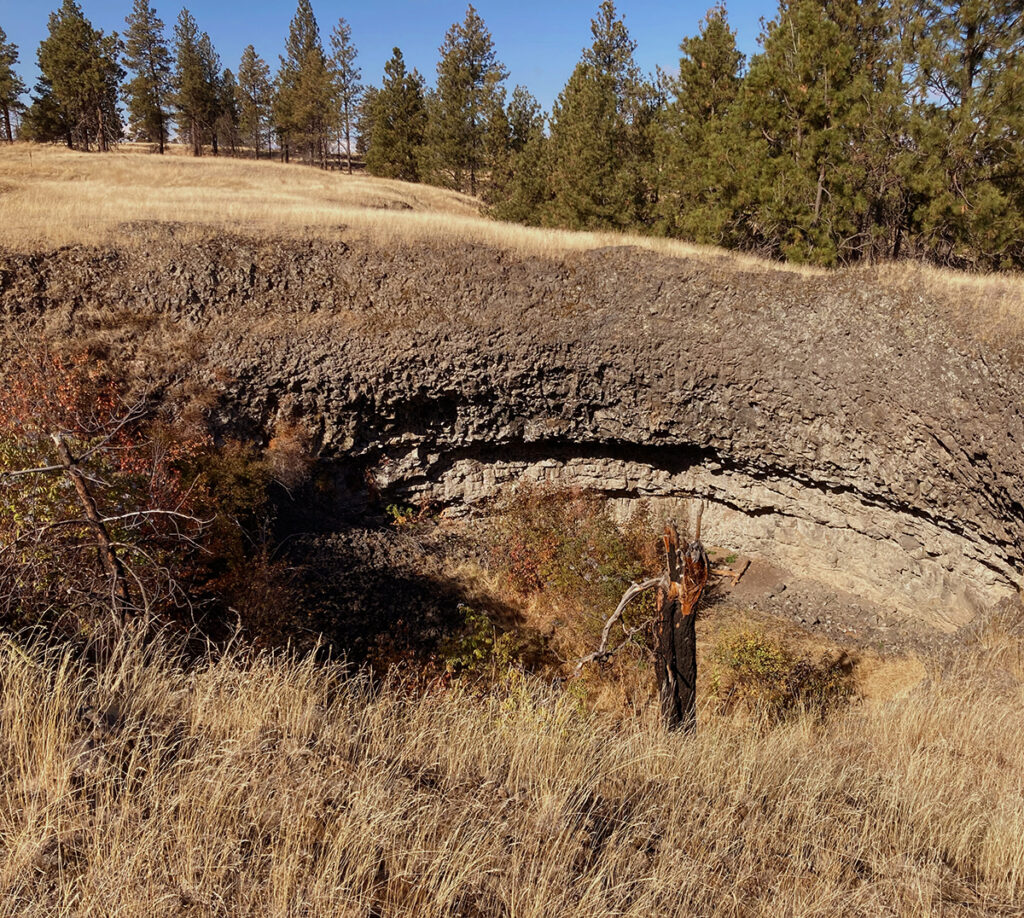 Fishtrap Lake Trail
Distance: 4.0 to 9.1 miles, roundtrip
Fishtrap Lake was one of many lakes trenched by the cataclysmic floods. Its long, ragged shape angles southwest, in the direction of floodwater. For hikers, the lake provides a scenic backdrop on two hiking loops that together make 9.1 miles of non-motorized trail. Visitors can choose to walk or bike (the area is also open to equestrians) the 4.0-mile north loop or the 5.1-mile south loop, or both in a figure-eight pattern. Each trail passes through shrub-steppe, grassland, wetlands, and aspen groves. Near the lake, visitors can glimpse several geologic kolk craters, which were formed by tornado-like columns of water that bore perfectly round craters into the rock.
From Interstate 90, take Exit 254, and then travel east for 1.75 miles to the public land access points. Parking is available at both north and south trailheads. Do not park at the Fishtrap Lake Resort.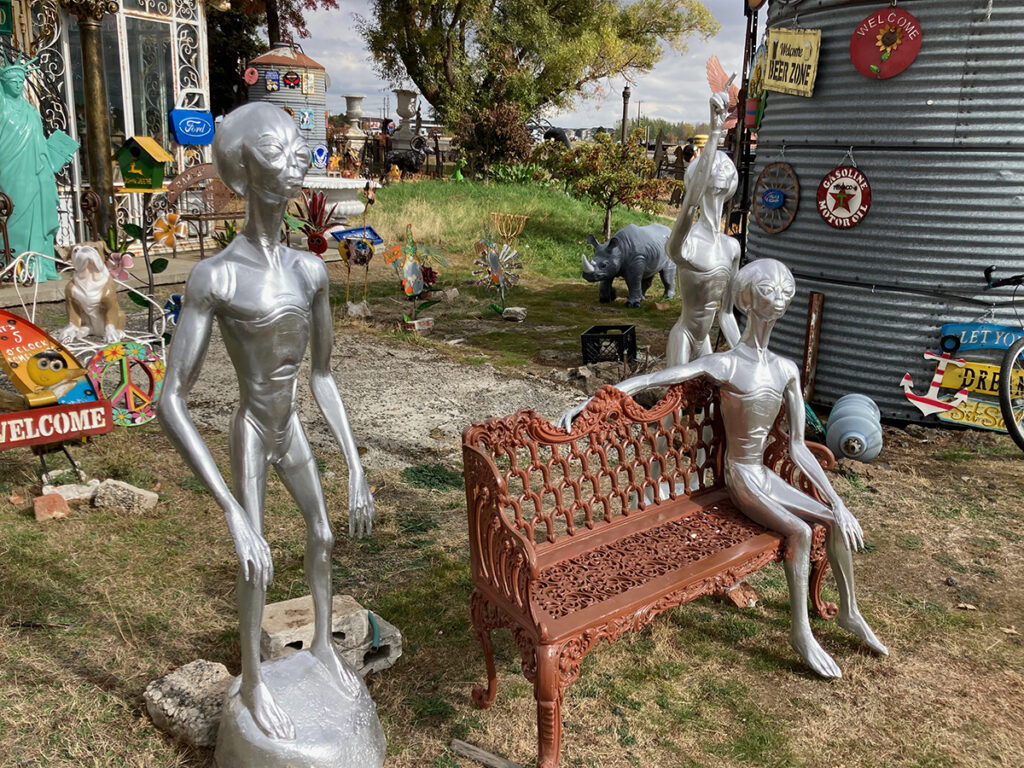 Side trip to Way Out West
If you haven't visited this bizarre plaza of outdoor sculptural disarray, it's the perfect antidote to the barren emptiness of the scablands. Here, you'll find recycled metal mariachi bands, pot-smoking aliens, sun-bathing cows, and larger-than-life bugling elk.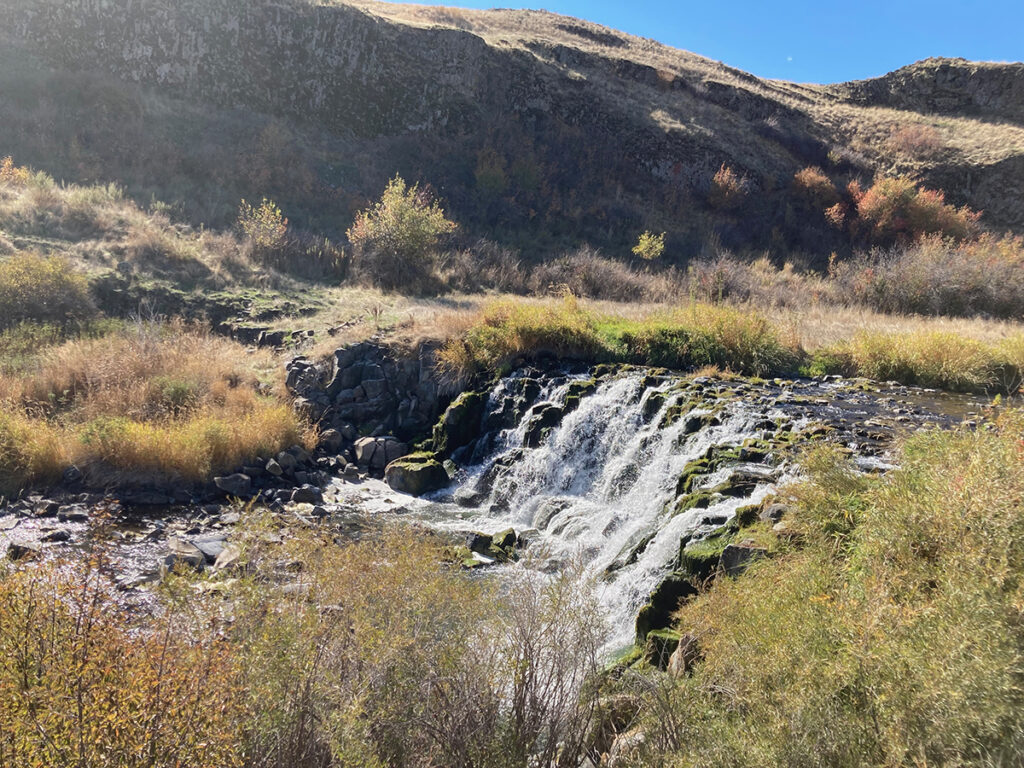 Towell Falls Trail at Escure Ranch
Distance: 6.4 miles, roundtrip
Escure Ranch was once a 14,000-acre sheep and (later) cattle ranch that's now owned by the Bureau of Land Management (BLM). The ranch encircles a section of Rock Creek, including a small, stair-stepping waterfall known as Towell Falls. To reach the falls, hikers can follow an old ranch road that parallels Rock Creek for about a mile. The trail then climbs a low saddle that provides views of the valley and winds past a basalt outcrop—a giant battleship of land eroded on both sides by floodwater—through aspen groves and native bunchgrass prairie.
The ranch is located 25 miles south of I-90 at the town of Sprague (Exit 245). From Sprague, follow Highway 23 south for 12.2 miles; turn right onto Davis Road, staying right at the "y". After 7 miles, turn left onto Jordan Knott Road. Look for the BLM access road in 2.1 miles.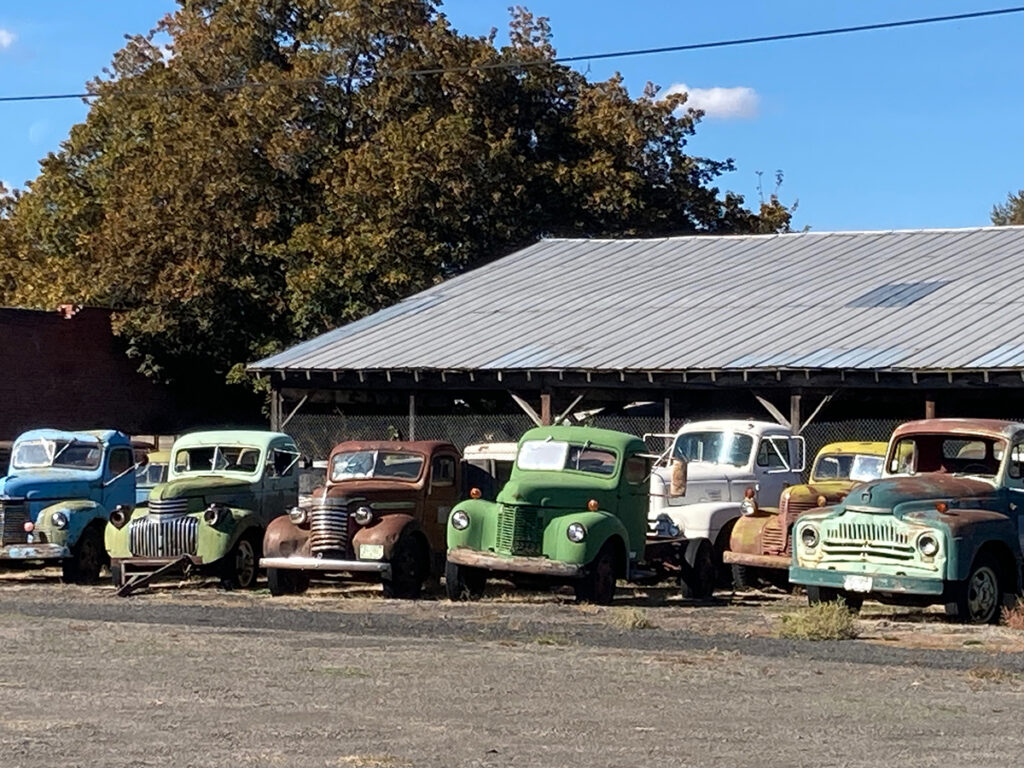 Side Trip to Dave's Truck Collection
On your way back through Sprague, drive down B Street and check out Dave Jones' collection of old farm trucks. Most of the trucks date back to the 1940s and 1950s and were used to haul grain, fertilizer, and hay. Only some of them are operable, but their colorful, rounded shapes offer a picturesque glimpse into Lincoln County's farming history.
​Heidi Lasher became an ice-age floods aficionado in 2020, when she started dragging her family into the channeled scablands for hikes, canoe outings, and "short drives." Now, she goes into the scablands by herself. They remind her how beautiful and resilient life is, even in the aftermath of mind-boggling disaster.
Cover Photo Courtesy of Heidi Lasher