All photos by Lucas Arnold
For 20 years, the 24-hour mountain bike race at Riverside State Park was a Spokane mountain bike institution each spring. Then came the word that the 2019 event would be the end of an era. Long-time organizers Round and Round Productions had ridden the wave of 24-hour racing through the heyday of the 2000s and determined it was time for one final party on wheels before moving on to other things. As 20 years' worth of racers contemplated the end of an era, interest in the race surged once again. And after that final lap of that presumed final race, many long-time fans of the event were left with an unquenchable thirst for more.
Three years down the road, 24-hour mountain bike racing at Riverside is set to make a comeback Memorial weekend 2022 (May 28-29) thanks to the passion for the original event and a heap of creative vision that new race directors Eric Ewing and Pat Bulger are bringing to the table with this year's 24 Hours of Riverside.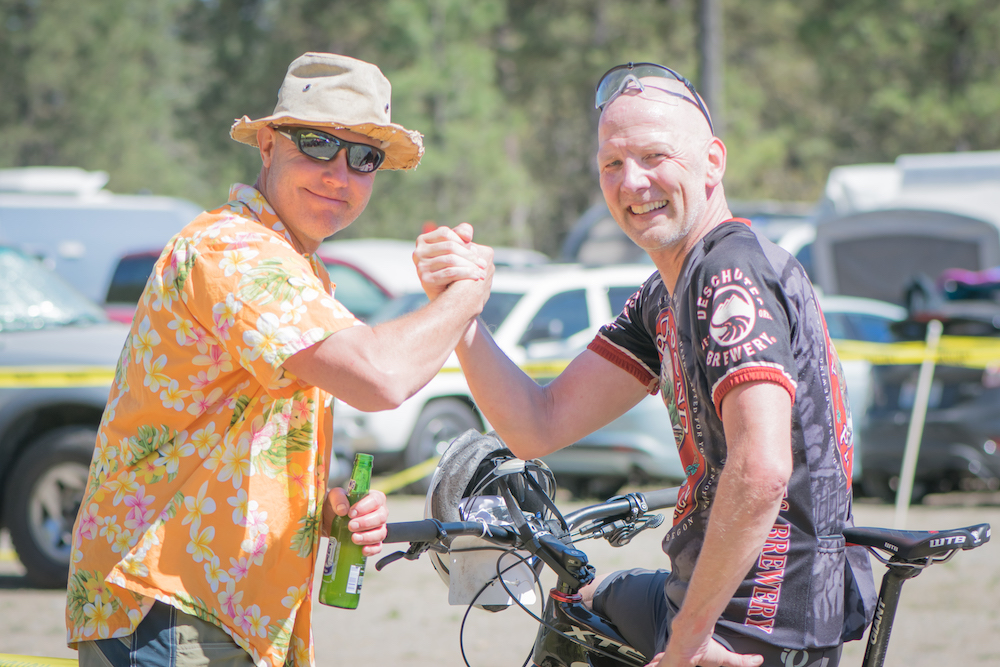 "A lot of people were disappointed that the event might go away," says Ewing, "so Pat and I said to ourselves, somebody needs to keep this thing going." Ewing and Bulger were both involved with the original Round and Round produced event for years, and with 17-years experience in race timing (Ewing) and decades spent racing competitively and working and announcing at bike events (Bulger), the two seem perfectly matched to pull off a comeback for 24 hour racing in Spokane.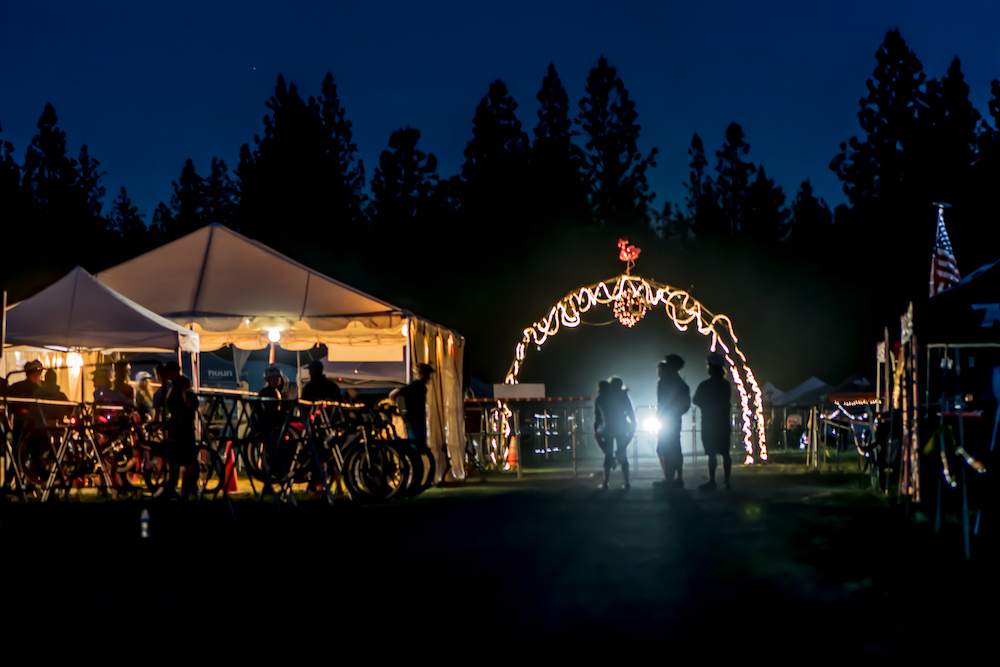 What's New for 2022
Ewing and Bulgers' approach to the new and improved 24 Hours of Riverside seems to be right on track with what many of today's riders are looking for too. "The thing about the 24-hour race format is that it's such a great party atmosphere," says Bulger. "I honestly think 24-hour racing is due for a revival." For most riders, it's more about the festive vibe than competitive riding, explains Bulger, noting the appeal of camping out, having beers, and staying up and riding laps late into the night with a bunch of friends. It's also where cycling is going, he adds, pointing out the explosion of interest in gravel biking and bikepacking. "People want to ride for an insanely long ways and then camp and have fun sitting in the dirt, and that's what they get to do at a 24-hour race."
The main thing Bulger and Ewing hope to bring to 24 Hours of Riverside this year is a festive atmosphere. And judging by the look and feel of the event website and their prankster approach to working together (the two have a long-standing bit of trickery between them that involves sneaking an ancient bike pedal back and forth into each other's possession), this year's festival of around-the-clock riding at Riverside will be one to remember, even if that memory is a bit hazy and comes with a few scars of questionable origin.
And there's some legit, new fun to be had this year too. Riders can look forward to the return of a long-absent beer garden with Millwood Brewing as the sponsor, more food truck options, a kids bike parade Saturday evening with Kona Ice treats, bike movies in the village at night, contests for the best decorated camps and team names, glowing inflatable arches along part of the course, and, no doubt, other unexpected shenanigans.
How Serious Do You Need to Be to Sign Up?
Ewing and Bulger expect several dozen hardcore solo riders to hit the course all alone for the whole race this year, as well as other teams that will be taking things pretty seriously. But they are quick to point out that most of the other teams will be a mixed bag ranging from semi-serious racers to groups of buddies and semi-acquaintances more in it for a doing a few laps between beers and bullshit sessions back in camp.
Each team can set their own rules as far as how many laps each rider completes too, says Bulger. "If you want other people to do more of the riding, go for it. You guys do you," he says. "My hope," adds Ewing, "is that people have a kickass time and that the experience is so much more than just riding around in circles for 24 hours."
What You Need to Know
When/where: At the stroke of noon on Saturday, May 28, 2022 (Memorial weekend) at Spokane's Riverside State Park, the starting gun will fire, signifying the start of one crazy, fun-filled weekend. Take turns pedaling with your pals for 24 hours and see what kinds of magic and hilarity can transpire!
Team Requirements: Rally somewhere between one and nine of your homies of varying degrees of cycling seriousness and sign up under the appropriate team category. Each team also needs to recruit one semi-competent/sober volunteer to help keep the event wheels turning. Having a volunteer provided by each team to work a four-hour shift is an essential part of the event, says Bulger. "Volunteer jobs are actually pretty fun, and they make sure the event can happen without a massive expense to the registration costs." Your own Discover Passes (one per vehicle) are also required. Sign your team up here.
What's Included: Camping Friday and Saturday nights as well as food are included in the cost of registration, including a meal from the food trucks on Saturday, a baked potato feed at some ungodly-late hour Saturday night, breakfast Sunday morning, and a post-race meal and awards presentation. Where do we sign up? Right here.
Event Motto: "LIFE SHOULD NOT BE A JOURNEY TO THE GRAVE WITH THE INTENTION OF ARRIVING SAFELY IN A PRETTY AND WELL PRESERVED BODY, BUT RATHER TO SKID IN BROADSIDE IN A CLOUD OF SMOKE, THOROUGHLY USED UP, TOTALLY WORN OUT, AND LOUDLY PROCLAIMING "WOW! WHAT A RIDE!" (HUNTER S. THOMPSON).