A mere two and a half hours from Spokane, southern British Columbia's Christina Lake lies off the radar of many shore-goers heading to its Priest and Pend Oreille kin. Sitting in a small valley where the forested Monashee Mountains begin their ascent out of the arid Canadian Okanagan, Christina Lake lays claim to being one of the warmest tree-lined lakes in Canada. The temperate climate makes for great early- and late-season water sports when other lakes of the Inland Northwest are too cold to partake. But summer heat suits Christina Lake just fine.
Gladstone Provincial Park cradles much of Christina Lake in its pincers. The park boasts some of British Columbia's wildest country, but shoreline homes grandfathered in when it was established in 1995 limit shoreline access. But the extensive trail system radiating from the lake offers an escape from the weekend crowds.
Hiking and Swimming
From the Texas Creek Campground – an ideal spot from which to base a weekend of exploration, with plenty of publicly accessible beach – the Deer Point Trail traces the shoreline high above the lake through an interesting mixture of ponderosa pine and Douglas fir forest typical of the dry interior Northwest as well as ferns and birch reminiscent of eastern hardwood forest. Scant elevation gain and no fixed destination encourages hiking as little or as long as one likes. But the Trapper Creek campsite, accessible via a steep boot path at 3.5 miles, makes a nice shoreline picnic or tent spot; just beware of the poison ivy on the beach. From here, either head back to Texas Creek or continue 2.5 miles further to an impressive old growth cedar grove – increasingly rare in British Columbia's timber country. Another mile of hiking reaches Troy Creek Campground, where, aside from a few canoe campers, you're likely to have the beach to yourself.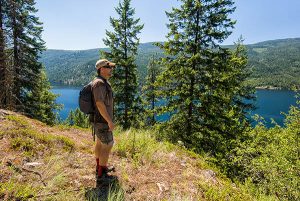 Cascade Gorge Waterfall
For an altogether more exhilarating water experience, visit Cascade Gorge, one of the region's best – and least-known – waterfalls. Here, the Kettle River sluices through a narrow chute carved over millions of years in the metamorphic rock. Summer's receding river flows reveal a collection of "kettles" – water-carved pockmarks that give the gorge a dimpled appearance. From an easy-to-miss pullout just west of Christina Lake and the junction of Highway 3 and Highway 395, walk an old railbed, now part of the continent-spanning Trans Canada Trail network, across a bridge spanning the gorge. A few hundred yards beyond, scan the brush for a concrete bulkhead of the old Cascade Dam, one of the region's first; this is a good place to follow user-built trails down to the lip of the gorge. It's no wonder engineers constructed a dam here: The rush of the Kettle River through such a narrow canyon creates a palpable power. Just north stands Rainbow Rock, so called because mid-day sun refracting off the spray of the falls fills the gorge with rainbows.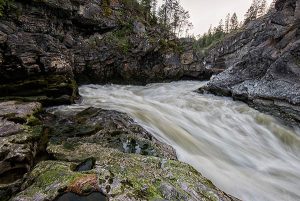 Local Fare, Culture, and Adventure
For a taste of local art and history and locally sourced food, stop in at the Christina Living Arts Centre in the town of Christina Lake. Tucked in the back is Lisa's Bistro, which boasts tasty vegetarian and gluten-free options, including locally baked gluten-free bread (which can still be difficult to come by in interior British Columbia.)
Be sure to stop by Wild Ways Adventure Sports and Tours, a local outfitter and outdoor gear and bike shop in the town of Christina Lake, for other adventure ideas, trail recommendations, and kayak, bike, and SUP rentals. Visit wildways.com for more information. //
Aaron Theisen is a Spokane-based outdoors writer and photographer. He is co-author of the book Day Hiking Mount St. Helens, published in 2015. Aaron contributed several articles to the Summer Adventure Guide in June.