A quintessential summer activity, camping allows kids all-day, hands-on adventure. Use this alphabetical list of recommended public campgrounds around the Inland Northwest to plan your summer camping excursions.
Albeni Cove:
A small rustic campground located near Oldtown, Idaho, along the Pend Oreille River, near Albeni Falls Dam (overseen by U.S. Army Corps of Engineers). Enjoy mountain views, fishing, and wildlife. Recreation.gov
Bannack State Park:
On the way to Yellowstone National Park, near Dillon, Montana, is "Old West" Bannack—the state's best preserved ghost town and site of a 1862 gold rush. The campground, along Grasshopper Creek, which includes a rental tipi, is just down the road from this National Historic Landmark. Stateparks.mt.gov
Beaver Creek:
Priest Lake, big beach, and national forest backcountry where you can hike or bike or paddle the Thorofare to reach Upper Priest Lake. https://www.fs.usda.gov/recarea/ipnf/recarea/?recid=6770
Big Arm State Park:
Enjoy Montana's Flathead Lake, the West's largest natural freshwater lake. This park offers three rental yurts, and is on the way to Glacier National Park. Stateparks.mt.gov
Charbonneau Park:
Located along Lake Sacajawea in Walla Walla County, east of Pasco, Wash on the Snake River, this day-use park and campground is overseen by the U.S. Army Corps of Engineers and includes a playground and marina. Usace.army.mil
East Sullivan Lake:
A rustic campground with a big beach and access to Colville National Forest hiking trails. Located near Metaline Falls, Wash., it's close to Crawford State Park and Box Canyon and Boundary Dams for day trip outings. https://www.recreation.gov/camping/east-sullivan/
Fort Spokane:
Most beloved for boating and fishing opportunities, this campground is near the confluence with the Spokane River. Visit the historic Fort Spokane Visitor Center and Museum. Nps.gov
Heyburn State Park:
Located near Plummer, Idaho, choose from three campgrounds. Bring gear to enjoy paddling or boating in Chatcolet and Benewah Lakes, hiking, biking, and fishing. Bike the Trail of the Coeur d'Alenes, and visit the playgrounds—one each at Chatcolet boat launch and Rocky Point Beach. https://parksandrecreation.idaho.gov/parks/heyburn
Indian Creek:
One of three campgrounds within Priest Lake State Park, situated along the lake's east shoreline, families enjoy the sandy beach, sport courts, and rental cabin options. https://parksandrecreation.idaho.gov/parks/priest-lake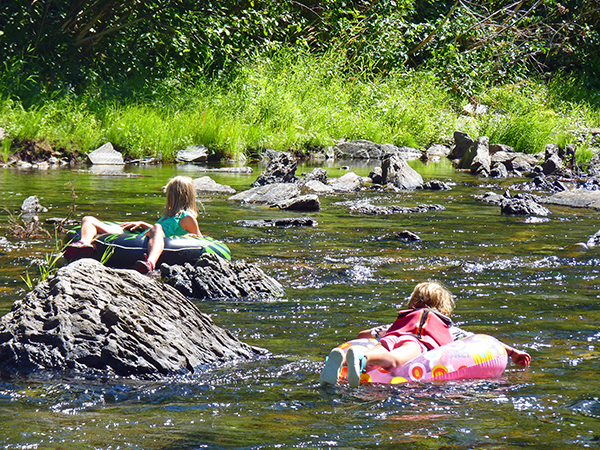 Kit Price:
River tubing and fly-fishing families revere this quiet, rustic campground along the North Fork of the Coeur d'Alene River, in the Panhandle National Forest. https://www.fs.usda.gov/
Pioneer Park:
Close to Newport, Wash., this Colville National Forest campground along the Pend Oreille River boasts good fishing and the Pioneer Park Heritage Trail. https://www.fs.usda.gov/
Riverside State Park:
Choose from three family campgrounds—Bowl & Pitcher, Nine Mile Recreation Area, and Lake Spokane's primitive campsites. Enjoy hiking, mountain biking, paddling, fly-fishing, and rock climbing in the area. Be sure to visit the Spokane House Interpretive Center at Nine Mile Falls. http://parks.state.wa.us/573/Riverside
Round Lake State Park:
Included on Reserve America's 2009 list of Top 100 Family Campgrounds, you'll find a quiet fishing lake and hiking trails at this campground southwest of Sandpoint. https://parksandrecreation.idaho.gov/parks/round-lake
Sam Owen:
Situated within the Panhandle National Forest along Lake Pend Oreille near Hope, Idaho, families enjoy stunning lake views and a dog-friendly beach. https://www.fs.usda.gov/
Whitetail:
This campground in Farragut State Park, near Athol, Idaho, is popular because of its playground and access to Lake Pend Oreille, and close proximity to Silverwood Theme Park. https://parksandrecreation.idaho.gov/parks/farragut //
5 Family Camping Gear Favorites
Above and beyond the essentials, bring these pieces of camping gear along on your next trip to make your overnight out in nature more fun and comfortable.
LED lanterns and headlamps: Lanterns light up large spaces (including the interior of a dark restroom), and headlamps provide hands-free convenience. Most have at least three light modes: high, low, and night-vision red. Equip each child so he/she can be more independent after dark.
Hammock: Good for napping, reading, and swinging, a lightweight hammock delights both kids and adults.
Water sandals: Rocky shorelines with jagged or slippery rocks require safe, comfortable, waterproof, strap-on footwear. Keep flip-flops for hanging out at the campsite.
Handheld two-way radios: Older kids can experience more free-range independence with a walkie-talkie as they bike or walk around a campground. At remote campgrounds without cell service, these allow family groups and friends to stay in contact.
Portable charger: If you plan to use your phone for its camera and apps, like a GPS, throughout a multi-day trip, you'll need to re-charge your battery. Which is difficult at a rustic campground with no electricity. You could use your vehicle charger, or bring along a small portable charger or solar charger with built-in USB ports to keep your phone, two-way radios, and any other devices ready to use. //
Feature photo: East Sullivan Lake Campground // Amy McCaffree