They say the best whitewater in Oregon is in Washington. They also say the most dangerous part of kayaking is mountain biking, but I digress. The truth, however, is that you'll find watersheds producing amazing whitewater almost anywhere you travel within the greater Pacific Northwest. Here we have tallied 14 rivers east of the Cascade Ridge for your summer boating tick list. From smaller intimate creeks to massive big water systems, these sections of whitewater are great for beginner and intermediate paddlers looking to expand their boating territory and check out some of the classics. A hard shell kayak is the perfect vessel for all of these rivers, while many are also ideal for rafts, standup paddleboards, and inflatable kayaks.
WASHINGTON
White Salmon River: BZ Corner to Buck Creek (The Middle) – Class III+, 7 miles, 500 – 2,000 cfs. The White Salmon is the epicenter of the Pacific Northwest's whitewater Mecca. Offering sections of whitewater from grade II-V, this river remains runnable long after others have dried up due to an extensive groundwater system feeding the headwaters. The Middle is the classic section and offers great boulder garden and pool drop style rapids with beautiful Bombay Gin water to cut the summer heat. Don't forget to check out the Lower (Buck Creek to Northwest Lake) and the Lower Gorge (Northwest Lake to Columbia River) while you're in the area.
Cle Elum River: Cle Elum Dam to the Confluence with the Yakima River – Class II, 6 miles, 1,200 – 4,000 cfs. A great beginner run with playful wave trains, lots of continuous class II action, and easy access right off I-90. At higher flows this section may feel a bit continuous for beginners, but at low and medium flows it is a great training ground for those just coming out of roll sessions. In the spring, this river is a great option for Seattle folks looking to soak up some east side sun and get out on the water
Palouse River: Palouse Falls State Park to Lyons Ferry State Park – Class II, 4 miles, 500 – 6,000 cfs. This is a slightly obscure run, but the massive canyon walls and the echo of Palouse Falls roaring behind you bolster the awe-factor of this short, scenic class II section. Hike downhill to the put in just below the falls and take a moment to contemplate Tyler Bradt's world record waterfall descent. Although this run may not warrant a day mission in and of itself, it is a great section to check out on your way east or west.
Spokane River: Harvard Park to Mirabeau Park (The Upper) – Class II, 5.5 miles, 1,000 – 40,000 cfs. Stay-cations are all the rage. Minutes from your door, this urban Spokane float is great for beginners looking to practice their roll, smooth out their eddy turns, and dial in their ferries. Spring snowmelt swells this section into fast moving water where swims can be long and cold so be sure to dress appropriately. By summer you'll be sharing the river with inner tubes, SUPs, canoes, and coolers full of beer.
Twisp River: Buttermilk Creek to Twisp – Class III, 10 miles, 600 – 2,000 cfs. Head up the beautiful Methow Valley, grab some delicious baked goods at the Twisp Bakery, and slide yourself into the flow of this great class III section of the Twisp River. At spring levels (1,500 cfs – 2,000 cfs) the Twisp is continuous III-III+ with fast flows, few eddies, lots of action, and few rocks in sight. By late season (~550 cfs) you'll be dodging rocks and catching lots of mid-river eddies. Portage left or run the fish collection dam halfway down the run (runnable at some flows), and always keep a keen eye out for wood.
Wenatchee River: Leavenworth to Cashmere – Class III, 18.6 miles, 2,500 – 20,000 cfs. Boasting some of the best playboating in the Pacific Northwest, when the spring melt is on the Wenatchee is going off. High water, blue skies, and grassy take out lure in the Westside crowds during the late spring when Seattle is still under clouds. This river offers many put in and take out options and is great for playboat-centric paddlers, as well as river runners. As flows drop in the summer, options open up for SUPs as well, and flows are always good for a fun raft float. Be sure to keep your eyes out for the low-head dam near Peshastin and portage right.
IDAHO
Payette River: Banks Township to Beehive (The Main) – Class III+, 7 miles, 800 – 12,000 cfs. Boise's favorite backyard run! From early season high water adventures to late summer low-flow floats, this river provides an oasis for those looking to beat the heat and get away from the crowds (although be warned, commercial traffic does get busy on summer weekends). This section is great for intermediate boaters who already have good river running experience and are looking to hone their skills. Don't forget to drive up the North Fork to gawk at the class V hair boating upstream!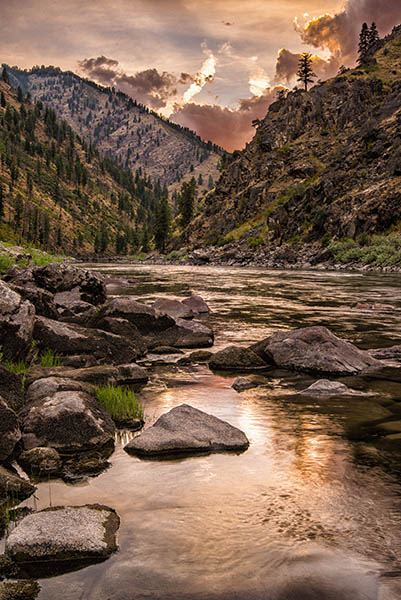 Salmon River: Stanley to Sunbeam Dam – Class III+, 13 miles, 600 – 6,000 cfs. Beautiful mountain scenery? Check. Cute mountain town? Check. Loads of free camping? Double check. Oh wait, and great sections of roadside whitewater, how is this possible? The Salmon River emerges from the awe-inspiring Sawtooth Mountains and starts its dramatic drop through the deep wilderness of central Idaho, but before the permitted sections begin further downstream there are miles of great headwater boating to be had around the Stanley township. Scenic class I-II at the start of this section picks up into more continuous Class III-III+ downstream of Mormon Bend. Many roadside put-in and take-out options exist, along with additional boatable sections both upstream and down.
Salmon River: Vinegar Creek to Riggins – Class II-IV, 28 miles, 1,000 – 100,000 cfs. At Vinegar Creek the Salmon River emerges from its 100+ mile journey through the River of No Return Wilderness, leaving 28 more miles of roadside pool-drop big water boating set in a deep canyon. With a huge range of flows possible, quality whitewater and play at nearly all flows, and many put-in and take-out options, this section offers a "pick your own adventure" feel. Oh, and don't forget your volley ball, Frisbee, soccer ball; as flows drop, sandy football field-sized beaches emerge, and camping and lounging are aplenty.
Lochsa River: Split Creek bridge to Lowell (Selway Confluence) – Class II-III+, 25 miles, 400 – 25,000 cfs. In the Nez Perce language, Lochsa means "Rough Water" and, true to its name, the Lochsa is an 80-mile freight train of whitewater— from its origins where the Crooked Fork and Colt Killed Creek meet all the way down to where it spills into the Selway River. Deep water, big waves, and only a few holes in this lower section make it great for beginners and intermediates. Head upstream to Lochsa Falls during the annual Memorial Day Loscha River Madness festival and feast your eyes on endless carnage as hundreds of kayaks, rafts, and cat boats drop into the crashing whitewater and try to emerge still attached to their craft.
Henrys Fork River: Riverside Campground to Hatchery Ford Road – Class II-III, 6 miles, 500 – 1,200 cfs. Runnable year round, no dangerous holes, fun and splashy class II-III—what else could you ask for? Load up the raft and kayaks, bring the kids, brings the dogs, stuff the coolers, and get your fill on this gem of a river. The Henrys Fork is as good as class II-III whitewater gets; it's continuous but not too continuous with beautifully forested surroundings, easy logistics, and hundreds of catch-on-the-fly surf waves to boot. Stay left of the island just downstream of the campground and don't forget to jump off some boulders in the pool below Swimming Hole Rapid (mile 4).
MONTANA
Middle Fork Flathead: Moccasin Creek to West Glacier Township – Class III-III+, 7 miles, 1,000 – 8,000 cfs. The Middle fork is a breathtaking intermediate river that should be on everyone's tick list. Crystal clear water, great river action, a long paddling season, beautiful scenery, and easy logistics. But don't take our word for it. Head up there and find your own reasons to fall in love with this river. While you're in the area, check out the upper sections and start scheming your multi-day on the wild and scenic headwater run.
BRITISH COLUMBIA
Elk River: Elko to Highway 93 Elk River Bridge (The Lower) – Class III-III+, 10 miles, 700 – 3,500 cfs. The Lower Elk is a great introduction to BC whitewater. Just north of the boarder, this large volume river is set in a beautiful valley interspersed with short, spicier canyon sections. In classic BC fashion, the canyons also dish out a high intimidation factor: proper horizon lines, tricky scouting, and boil-y entrances. As your sphincter tightens, just remember: they all go, and they all hold true to their (BC) class III-III+ rating. The second half of the run includes beautiful open valley with fun playful features.
Slocan River: Crecent Valley Township to Highway 3A (The Lower) – Class II (III) 6 miles, 1,800 – 18,000 cfs. Deep in the southern half of the Selkirks, the Lower Slocan offers a section of whitewater that is great for beginner hardshell kayaks, IKs, and SUPs alike. Rapids start simple with wave trains and pool-drop features and build in complexity to the class III Facina Rapids (scouted on the right). Great catch-on-the-fly waves (Elevator waves, Canadian wave, and 5.0) are interspersed through the run to keep you on your toes looking for that next surf. Easy shuttle logistics and warm water temps come July and August make this a great summer run for beginners. // (Chris Gabrielli )
Chris Gabrielli can be found kayaking Tumwater Canyon, skiing steep couloirs in the Enchantments, or climbing alpine rock in the North Cascades. He's stoked to be exploring his new backyard behind Wenatchee, Washington. This is his first article for Out There.