The Embodied Runner Tour
May 30, 2019 @ 6:00 pm

-

8:00 pm

$10.00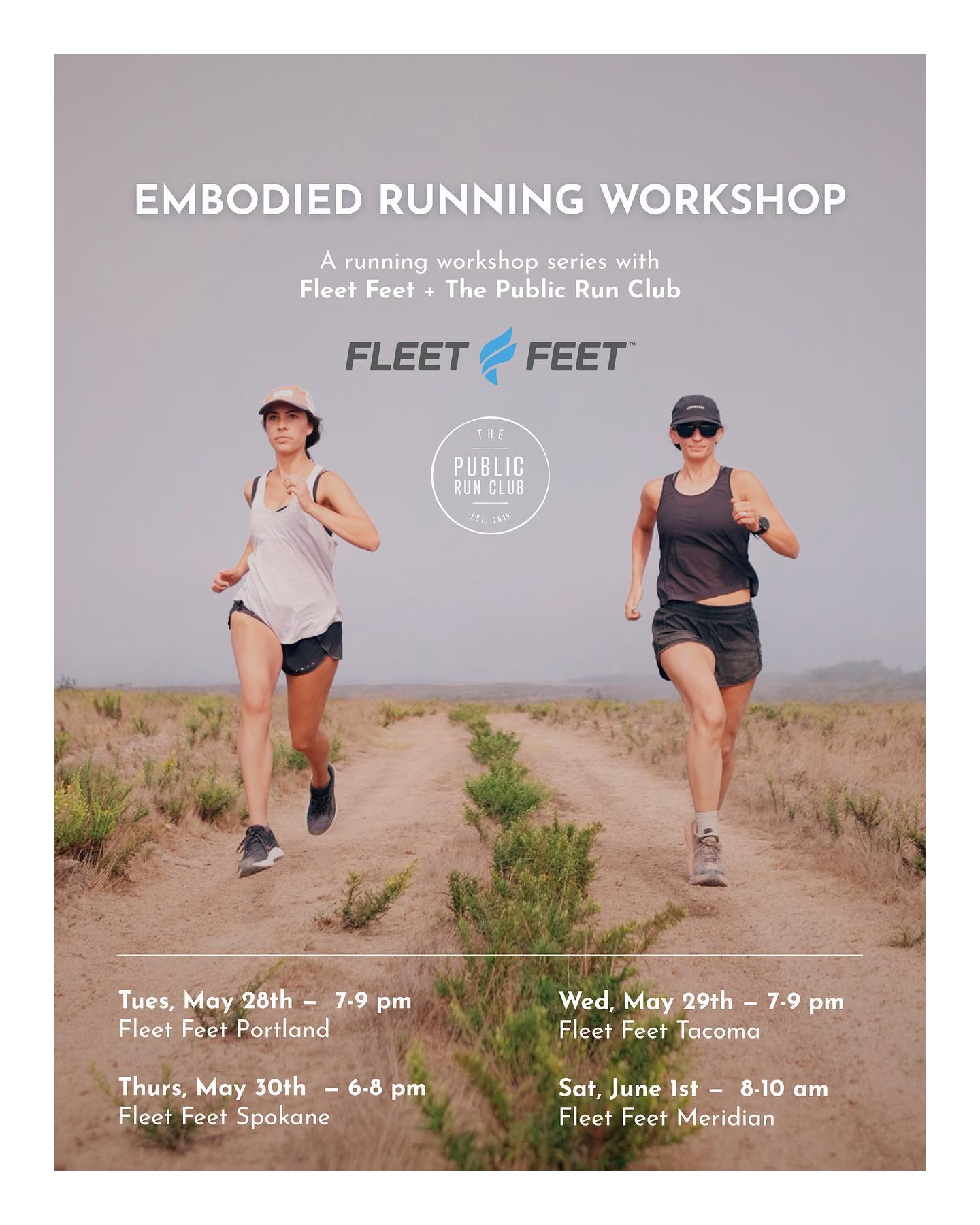 Fleet Feet Spokane is excited to announce The Embodied Running Tour, a running workshop with Karly Borden of The Public Run Club.
As both a runner and a running coach, Karly has come to wholeheartedly believe that there's no secret or magical plan out there. The plans that "work" are the ones that runners actually show up to.
That being said, she's found that runners stop showing up if/when:
1) They have an all-or-nothing approach to their training (so they were perpetually starting from scratch on the arbitrary do-over-day, "Monday")
2) They ignore their body's internal cues (like hunger, pain, and sleep) and literally ran their body into the ground.
3) They hammer themselves to fit into the running program instead of giving themselves permission to adapt it in a way that made sense for their life.
With this insight–and using embodiment and mindfulness as her frameworks– she started making rigorous running plans that were easy to show up to, coaching runners in redefining their motivations, guiding runners in reclaiming the sensations of their good, good bodies, and dishing out new language as they learned to speak to themselves in impactful ways.
As part of the women's running community, she sees us posing questions, like:
•If we stop seeing running simply as a tool for body transformation, what else can we access from the sport?
•How do I shape a running goal that moves me towards feeling how I actually want to feel?
•How can I be as kind to myself and I am hard on myself?
Join us at The Embodied Running Workshop, where you'll get a toolkit of new mind/body practices to use in your new or existing running practice as we explore the potential reasons behind and answers to these questions.
From the curious walker to the marathon veteran and everything in between, all levels of everything are welcome.
Space is limited. Sign up here!
***100% of proceeds will be going to Girls Gotta Run Foundation, Inc.