By Dig Chrismer
There's a good chance if you spend any time in the village at Schweitzer you'll run into Mark and Colleen White. These two unofficial Schweitzer greeters are hard to miss with their welcoming smiles, infectious laughter, and endearing Texas drawls. Spending time with them on the mountain is delightful in any season.
They both rip it up on the slopes during winter and are staples at Schweitzer's summer events. Mark's comedic nature is complimented by Colleen's exuberance for adventure, and the two of them live life at Schweitzer to the fullest. It's only after you've fallen under their charm that you realize something is missing. That would be Mark's right arm.
On a beautiful day in January 2017, Mark (58), Colleen (46), and their son Ashton (26), all passionate snowboarders, headed over to Little Blue Ridge Run to take advantage of some excellent mid-season conditions. "We had just gotten off the T-Bar, and strapped into our bindings when I said, 'party of three, let's go!'" explains Mark. "Less than a minute later, I was buried under the snow."
The accident happened so fast that Colleen and Ashton weren't even aware Mark was missing. "We wondered if we had passed him so we headed to Stella and started asking people if they had seen him. At this point, I was 80% scared and 20% mad," Colleen explains. "On the lift, I tried to call him and it went to voicemail. As soon as we got off Stella, I went straight to ski patrol."
At the same time Colleen and Ashton were starting to worry, Mark was wedged tight between two trees just off Little Blue with a severed artery causing him to lose a substantial amount of blood. "Luckily, my saving snow angel, a skier on the run, saw the accident but couldn't locate me in the trees," says Mark. "Her husband skied on to get ski patrol, and she waited by the spot where she was certain I had left the trail." When ski patrol arrived and began to search the area, one patroller noticed a black crescent shape. Trudging through the snow, he realized it was Mark's helmet.
Time is of the essence in any accident situation and more so when a patient needs critical care. There is no question for Mark or Colleen that the quick thinking of Schweitzer's ski patrol staff saved his life that day. Once Mark was airlifted to the hospital, his condition was determined to be severe. He had his clavicle, shoulder, and humorous repaired with metal bars and plates. Unfortunately, it wasn't possible to repair the core nerve in his right arm, and it was amputated in July of 2017.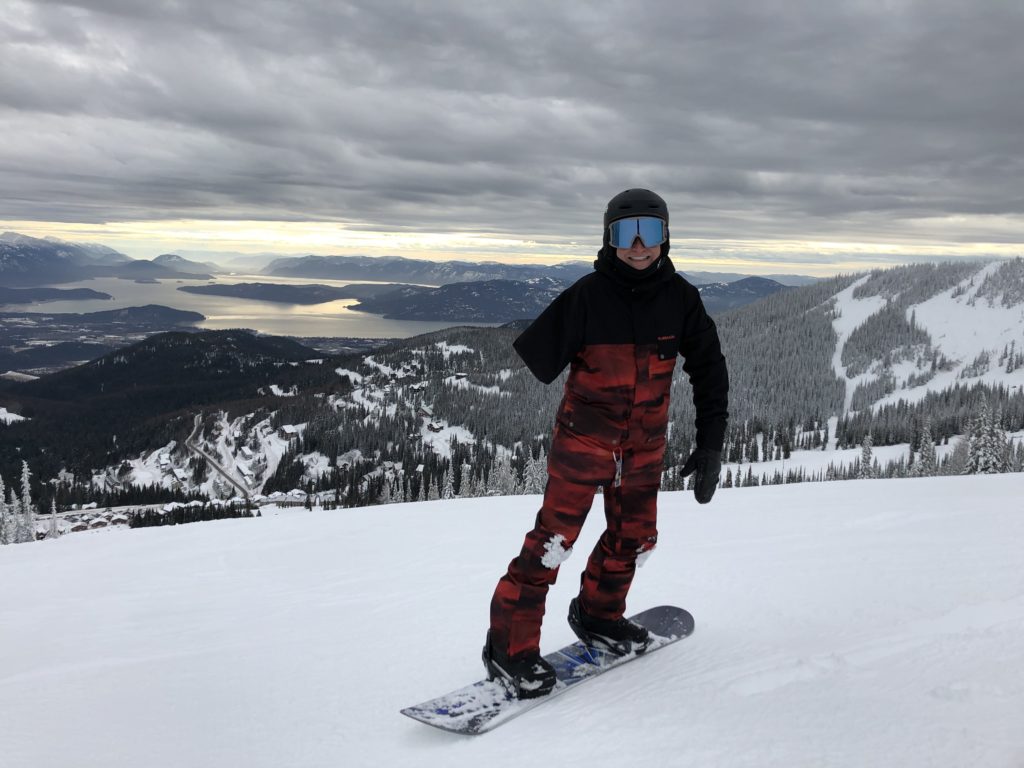 Flash forward to another sunny day at Schweitzer, this time it's January 2019. Mark and Colleen have just finished a day of riding and they are happily chatting about their runs. "We work from our home in the White Pine, and so when we can get out to ride, we do," says Colleen. "It was the big question if Mark would snowboard again, but this is what we love and where we love to be."
"Schweitzer is our happy place still," adds Mark. "After the accident, I waited to see if I could snowboard. I practiced on small hills only going about 18 feet the first time and that felt huge! I follow a pretty strict criteria now for riding. If on any given day I have three things not in sync, I don't go. I'm looking to feel strong, have good weather, go when the mountain's not too crowded, and I don't head to unfamiliar terrain if I'm with new friends or guests. If any three of those aren't in alignment, I'm back in the condo chilling."
For Mark the hardest part isn't riding with one arm. He's still working on healing and coping with some lingering pain from the accident. "Snowboarding really helps me fight off the periodic melancholy. Exercise helps distract me from the pain and the realization that I'm not the same person I was physically two years ago. Losing an arm is pretty humbling. But it's also been unbelievably cool."
Mark and Colleen feel that the accident solidified their connection to the Schweitzer community. "We fell in love with this place when my parents moved from Texas to Moyie Springs 27 years ago," says Mark. "As soon as we saw an opportunity to work remotely, Colleen and I knew we wanted to live here. Even after everything, this is where we want to be. Some days are hard for me on the mountain. I still get anxious when I'm riding Little Blue, but when I'm on my board and I'm in the zone, I've found my balance. Until I fall over that is!"
Dig Chrismer landed in Sandpoint 8 years ago with her four children after several years ricocheting around the world. These days she's the marketing manager for Schweitzer Mountain Resort and is on a mission to prove that telemark skiing isn't dead.