Moses the Mountain Host
49 Degrees North Local Chuck Kriegh 
For Chuck Kriegh of Cheney, 49 Degrees North Mountain Resort has long been his home away from home. He first started skiing here over 36 years ago when his eldest son was a teenager just learning to ski. The family friendly vibe of the resort appealed to him at the time and keeps bringing him back today.  
Now that his own children are grown, Kriegh is a major contributor to the family friendly atmosphere at 49 through his involvement in the Mountain Host program. The resort added mountain hosts over 15 years ago, and Kriegh was among the initial applicants to the program. He is now the lead organizer of the group that includes 24 total volunteers whose main goal is to ensure every guest has a great day on the mountain.
According to Kriegh, being a mountain host is the "best job on the mountain." Those involved with the program are frequently the first up and the last off the mountain, working in tandem with the resort's ski patrol but without the stress. Whereas ski patrol is responsible for mountain safety, mountain hosts are responsible for mountain fun. Kriegh's main aim is to ensure "guests have a successful ski day, where at the end of the day they're happy and want to come back." As a mountain host he may meet guests in the parking lot to offer suggested runs for those new to the mountain or let visitors know about resort amenities. He may take a run or two with a new-to-the-mountain skier, guiding them toward more or less adventurous runs depending on the skier's ability level and desires. He may even share his favorite powder runs, "if they ask nicely!"
The next time you ski 49, look for the mountain hosts in their distinctive bright blue jackets. Ask for suggestions on runs to suit your ability or secret powder stashes. To meet Kriegh, just ask for "Moses" or "Pops."
Better Late than Never
Lookout Pass Local Kim Carpenter  
Kim Carpenter of Coeur d'Alene took a circuitous path to becoming a regular at Lookout Pass. When she first tried skiing as a teenager, she opted to try with friends rather than take a formal lesson. She suffered from that all-too-frequent treatment aspiring skiers receive from their peers who learned to ski at a very young age: the keep-up-or-else mentality. It wasn't fun, and after the first few tries Carpenter gave it up and refused to return to the slopes for many years. 
She didn't allow herself to be lured back into the sport until her 30s. At that point she had four young kids at home, and her family started to take advantage of the Idaho Peak Season Passport program that allows 5th and 6th-grade students to ski for free. By pairing free skiing for her qualifying children with other youth skiing education programs at Lookout Pass, Carpenter found skiing could become a fun and affordable option for her family.
After being abandoned at home for quite a few weekends, Carpenter 's husband picked up the family activity, too, after taking advantage of Lookout's Learn to Ski or Ride in Three Days package. The deal includes three days of tickets, equipment rentals, and lessons. Graduates of the program are able to purchase a season pass for a reduced fee and access rental equipment for the rest of the season. Soon there were a total of six skiers in the Carpenter household.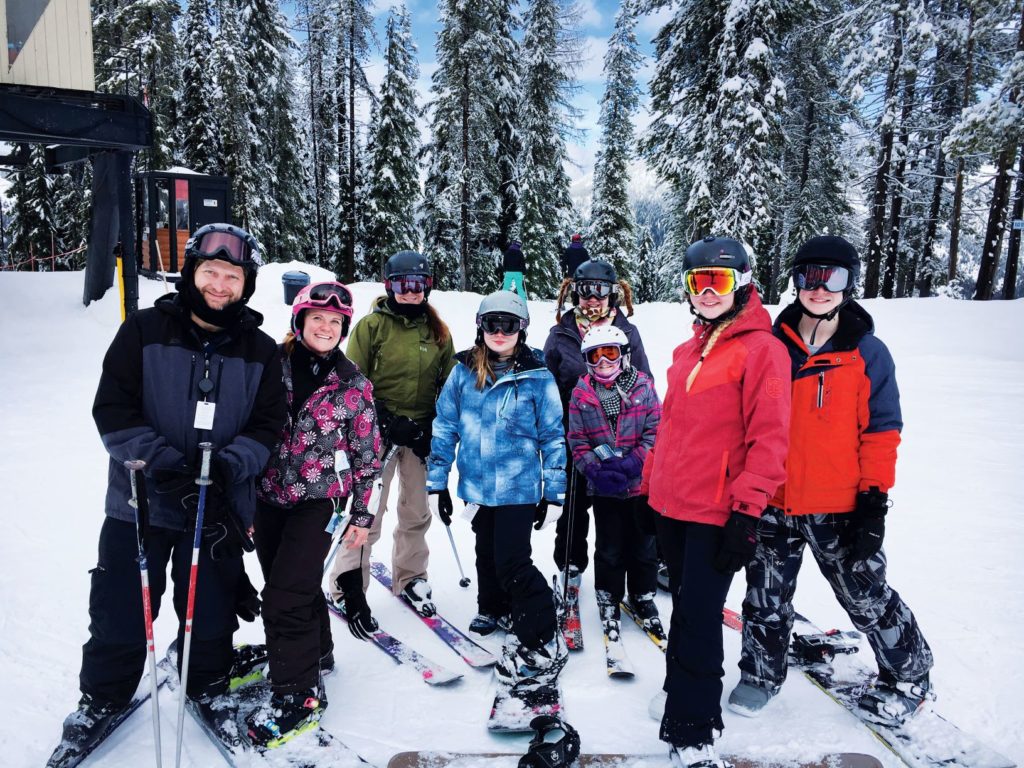 Soon thereafter, Carpenter decided to switch it up by learning to snowboard. Now she does either sport depending upon conditions. She has found that she prefers snowboarding, even though her knees prefer skiing. She has made improvements to her technique over the years by meeting friends for some mid-week practice, all while continuing to ski with her family each weekend. Her eldest daughter now lives in Montana but is still able to join a family reunion on the ski hill most Sundays.
Carpenter has found the biggest change and the greatest joy over the years in watching her kids surpass her on the slopes. She used to deliberately ski behind to keep an eye on them, but she's now in the back to trying to keep up with stronger skiers. This time, nobody is getting dropped, and it's all family fun.
Holly Weiler is an avid alpine, Nordic, and Hok skier. She writes the Hike of the Month for each issue.