Frosty mornings, cold winds, and snowfall are only a calendar's page away. Longtime-Spokanites may even recall when it snowed on Halloween years ago. Here are tips for ensuring your drives on mountain roads and urban streets are nothing to fear.
Winter Maintenance
First, ensure your vehicle's battery, wiper blades, and fluids are winter-ready. Install winter wiper blades and stock-up on winter-specific washer fluid that won't freeze—you'll use a lot over the course of the winter. If your car was recently serviced and has summer washer fluid, add washer antifreeze. Parking in a garage or carport whenever possible protects the battery and prevents fluids from freezing. And it's a good idea to keep the gas tank half-full to prevent fuel lines from freezing. Being able to see clearly through the windshield is critical, so be sure to have chips in a windshield repaired before they turn into a crack during sub-freezing weather.
Tires
All-season tires are recommended when temperatures are regularly less than 40° F. First, check the side walls of your vehicle's current all-season tires to examine tread depth, and then decide if you need new all-season tires or want to invest in winter (snow) tires, advises Jeremy Dierks, owner and manager of Perfection Tire's downtown location. "If your all-seasons are half-worn, get new tires," he says. In addition to tires of all types, his shop provides full-service automotive service and stocks winter supplies, such as winter washer fluid and wiper blades, batteries, and more. "If you're familiar with driving in Northwest weather, then you may not need snow tires. Although winter tires make a big difference," adds Dierks.
Though most newer vehicles come with all-wheel drive, drivers shouldn't rely on that alone while driving in challenging winter road conditions. Skiers and snowboarders who frequently drive mountain roads know that all-wheel drive is only as safe and stable as the tires on that vehicle. "Tread compound is half as stiff on snow tires," Dierks says, which results in 50% traction improvement and greater control on snow and ice. "If you're not confident driving in the snow, it's better to get snow tires."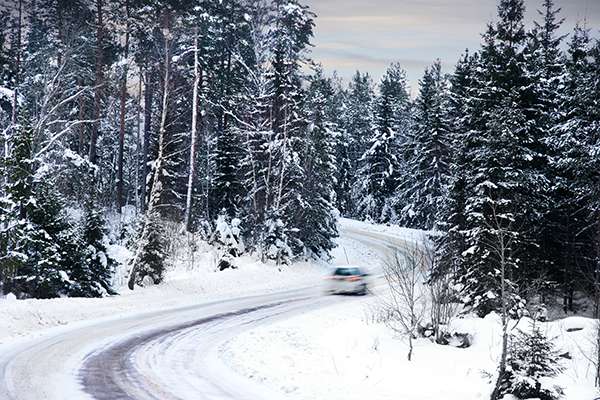 Dierk's top recommendation for winter tires is the Nokian® Hakkapeliitta. Based in Finland, Nokian invented snow tires in 1901, he says, and manufactures high-end tires that go through rigorous testing. Next, he suggests the American-constructed Cooper® snow tires or the Vitier® "budget line" of tires. Blizak® is another high-end tire brand, well-known by alpine winter sports enthusiasts. "They're the second best snow tire available – made in Japan – and cost as much or more than Nokian." Studded snow tires are becoming a thing of the past because they're usually unnecessary, Dierks says. Today, "90% of winter tires are stud-less." In Washington State, installation of studded snow tires requires a $5 per tire fee. But investing in studded snow tires may be best for those without four-wheel drive vehicles. "It's cheaper than buying a new car," he says. In Washington, vehicles can only have studded tires on from November 1 to the end of March.
As for when to get your new tires, Dierks says now is the time, especially to beat the "snow rush" – the time period after Nov. 1. He advises getting your new all-season or snow tires by mid-October, and wait to take off snow tires until April. Weather "below 70° is not going to be detrimental to winter tires, though it's best to keep them off dry roads," he says. No matter what tires you choose, be sure to check tire pressure monthly. (Vehicles manufactured in 2009 or newer come installed with low tire pressure indicators.) In cold weather, a "tire typically loses 3-7 pounds of pressure," he says. For example, a tire with 44 psi (pounds per square inch), which is a typical tire, can decrease to 37 psi.
Emergency Supplies
Another important winter driving safety tip is to keep a bin of winter emergency supplies inside your vehicle. Every year there are stories of people getting stranded in heavy snow. Those who've traveled I-90's Snoqualmie Pass know that traffic accidents, slide-outs, and avalanche control measures can cause multi-hour delays and back-ups on remote stretches of highway. A well-stocked kit should include a blanket or sleeping bag, clothing layers, hand warmers, a flashlight or headlamp with extra batteries, first-aid kit, food items, water bottles, shovel, battery jumper cables, flares, and matches.
Traveling Safely with Ski & Snowboard Gear
While traveling, skis and snowboards should not be loosely stored inside a car. In case of a skid, quick stop, or collision, heavy gear can injure occupants. Instead, use a roof-mounted ski rack carrier or cargo box—Yakima®, Thule®, and Inno® are the three top brands—to safely secure gear while driving. SUVs and trucks can more safely stow skis and boards in their rear cargo areas, and short youth skis can also be stowed in a trunk or rear hatch. //
Sponsored by: