In an era where we're segmented into narrow age groups, the Mt. Spokane Cross-Country Ski Park is countercultural. On a typical Saturday, the trails buzz with the energy of kids and adults laughing together and playing games at the junction clearings: adults investing in kids, and kids enriching adults.
This season, close to 200 kids, from beginner five-year-olds to high school seniors competing at the elite national level, will take part in a growing range of ski programs through the Spokane Nordic Ski Association—almost all of them initiated and led by volunteers. Lessons through the Nordic Kids program are the foundation. The seven-week program for kids ages 5-15 has been going strong for somewhere close to 35 years, under different names and forms, and is in its current iteration since around 1990. In recent years, the program has been capped at 125 participants and split into morning and afternoon options to decrease strain on the trail system.
Running the program takes a small army of parent and other volunteers. The initiation point is usually assisting on the trails or serving hot chocolate afterward in the lodge. If a volunteer takes on lead coaching, like I did for two years while my son was enrolled, they receive training and certification through the Pacific Northwest Ski Association, paid for by Spokane Nordic.
A push toward greater parent involvement was intensified under the leadership of Alison and Trond Liaboe six years ago as a way to make the program sustainable. Alison recalls that it brought other benefits. "When more parents joined in it truly became a fun family experience and friendships across families were formed that have stayed strong for years."
As kids develop skills and move through Nordic Kids, they have the chance to progress to the Transition Team and then competitive Race Team. While led by paid coaches such as 2017 Pacific Northwest Sports Association Coach of the Year George Bryant, these teams also rely on a committed group of supportive parents. For some kids, competitive skiing isn't compelling. In those cases, parents have stepped up to create recreational alternatives.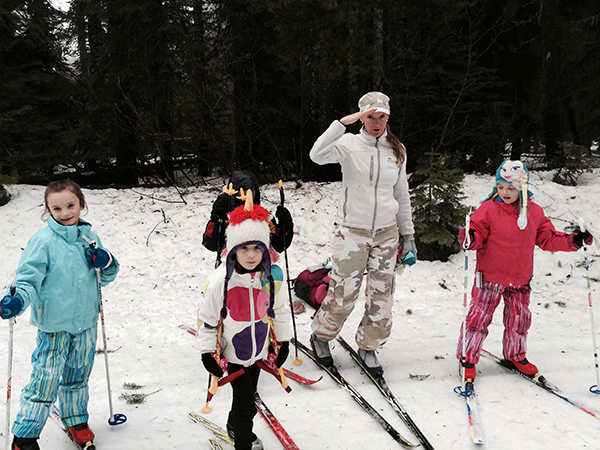 That's what happened when Karen and George Momany's youngest daughter and a few others outgrew Nordic Kids nine years ago and were looking to keep skiing. The family brought together a group of high school-age girls for an extended weekly lesson time for a more intensive, but relaxed and social ski experience. "We thought the group would end when our youngest graduated from high school," Karen says," but the girls who were left asked us to please come back the next season so it has continued."
The same enthusiasm for non-competitive skiing brought about the Nordic Rangers six years ago. The program uses skiing as a basis to teach backcountry survival skills and brings in a range of volunteer experts. Ski parent Chris Oxford says that he spurred the program into action after the idea had been brewing for years with several other adults. The program gives "kids who outgrew Nordic Kids a non-racing, team track to stay engaged with Nordic skiing, fosters a sense of giving back to and helping build community, and ultimately grows a group of people who want to become instructors or Ski Patrol or both," Oxford says. Nordic Rangers continues to draw interest even as parent volunteers move through as assistants and then into leadership before handing off the baton to the next leader.
The latest outgrowth of this desire to inspire youth is a pilot project called the Cross-Train Ski Team. It will teach middle-school cross-country runners the basics of Nordic skiing as a way to keep them fit between cross-country and track season. Already two ski parents have stepped up to volunteer as coaches, even though their kids won't be in the program.
The benefits of this cross-generational involvement flow both ways. Chris Oxford reflects, "When you teach the same kids for a season or two and really get to help them grow from complete novice, nervous, [and] a bit scared, into fully confident, competent skiers…that's an incredible, joyful, [and] collaborative feeling."
For everyone I talked to, it all comes back to the same set of shared values and relationships. In the words of Tom Schaaf, who led Nordic Kids with his wife Dawn for eight years, "It's a great community of people who share a love of the outdoors and outdoor activities."//
Brad is the director of engagement at the Spokane Nordic Ski Association and is working on a film about beating cancer called "Proof of Life." He wrote about the Centennial Beer Chase in July.