With a long, hot, and smoky summer far behind us, snow sports enthusiasts are likely looking forward to the upcoming skiing and snowboarding season—
and rightfully so. Nothing makes a rider of snow dream about the winter months more than a prolonged period of extreme heat like we witnessed this year. That said, here is what the experts—and some of our local mountain operators—have to say about what we can expect here in the Pacific Northwest this season. Keep in mind these are just predictions, and even the experts get it wrong on occasion.
NOAA
Not the best of news coming out of the National Oceanic and Atmospheric Administration's Climate Prediction Center. NOAA is forecasting a 70% chance of El Nino during the upcoming season, which typically means we will experience above normal temperatures and normal or below normal precipitation. Darn science.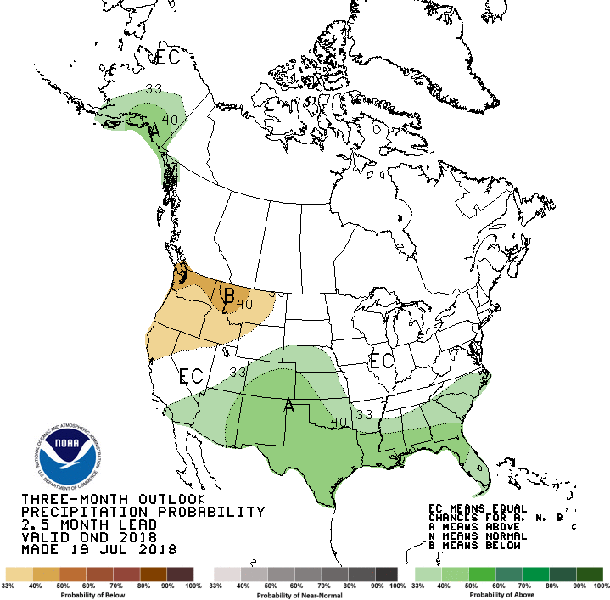 The Farmer's Almanac
These guys have been using the same mathematical and astronomical formula since the 1800s, and we are digging what they are predicting. The FA is calling for normal temps and wet weather for the winter, which obviously translates to snow for our local resorts. More encouraging is their prediction that north Idaho and Montana will witness "Teeth Chattering Cold & Plentiful Snow." Sounds good. Please have some of that seep over here into eastern Washington too. Thank you.
Snowboarding.com
So the scientific experts are split about how things might shakeout this winter. Sure, it's easy to want to lean towards the official government agency in charge of weather, but as the ever-positive crew at Snowboarding.com points out, "Last season's precipitation forecast, on the other hand, called for mostly average precipitation across much of the country, with higher than average precipitation in Colorado and much of the Rockies. This turned out to be incorrect, as Colorado suffered from one of the worst winters in 60 years, while Utah and much of the Pacific Northwest saw average to higher than average precipitation totals." Take that, you way-smarter-than-me weather gurus.
The Locals
Seasonal predictions change like, well, the weather (sorry, couldn't resist), but the voices that represent the backbone of the snow sports industry should be listened to and acknowledged. These are the folks that make it happen, year after year, season after season. They have seen it all, and have a unique perspective.
Brenda McQuarrie, Guest Services and Marketing Manager at Mount Spokane: "As usual, we will continue to prep diligently for next season and we'll be ready when the snow flies. Skiers and riders in this area have learned to not procrastinate, but take full advantage when storms line up and produce. Every season is different and brings its own set of challenges. You must enjoy it as it comes and don't hesitate when Ullr comes a knockin'."
Eric Bakken, Mountain Manager at 49 Degrees North Mountain Resort: "All anyone can do is work hard and prepare to make the most of any opportunities that present themselves. No one knows the future for sure, but we all know what it feels like to let a great opportunity pass us by. In the Pacific Northwest most winters are very good for skiers and snowboarders, so play the very good odds; prepare your body and your gear to take advantage of the good skiing and riding that we have 9 times out of 10."
Well said. //
Brad Northrup has been a contributing writer for Out There Outdoors since 2011.