Spending time safely enjoying the outdoors as a family has never been more important than it is now. The stress, anxiety, and fear that many parents feel in this post-coronavirus world can take a toll on families, and time in nature together is a reliable cure. If you are looking for more family-friendly hikes, stroller walks, bike rides, floats, and other adventures, check out the many trip and activity ideas in our online story archives. And be sure to follow all current COVID-19-related warnings, trail and park closures, and activity restrictions while they remain in place. (Derrick Knowles – Editor-in-Chief/Publisher)
Editor's Note: Check each camp's website for coronavirus-related date changes, precautions, and cancellations.
2020 Guide Summertime is for kids to experience outdoor adventure—the hands-in-dirt, skinned knees, messy-hair-don't-care type of adventure. And while that type of rugged fun can be done with family and friends at local parks and trails and during camping trips, day-long and overnight summer camp programs enhance those types of adventures. Camps add structure and routine to a summer calendar while providing in-depth hands-on learning, character building lessons, peer-socializing and teamwork opportunities, and time away from home for children and teens to learn greater personal responsibility and independence.
Here's our annual list of regional summer camps and nature-based schools that provide unique opportunities for learning about nature, science, and outdoor skills—with something for every child, any age, and every family.
Between the Rivers Gathering
Weeklong annual gathering in northeast Washington for individuals and families that's an ancestral living skills mega-workshop—May 25-May 30 this year—to learn primitive skills for self-sufficiency and sustainable living, and to enjoy community and connection. Event takes place at Grouse Creek Farm in Valley, Wash., north of Deer Park. Registration includes primitive camping sites and two daily meals (daily registration also available); children under age 8 are free, when families register for the full event. CANCELLED THIS YEAR.
Big Lake Youth Camp
"RAD" Adventure Camp for teens, ages 13-17, include 8-9 day camp sessions that focus solely on one recreation sport—fly fishing (float down the Deschutes River, Ore.), mountain biking, surfing (Oregon Coast), whitewater rafting, backcountry adventure, wakesports, and rock climbing. Based in Central Oregon's Willamette National Forest, near Sisters, there are also regular ("REG") camp sessions for ages 7-12 and Adventure Camp for ages 7-9, with activities like sailing, hiking along the Pacific Crest Trail, mountain biking, and horseback riding. Big Lake also offers Family Camps. Big Lake Youth Camp is operated by the Oregon Conference of Seventh-day Adventists
Dart-Lo Day Camp – Camp Fire Inland Northwest
Located along the Little Spokane River, at Dart-Lo Day Camp children age 3-18 enjoy outdoor activities like games, pool swimming, and a low ropes course—program offered by Camp Fire Inland Northwest.
Camp Ashwell Day Camp – Girl Scouts
The regional program center for Girl Scouts of Eastern Washington and North Idaho, located near downtown Spokane (1404 N. Ash Street), hosts themed day camp sessions (weekdays, 9 a.m.-4 p.m.) for girls entering grades K-8. Activities include STEM experiences, arts and crafts, cooking, drama, swimming, and other skill-building fun. At Camp Ashwell Day Camp, morning/afternoon snacks are included and lunch is provided by Summer Meals Program.
Camp Easton – Boy Scouts
This Boy Scouts of America property located on the east side of Lake Coeur d'Alene, at Gotham Bay, offers an advanced aquatics program, shooting sports, and nature and scout-craft activities during 6-night camp sessions.
Camp Four Echoes – Girl Scouts
Located along 2 miles of Lake Coeur d'Alene shoreline, at Windy Bay, near Worley, Idaho, girls sleep in whimsical-named camping units, like Teepees in Sky Meadows and Treehouses in Smugglers Cove. The regional Girl Scouts of Eastern Washington and Northern Idaho offers a full summer of programs at Camp Four Echoes for girls entering 1st-12th grade; troop membership is not required for participation. Themed camp sessions include activities such as waterfront recreation (kayaking, canoeing, sailing, and windsurfing); nature exploration, hiking, biking, and outdoor skill-building; and STEM activities. Adventure-based sessions for girls in grade 7-10 include themes like Idaho Adventures—which includes ziplining, lake canoeing, and biking the Hiawatha Trail—and Canoe North Idaho, a multi-day canoe trip. Other sessions for grades 6-12 focus on off-site excursions, such as a roadtrip to Mt. Rainier or Glacier National Park or a horse-packing trip (grades 6-12).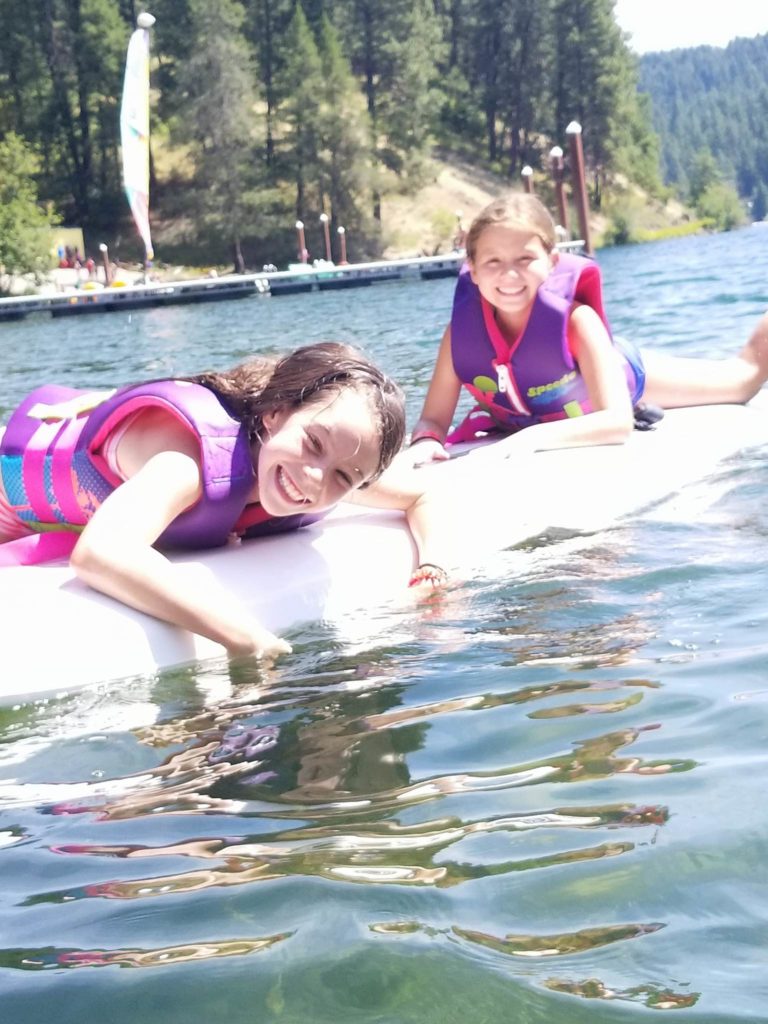 Camp Gifford – Salvation Army
This Salvation Army youth camp at Deer Lake offers zip-lining, climbing, archery, swimming, paddling, fishing, ropes course and team building games, and hiking recreation. Sessions include Discovery Camp (ages 7-12) located at the main camp area and Camp Cougar (ages 13-17), a teen wilderness camp in a more secluded, primitive area that's only a 15-minute walk away from main camp and aims to help teens connect with nature.
Camp MiVoden
Located in the forest along the northern shore of Hayden Lake, Idaho, Camp MiVoden offers overnight camps for age 8-16. Ultimate sessions with specialized recreation include equestrian and horsepack camps; wakeboard camp; and "Extreme Teen Camp" sessions that include whitewater rafting and survival skills. Traditional sessions include adventure, junior, and teen camps. Camp MiVoden is a ministry of the Seventh-Day Adventist Church.
Camp Spalding
Located at Davis Lake near Newport, Wash., Camp Spalding offers a unique Pioneer Camp, where kids sleep in authentic 18' Sioux teepees, cook meals over a campfire, and hike to an overnight campsite. Sessions are offered for different grade-based age groups. Spalding, a Presbyterian-affiliated Christian camp, hosts traditional sessions for campers entering grades 2-12, where kids stay in cabins and eat in the dining hall. All campers enjoy nature and waterfront activities, such as canoeing, along with other recreation options such as horseback riding, rock climb rappelling, archery, and more. Family sessions include a "Mom, Dad, & Me Overnight" in June (for children entering grades K-2) and Family Camp in August.
Camp Sweyolakan
Located on Lake Coeur d'Alene, and only accessible by boat, Camp Sweyolakan (pronounced: Swe-o-la-kan) has overnight camp sessions for boys and girls age 6-18, and camps for families and adults, offered by Camp Fire Inland Northwest.
High Cascade Summer Snowboard Camp
Sessions for youth, adults, and families at Oregon's Mt. Hood. Eight-day youth sessions provide coaching for all skill levels, including a Soft Start option for first-time snowboarders. Specialized sessions including Snowboardcross and terrain park access, which includes a 22-foot Olympics Superpipe.
KEENs Pond to Pines – Outdoor Nature Day Camps
Based in Ellensburg, Wash., the Kittitas Environmental Education Network (KEEN) offers a variety of summer day camps for youth children and teens, pre-K through middle school, at Helen McCabe State Park. Weekly themes are tailored to specific age groups, such as Animal Tracks for grades 1-3 and Dirty Jobs/Adventure Camp for middle-schoolers.
Ligety Weibrecht Ski Camp
Founded by World Cup and Olympic skiers Ted Ligety and Andrew Weibrecht, they personally coach campers ages 10 through Masters/adults (must be at least intermediate ability). Camp takes place at Timberline Ski Area at Mt. Hood in Oregon.
Lutherhaven
A variety of programs are offered among its three properties in North Idaho, which includes its main camp at Lake Coeur d'Alene, Shoshone Creek Ranch Camp, and Shoshone Mountain Retreat. Lutherhaven was founded by regional Lutheran churches over 70 years ago.
Outward Bound
Offering programs for teens and adults around the nation, sessions in the Pacific Northwest include canoeing and rock climbing based out of Spokane; rafting and backpacking out of Redmond, Oregon; and sea kayaking in the San Juan Islands of Puget Sound.
Peak 7 Adventures
Adventure Leadership Training for 11th-12th grade students is a two-week session that provides technical skills for whitewater rafting, rock climbing, mountaineering, and wilderness first-aid. For teens (ages 15-19) wanting a more hardcore challenge, there's the Bower Adventure Course (BAC), a 50+ day outdoor expedition leadership program. Peak 7 also offers guided backpacking and Ascent mountaineering trips. Headquartered in Spokane, this faith-based outdoor adventure organization has branches in Seattle and Oregon. Families, youth groups, and organization groups can plan personalized adventure trips with Peak 7's trip program, guided by its experienced staff. Trip options includes stand-up paddleboarding, rafting, rock climbing, canoeing, and camping—plus winter recreation options.
Saint George's School – Summer Day Camps
Week-long sessions are offered for all grade levels at the school campus located in north Spokane. Options include Outdoor Adventure Camp (grades 3-6) with hiking, rock climbing, kayaking, and fort building; Harry Potter Camp (grades 1-5) with outdoor Quidditch games and scavenger hunts; and Rocket Camp (grades 5-8). Outdoors Sports Camps like Running Camp (grades 1-12), Soccer Camps (grades K-6, 6-12), Tennis & Ice Cream Camp (grades 2-6), and Racket Sports Camp (grades 7-12).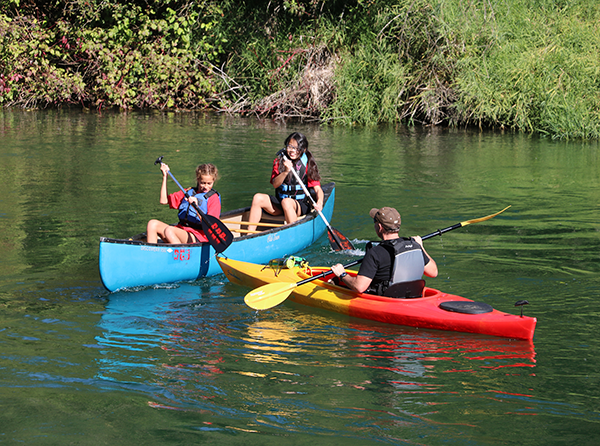 S.O.L.E. – Selkirk Outdoor Leadership & Education
This Sandpoint, Idaho-based non-profit organization provides summer day-camps and multi-day expeditions for youth ages 4-17 throughout the Inland Northwest and beyond. Programs include SOLE's popular Junior Naturalist Experience day camps (ages 4-9); Leader of the Day Experience day camps (ages 10-12); and Teen Trek Experiences (ages 13-17).
Spokane Parks & Recreation – Youth Outdoor Programs
Day camps this summer include Outdoor Adventure Day Camps—offering sessions for youth ages 8-11 and teens, ages 12-15—that meet at Riverside State Park Bowl & Pitcher area. Weekly sessions focus on varied recreation options, from rock climbing and rafting to disc golf and paddling. Wilderness Survival for Youth sessions meet at Camp Sekani, with an intro session for ages 6-9 and an advanced one for ages 10-14. Horseback Riding Camps, for ages 8-13, include a week of half-days at Relational Riding Academy in Cheney. Teen Raft Guide and Leadership Training is a day-long intro course for ages 11-18. There's also a 3-day Adaptive Summer Adventure Camp for youth with physical disabilities, ages 8-15.
Twin Eagles Wilderness School
Specializing in helping children connect with the natural world and develop self-awareness through nature-based activities, Twin Eagles summer day and overnight camps provide wilderness and adventure challenges, and survival skill-building, such as foraging, wildlife tracking, and fire and natural shelter-building. There are three different themes for week-long day camps, for ages 6-13: Nature Adventurers, Wilderness Survival, and Nature Ninjas—with sessions meeting in Idaho at Camp Stidwell in Sagle, near Sandpoint, or at Blue Creek Bay in Coeur d'Alene (for Wilderness Survival sessions), and day camps meeting in north Spokane at Riverside State Park 9 Mile Day Use Area's Spokane House. Overnight camps for ages 10-18 include nighttime scout games, group wilderness survival camp-outs, and action archery games.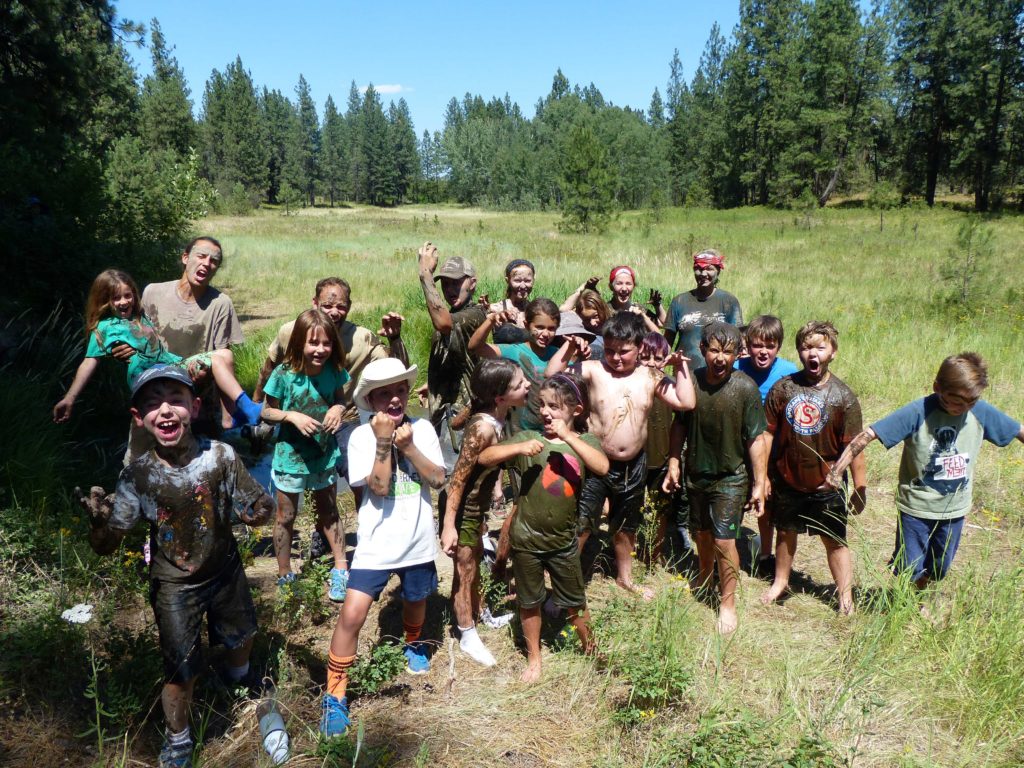 West Valley Outdoor Learning Center
Located in Spokane Valley, Wash., West Valley Outdoor Learning Center plans to offer two summer day camp sessions for youth ages 7-12—Biodiversity Blast-Off (June 22-25) to learn about planets, rockets, and animal survival in different habitats; and Wilderness Survival (July 6-9) to learn how to build shelters, navigate the woods, and read animal tracks.
Windells Summer Ski Camp
All-inclusive, 8-day camp for ages 9+ at Mt. Hood, Oregon, with off-hill activities like a skateboard park, trampolines, mountain biking, river rafting, and more.
Wild Walls Indoor Climbing Camp
Youth ages 9-14 will learn top roping, knot tying, belaying, ascending, rappelling, bouldering, slacklining, and crate stacking at week-long day camps (M-F, 9 a.m.-2 p.m.) at Wild Walls Climbing Gym, in downtown Spokane. Four sessions are scheduled, July 6-August 14.
WSU Cougar Kids Camp
Themed day camps, June 15-July 31, at Washington State University's Pullman campus, hosted in partnership with the Outdoors Program. Sessions are tailored for children entering grades K-6, and "Let's Go on an Adventure Week" is July 13-17, featuring outdoor recreation activities.
Washington Trails Association (WTA) – Youth Volunteer Vacation
Trail work crew projects for high school students, ages 14-18, are week-long opportunities to develop outdoor and leadership skills while building and maintaining hiking trails as a team (and camping)—locations include Mount Spokane State Park (June 28-July 3, 2020) and areas of the Cascade Mountains, including Mount Rainier. Service hours can be applied to school requirements, and students earn a Northwest Forest Pass when a project is on National Forest lands and a Discover Pass when on state park land. Options include shared-identity trips organized specifically for all girls, all Latina, or all LGBTQ+ teens.
Smith Rock Climbing Camp
Located at Smith Rock State Park in Central Oregon, Chockstone Climbing Guides sponsors a program for ages 12-19—the only AMGA Accredited Program multi-day climbing camp in the western U.S.
Washington Outdoor School Summer Camps
This non-profit school offers day camp sessions, Monday-Thursday, for ages 2.5-10, in Roslyn, Wash., west of Ellensburg. They also have a marine wildlife-themed San Juan Island Family Camp in August.
YMCA Camp Reed
Located on over 500 acres at Fan Lake, north of Spokane, YMCA of the Inland Northwest offer co-ed, overnight camps at Camp Reed with activities like swimming, canoeing, hiking, mountain biking, ropes course, and climbing wall. The three-day/two-night mini camp sessions for children entering 1st-2nd grades provide an introductory experience, including swimming and traditional camp activities. Older campers, entering 3rd-9th grades, enjoy six-night traditional camp sessions with a full line-up of activities, including a campout under the stars and optional horseback trail rides (ages 10+). Certain sessions even offer additional horsemanship classes (for ages 11+).
Y Day Camps – Spokane
Programs provided for children entering grades K-8, from June 15 to August 28, at all four YMCA locations around Spokane—Central Y Camp at Emerson Park (1116 W. Alice); North Y Camp (10727 N. Newport Hwy); South Y Camp (new location at Manito United Methodist Church, 3220 S. Grand Blvd); and Valley Y Camp (2421 N. Discovery Place). Day camp runs 6:30 a.m.-6 p.m. weekdays.
Outdoorsy Schools & Daycares
These education and childcare programs provide experiential, play-based outdoor learning opportunities and incorporate environmental curriculum topics.
Harvard Park Children's Learning Center North
Offers preschool (age 2.5+), before/after school care, and summer camps, featuring a hands-on learning environment and park-like playground for daily outside play. Summer Camp (mid-June through August) is also offered, full or part-time for children age 2.5-10 years, with activities like science experiments, weekly field trips, cooking projects, water play time, sports, and games.
Into the Forest Outdoor Learning Center and Preschool
Founded in August 2017, this year-round center and private school located east of Spokane, in Veradale, Wash., provides programs for three age-groups: 1-2 years old, 3-5 years (preschool), and age 6+/elementary-school (before/after-school).
Little Woodland Adventures Forest and Nature School
Founded last year, this completely nature-immersed forest preschool for ages 2.5-5 years old is located near Dishman Hills Natural Area in Spokane Valley. Classes are held outdoors, year-round, meeting three days a week, for four hours each day. Curriculum includes place-based activities, life skills, and gardening.
North Wall Schools
This accredited, private elementary school and child development center serves the needs of gifted and talented learners with classes for K-6 grades, preschool and pre-K, and a program for infants-toddlers. Founded in 1981, the 2.5-acre campus in north Spokane includes six different outdoor areas corresponding to age levels for students to enjoy year-round outdoor playtime and experiential learning. Features include a Nature Trail and two-story tree fort, zipline, organic garden, climbing wall, play structures, and tricycle track.
Pioneer School
A K-5th grade accredited, non-profit school for gifted, talented, and highly-capable learners. Located in Spokane Valley, it's known for its high academic standards, small class sizes, and unique, topic-focused experiences that enhance classroom learning—including expeditions, outings, and field-trips for camping, biking, hiking, skiing, and other recreation.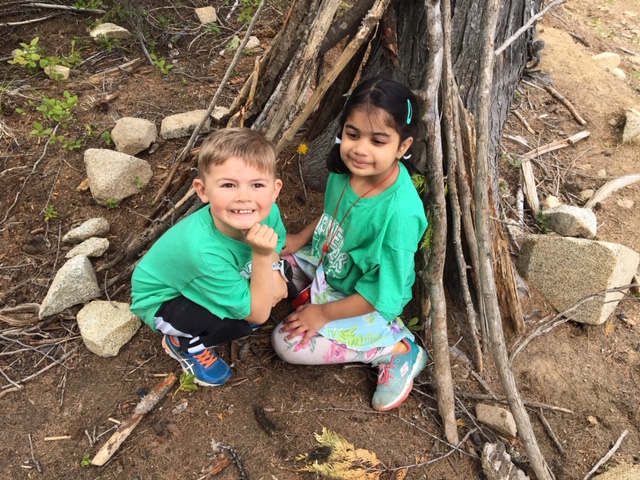 Plum Tree School
A private, home-based preschool for ages 3-6 in Spokane that focuses on play-based learning, creative arts, domestic life skills (e.g., cooking, baking), hands-on nature exploration, and mindfulness.
Saint George's School
Located on 120-acres along the Little Spokane River, the campus for this private, independent school (no religious affiliation) is an integral part of the school's entire K-12 curriculum, providing hands-on experiences to enhance classroom learning related to the sciences, physical education, art, and other courses. An Outdoor Club provides recreation activities and trips for students in grades 8-12.
Tinkergarten
A national network of teachers and child-development experts who facilitate play-based learning experiences in their local communities for parents and their children. Classes take place at local parks and other outdoor venues, with classes for toddlers, preschoolers, and young children, as well as classes for babies (6-18 months).
Twin Eagles Wilderness School
From October through May, the monthly youth program for ages 6-13https://www.twineagles.org/monthly-youth-programs.html and their families takes place at Indian Springs in Spokane, one Sunday each month (9 a.m.-3 p.m.). Children enjoy nature-connection mentoring and hands-on activities like making fire by friction and building natural shelters, animal tracking, and participating in group challenges.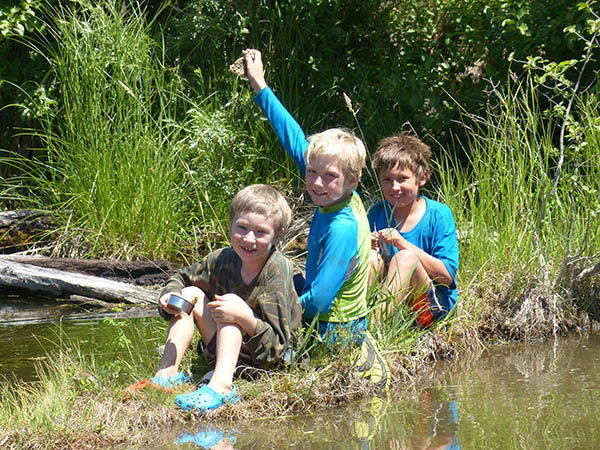 West Valley Outdoor Learning Center
Though affiliated with the West Valley School District in Spokane County, the center is available for use by all students of all ages, to connect them to nature through experiential learning. Programs include wildlife habitat, conservation, birds of prey, water ecosystems, and STEM activities. The center hosts monthly, theme-based public open house events too.
Windsong School
This private school inspired by Waldorf Education, located on the Mukogawa Fort Wright Institute campus near Spokane Falls Community College, offers parent-child and nursery/preschool (age 3+) programs, mixed-age kindergarten, and classes for grades 1-6. Students enjoy at least one hour of outdoor time each day.